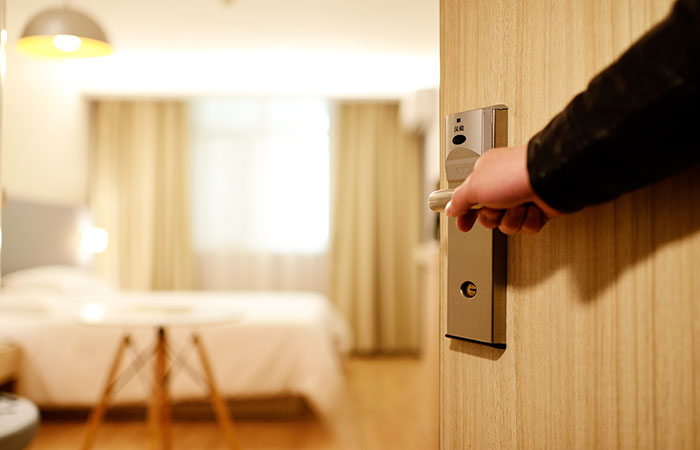 As summer goes on, and COVID travel restrictions have been around longer, many of us are itching for the calm environment of a hotel room and a different environment, even if that is just an hour or two's drive away.
But is it safe? That really depends — on your own tolerance for risk, your willingness to take some safety precautions yourself while you are aware, and how much you can trust the hotel you are booking at.
As I have been cautiously venturing to various parts of the province, I am booking at hotels and resorts where I am confident that the hotelier is doing the worrying so that I don't have to myself. 
Based on various hotel and resort guidelines, and what I have learnt my own travels, I have developed some suggestions for things to consider for your next getaway.
COVID Travel: Before you book
Check the hotel website to see what protocols they have in place for COVID travel, or —if you don't see anything in writing—don't be afraid to call them with your questions. 
COVID Travel: Some suggestions for what you can ask
What services do you have available and what isn't (e.g., spa, pool(s), fitness centre, patio or poolside food service, take out)?

What cleaning / housekeeping practices do you have in place at your hotel?
How are you managing social distancing (check in etc.)?
Do all staff wear masks? What about guests?
Are you leaving rooms empty between bookings or is there same-day turnover? (And if you are leaving rooms empty between guests, how long is this for?)
Are you operating at capacity, and if not, what percentage of rooms are you filling?
COVID Travel: While you are there
If you are feeling nervous about being safe:
Avoid high-traffic areas, such as hallways or lobbies.
If you need to be in public areas, wear a mask.
Self park instead of using a valet service and avoid or limit using a shuttle, if this is an option.
Handle your own luggage rather than have the bellhop do this.
Wipe down all the high touch surfaces in your room when you arrive using disinfectant wipes such as Lysol (although the hotel should really have already done this). High touch areas include things like taps, light switches, handles, TV remote control, toilet handle, night table, temperature panel and alarm clock.
Don't ask housekeeping to enter your room during your stay. (Housekeeping tends not to be available during COVID anyway, so yes, you will have to make your own bed!)
COVID Travel: What to bring
Face masks (one per day or detergent so you can wash the mask at the end of each day)

Hand sanitizer

Disinfectant wipes and/or surface disinfectant

Plastic ziploc bags for personal items that others may touch (e.g., driver's licence, key, credit card) so you can keep them separate from the rest of your things until you sanitize them

Snacks and grocery staples to minimize eating out
For a list of Ontario resorts now open, check out this website.
For more information, download the Safe Stay Guidelines from the Hotel Association of Canada's website www.hacsafestay.com: these guidelines were developed by the Hotel Association of Canada in partnership with the American Hotel & Lodging Association (AHLA). These are typically guidelines for hoteliers rather than guests, but it's a great resource to see what kind of recommendations are being made.