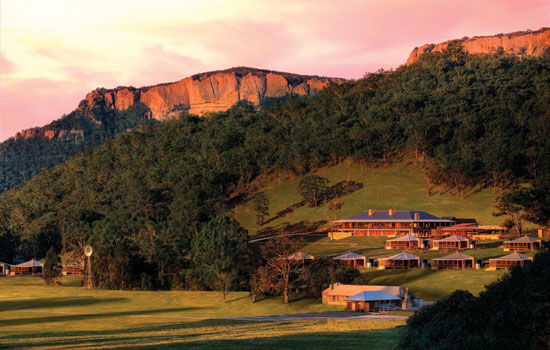 In case you missed it, we recently launched a new feature we've dubbed "Lust List," which looks at a resort we're dreaming of visiting. Today we're highlighting a resort in a country we've never had the opportunity to visit. The Emirates Wolgon Valley Resort & Spa in Australia.
This incredible resort and spa is 190 km from Sydney and is adjoined by the World Heritage-listed Blue Mountains and bordered by both the Wollemi and the Gardens of Stone national parks. It also happens to be Australia's first luxury conservation-led resort and is the first carboNZero certified hotel in the world.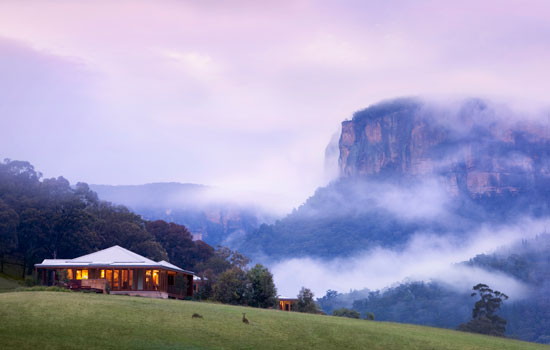 Perfect for a romantic getaway (honeymoon, perhaps?), the resort offers 40 freestanding luxury suites, all with their own private terrace and swimming pool. There are three style of suites to choose from including the Heritage Suites (pictured above), with stunning views of the valley.
You'll also find a double-sided fireplace between the bedroom and living area, and thoughtful extras including binoculars (to spot the wildlife), mountain bicycles, and High Speed Internet.
The Hertiage Suites are perfect for allowing you to get up-close and personal with wildlife, thanks to the wrap-around verandah and floor to window ceilings. We can just imagine sitting fireside with a glass of wine or enjoying a sunset on the porch and maybe even spotting a kangaroo?
If you're after something a little more luxurious (or just need more space), you'll want to consider a Wollemi Suite. With two bedrooms, you'll also find a large living room, a separate lounge and dining area, plus two ensuite bathrooms. Like the Hertiage Suite, there's also a double-sided fireplace, wrap-around verandah and mountain bicycles.
We can't continue without mentioning, of course, the Timeless Spa. With six double treatment rooms, it's designed to be enjoyed with your special someone — your new husband perhaps? Each room contains its own changing area, shower and Japanese-style soaking tub. In the summer, they open the doors to let the fresh air and sounds of nature in, while during the winter months the stone fireplace gets turned on.
In case you're looking for a bigger pool than the outside your suite you'll also find the resort offers a main pool, perfect for swimming or just lounging around. You can also stay active playing tennis on one of the two courts or in the fully-equipped gym.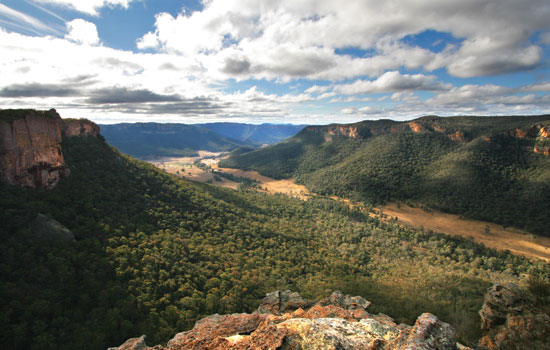 Last but not least, the real highlight of this spectacular resort has to be the outdoor activities available to you at your fingertips. From exploring the countryside on horseback to doing a four-wheel drive tour or stargazing, there is plenty to do to explore the surrounding area.
When we do get to Australia, you can bet this resort is topping our list.
Where to Find:
2600 Wolgan Rd.
Wolgan Valley NSW 2790, Australia
wolganvalley.com