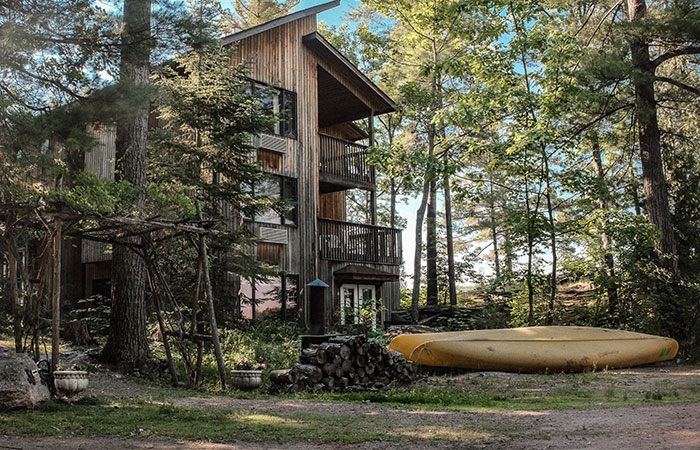 We've long known about the healing powers of nature, but now retreating onto water and into forest has the added benefit of offering safety amidst a pandemic. With wide open spaces, we can really breathe — and without even a face mask! Kayaking on Lake Rosseau was the first time since the pandemic hit that I momentarily forgot about COVID. Being out on the water made me feel free and unconstrained in a way I hadn't felt for months. Even as provinces like Ontario start to open up into phase three or more, nothing can beat exploring our own backyard, any time.
For this story on Ontario getaways, I explored several areas of the province, all reachable within an hour to 2.5 hours from Toronto. Each was chosen as a destination for an overnight stay in an inn or resort, along with activities to get out safely into nature.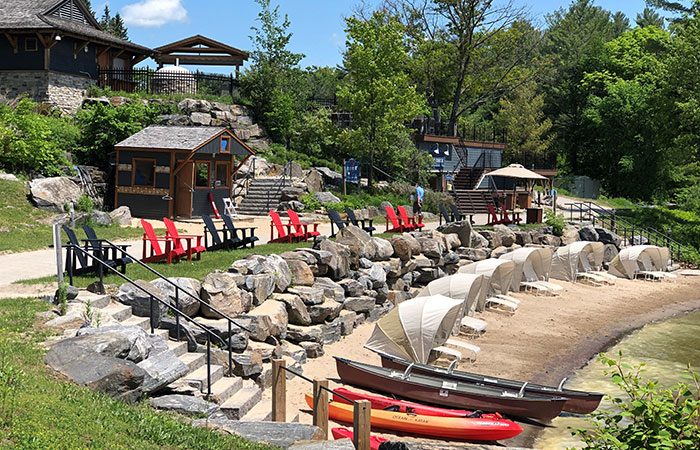 ONTARIO GETAWAYS: MUSKOKA
Set atop a 100-foot granite cliff overlooking the lake, JW Marriott The Rosseau Muskoka is an all-suite property with comfortable, luxury accommodations. Each suite is equipped with a kitchen or kitchenette, so you can cook your own meals— as an alternative to room service or patio dining. The suites have stone fireplaces, high ceilings, oversized bathrooms and whimsical touches to give them a luxurious cottage country feel —many with a stellar view of the water. 
Wile away your days relaxing by the indoor/outdoor pool or head down to the lake to kayak, canoe, paddle board or dip into the deliciously cool water for a swim and then relax in a lakeside cabana. There are short hiking trails on the property and a championship golf course, The Rock, just five kilometres away. You can also tour the area on their Trek bikes: we enjoyed the 20 km-round trip cycle into the nearby town of Port Sandfield for ice cream. 
If driving here from Toronto, you will hit Port Carling about 15 minutes before you get to the resort, with several little restaurants and boutiques that are worth a meander through and a lunch. About the same distance north of the resort is the lesser known but no less charming town of Rousseau, which has galleries, an excellent general store, Crossroads restaurant, and the Aspen Valley Wildlife Sanctuary, a rehabilitation centre for orphaned and injured animals where you can arrange for a guided tour.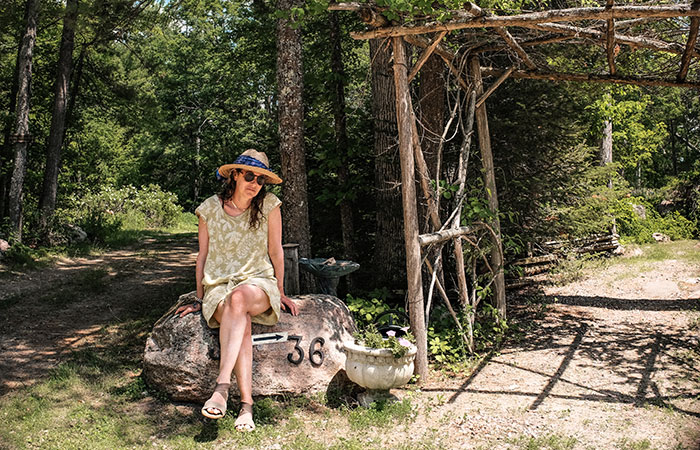 ONTARIO GETAWAYS: THE KAWARTHAS
With more than 250 lakes in the Kawarthas, most people are unlikely to have explored more than a handful. But peppered through these lakes are some charming low-key family-run resorts and inns amidst cottages and unfettered forest. The Westwind Inn is one of these places. 
Set on Lower Buckhorn Lake just 20 kilometres north of Peterborough, the Westwind Inn is a family-run, four season resort where you will likely find several generations of owners working on property. Built in 1986, the main lodge is what innkeeper Inga Gallagher describes as Canada's largest cottage. The rustic lodge has 31 rooms, a brightly-windowed dining room and a lounge —though common rooms may not be open due to COVID. Throughout the building, you'll find great antiques and other memorabilia, like old wooden spinning wheels, snowshoes and original art that owners Kristi and David Jensen would find on their Sunday shopping excursions. Each lodge room has a queen bed or two singles, framed by cedar-lined walls with sliding doors leading onto private balconies, with views overlooking the gardens or the lake.
Next to the lodge is a separate chalet tucked into the trees, with four premier suites that are perfect for a romantic getaway. Each suite has cedar ceilings and solid pine floors, a four-poster bed with handmade quilts, a gas fireplace, private verandah and bathrooms with two-person air jet tubs. In the winter, there is even an indoor lap pool that couples can book for privacy.
Enjoy their hiking trail, engage in some "forest bathing," or take out a canoe or kayak. There is also fishing off the dock, and swimming in the lake or swimming pool. Another pleasure of this property are the many nooks for solitary retreat — a hammock next to the shore, a couple of Muskoka chairs under some trees, a solitary read out on their front porch.
Delicious three-course dinners and big country breakfasts are available as part of a package or booked separately. Dinner choices are varied — with everything from duck to filet mignon, pan-fried pickerel and grilled tuna steaks. And our breakfast started with a course of yoghourt and fruit, along with cookies and a cupcake. "Chef has a sweet tooth," said our server. What better way to start the day!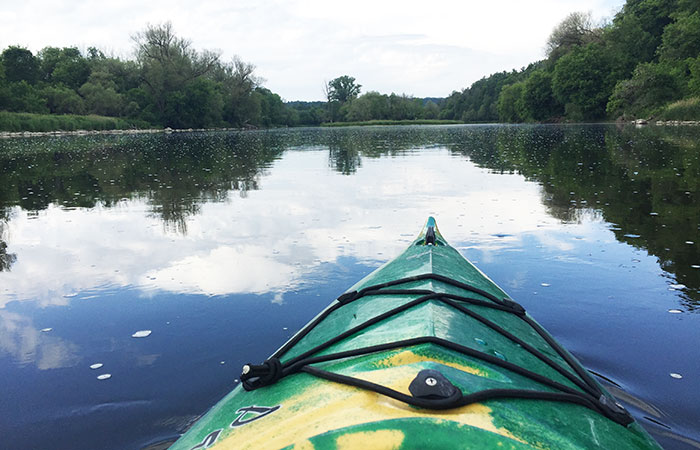 ONTARIO GETAWAYS: COUNTY OF BRANT
Paris has been billed the prettiest little town in Canada, and a mini —and lesser known— Niagara on the Lake. Paris, Ontario may not have an Eiffel Tower. But it does boast cobblestone homes and churches from the mid-1800s, great cafés with patios overlooking the river, and amazing outdoor opportunities, all within about an hour from Toronto.
The fact that Paris is situated where the Grand and Nith Rivers meet also makes it the perfect starting point to get out on the water. Grand Experiences, a kayak and canoe outfitter in Paris, makes water access easy. We had an idyllic morning doing their guided kayak trip from Glen Morris to Paris, with a stop to check out a hollow 300-year-old sycamore tree along our path, and go for a swim. But there are also many other trips to choose from—both guided and self-guided, with a shuttle to pick you up at the end of your paddle, and the option of hiking en route. Novices may want to start with their Paris to Brant trip: it's about 2.5 hours and the water is very calm. They can also take one of their instructional courses — in sea kayaking, stand up paddle boarding or canoeing. 
For a romantic getaway, I'm tempted to try one of their three-hour "full moon" guided kayak or canoe trips, and then stay at the Arlington Hotel in town. The Arlington is a boutique hotel designed with a whole lot of creativity and imagination: choose from rooms with various literary themes: like Lewis Carroll, Leonard Cohen, Emily Dickinson and Ernest Hemingway.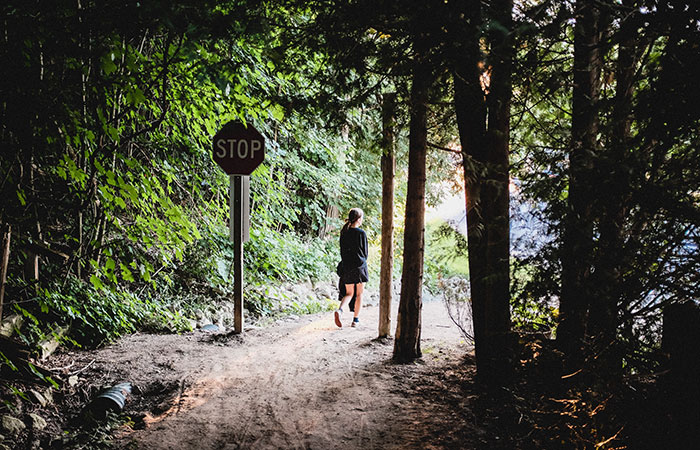 ONTARIO GETAWAYS: HURON COUNTY (Bayfield and Goderich)
Visit the West coast (of Ontario) for great sunsets, lovely beaches along the shore of Lake Huron and a visit to the charming village of Bayfield. This area offers a great combination of village quaintness, country inns, and cycling and hiking. Located about 2.5 hours from Toronto, and about an hour from London and Stratford, Huron County makes for a quick weekend getaway.
We spent our first night at the Little Inn at Bayfield, a cozy boutique inn on the main street that has been operating since the mid-1800s. Here you can sit out on their wraparound porch under the shade of a weeping willow and watch the vintage cars and passersby. Roam Main Street for great patio dining, boutique shopping and a pint at the Public House. Then in the evening, wander over to Pioneer Park for a picnic on the bluff overlooking the turquoise waters of Lake Huron to enjoy the sunset. 
Only five minutes away is the Windmill Lake Wake & Eco Park, an outdoor recreation park on a 40-acre private lake. A much more protected body of water than the Lake Huron, it's perfect for all types of watersports – cable wakeboarding, paddleboarding, canoeing, kayaking, pedal boats, and an aqua park — with private bookings for families during COVID.
For day two, drive 20 minutes north to Goderich, which is a larger town with several beaches, and only 10 minutes from the historic Benmiller Inn & Spa. Originally a woollen and grist mill, Benmiller Inn's several buildings now house 55 rooms and suites, some overlooking the Maitland River, and all with historic charm. You can hike the Falls Reserve Conservation Area right from the property, and then enjoy big a hearty breakfast in their garden patio.