"It's Coming," muttered Olivier, our charming Nicaraguan surf instructor as we bobbed wildly in the warm sea off the Tola Coast. We anxiously peered for subtle rises in the horizon to identify a swell, typically coming in sets of three. The waves slowly started to inch closer, which signaled quick board positioning, a hair-raising-hard paddle, a steady push, hopeful pop-up, and optimally a smooth ride into shore. Sometimes it was quite the opposite, your board would soar away as if it had wings of an eagle, while your body pressed beneath the rumble. Come to discover, we are all instinctively buoyant and it was only water that cradled us after a fall. When our confidence finally showed up at the break and waves were conquered, sheer tears of joy were shed and a shout from behind was heard along the lines of "Yewww!" or "Diakachimba!" (Dee Ah Ka Cheem Bah) which is local surf slang meaning awesome.
So what exactly is luxury surfing? Leave it to the leading outfitters of the Maui-based SwellWomen team to explain and give you a few reasons to book it to the beach.
1.    Experiential Luxury
The SwellWomen experience is all about you. SwellWomen offers a taste of the vital ingredients that create a true experience when booking a trip, such as relaxation, adventure, yoga, wellness, local knowledge and luxurious accommodations. As modern travelers we now are seeking to travel deeper and discover destinations where others may have not been. As original creators in the surf industry of an experiential luxury retreat, SwellWomen has been balancing adventure with opportunities to explore the roots of a destination for over a decade. Lazing on the beach sipping umbrella-worthy piña coladas can be appealing, although they up the ante and create camaraderie, enrichment, and memories to pack in your sandy suitcase. Maui-based for over 10 years, SwellWomen has created lasting relationships with locals and can show you where to venture outside of the surf. The team is also fluent in Spanish, which will guide you internationally through their three new destinations in Central America.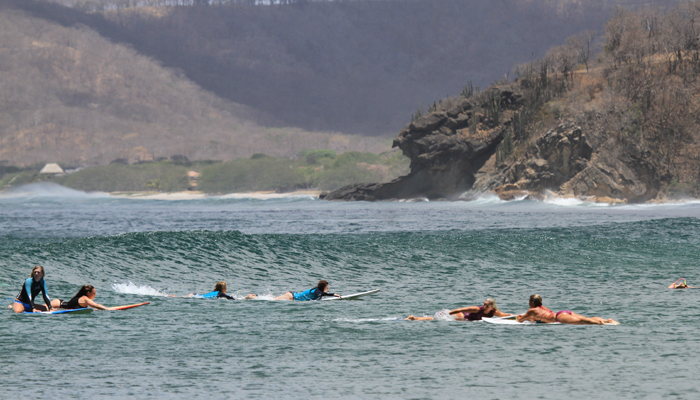 2. Expert Guidance and Safety
The SwellWomen team is flawlessly able to deconstruct the sport and unveil it's soft side.
Amongst the four of us we had two professional surf instructors by our side, India and Olivier, quite possibly the best surfers in Nicaragua both riding since birth. They reinforced that SwellWomen takes safety and comfort seriously. Personally having attempted surfing without instruction and getting injured on Oahu, the thought of surfing again seemed near impossible. Getting in the water with the professionals is the only way to approach surfing with ease, especially with precautions, rules and board management tips that everyone should learn prior to paddling out.
3. Intuitive Cuisine and Wellness
Many retreats available forget important details, where SwellWomen sets the bar. Lulu Agan, owner of Swellwomen is also a private chef to celebrities, therefore she sources top chefs, local ingredients and gets oh so creative. As a surfer as well, Lulu knows exactly when to get in power smoothies to sustain you out in the water. In Nicaragua we were treated to fresh snapper and lobster literally carted from sea to table steps from our villa. Also we enjoyed a raw dinner and cooking class with a professional nutritionist and chef, featuring favourite superfoods that gave us a grocery list to up our health game back home. With daily yoga sessions with SwellWomen gurus, from restorative to vinyasa, the wellness element of the retreat is not left behind. Yoga complements surfing perfectly being a high-demand sport, plus daily sunset savasana sneaks in a nice catnap before dinner.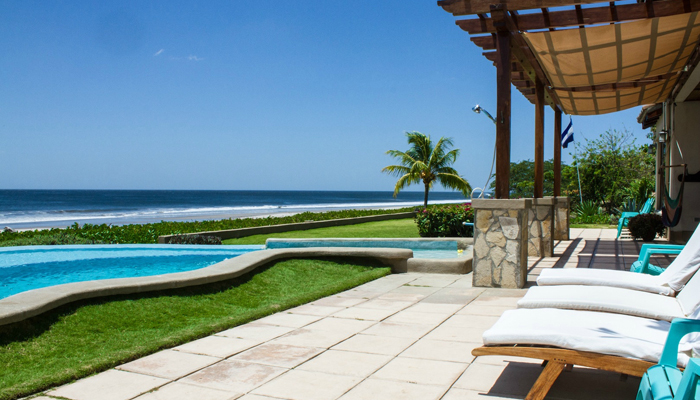 4. Find Your Bliss
SwellWomen's mantra is based on a transformational experience. "The intoxicating feeling of catching a wave is like no other experience, and we've helped every walk of life successfully do it. Albeit it takes a bit of practice in the white water, patience with your pop-up, belief in the process of learning something new, and ultimately finding confidence in yourself. We dub it as finding your bliss!" says Lulu Agan, owner of SwellWomen.