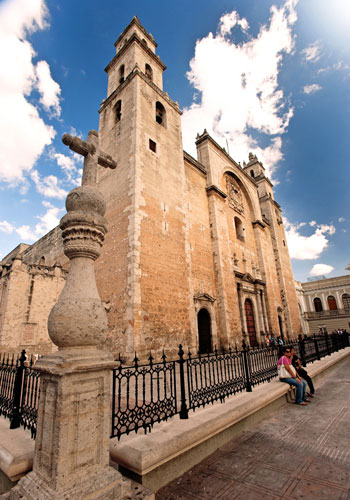 We love Mexico. Who doesn't? It's one of the best and easiest spots to get to so you can enjoy major beach time and soak up some much-needed sun during a cold winter. But beyond the party and the beaches of Cancun, there's a rich culture and history to be found just a short jaunt away in Merida. As the capital of the Mexican state of Yucatán, the city comes with loads of historical sights and culture – most of which is walking distance in the city centre. Here are the top sights you need to take in when you have a few days in this history laden city.
1. Plaza Grande

Like the name suggests, this is the main plaza in the heart of the city. The large park area is often filled with locals and tourists taking in the city views (it's a great spot to enjoy a snack and people watch). It's also the main focal point for numerous other attractions (the large cathedral pictured left, museums, restaurants and more).
2. Calle 60

One of the city's most popular street is lined with many old churches, smaller plazas and loads of cute shops where you can pick up locally made jewels, crafts, clothes, pottery and knick-knacks. Stroll along this part of the city for an afternoon or as a pre-dinner activity.
3. Catedral de San Ildefonso (pictured above)

Located in the main Plaza Grande, this 16th century church stands tall above the city on an old Myan temple, with impressive stucco architecture (much of it was built with ancient Myan city ruins). A peek inside will get you in touch with shrines, ancient artwork and a life-size depiction of the Last Supper.
4. Museo de la Ciudad

One of the city's best museums is housed in an old post office building and offers up exhibits that take you through the city's storied history from the very beginning days up until the 20th century. It's a great way to get a glimpse of the city in one spot, is an escape from the heat and the sun, and can help give you a real appreciation for the local culture. Admission is about $2.
5. Parque Santa Lucía

If you're in town on a weekend this is the spot to be in the morning. Come Sunday it turns into a market place with crafts and food that are perfect for browsing and nibbling on. The rest of the time it's a popular spot to just sit down and rejuvenate/read up on some of the history of the ruins and city.
6. Dzibilchaltun Mayan Ruins

A short drive out of Merida will take you to something that makes Mexico so unique and fascinating – a group of Myan ruins. The Dzibilchaltun ruins are about 22 kilometres away from the city and houses the famous Temple of the Seven Dolls structure, artifacts from 700–800 A.D., a large plaza area, a fresh water pool and a museum. Plan a day to spend here roaming through the remaining ruins, that at one time were some 8,400 buildings.
7. Visit Celestun

Looking for a great photo opt? The small traditional fishing village of Celestun along the coast on the outskirts of Merida (91 kilometres away) will prove to be one once you get there. The pristine coastline and beaches are ideal for chilling on, and are also a hotspot for sea turtles and is often dotted with pink flamingos who are migrating during the winter months.
Learn more about Transat Holidays Duo Experience Collection with Cancun & Merida.
This post has been sponsored by Transat Holidays.