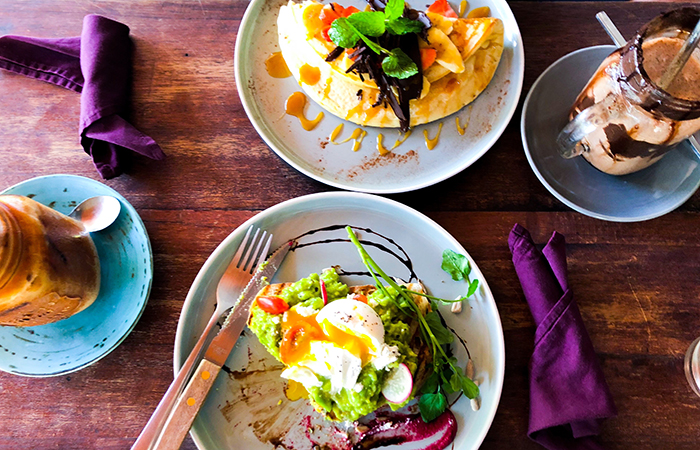 We've all been there. We go on a trip, over indulge, come home and immediately need a diet reset. Or even worse, you over indulge and then have a more serious food or digestive issue while away. How can we prevent some of these issues from happening? It's all about healthy travel choices and our diet choices, according to Dr. Sara Celik, a Naturopathic Doctor and Homeopathic Master Clinician who also works with Renew Life supplements.
Here are her four easy healthy travel tips to feel better and be healthier on your next trip.
1. Keep it Simple
"What really helps is simplicity. Think about simplifying the number of foods you're going to eat. Then try not to combine too many different foods, or too many different sauces. All of that can really upset your digestive system because you don't really know what those ingredients are. But if you look on a menu and choose the steamed broccoli instead of a mixed vegetable medley that is stirfried in some sauces, you know exactly what you're getting with the steamed broccoli. You want to choose the simplest ingredients. When ever they're mixing things at restaurants for sauces, 9 times out of 10 they're adding in ingredients for flavour that may not work for you. Or those combinations of ingredients make set your digestive system off. The sauces the sugars the additives, you really have no idea what's in some of those items."
2. Eat Where The Locals Eat For Healthy Travel
"Choose a food spot that has options that work for you. If you go to a place that's mostly fried foods, it'll be difficult to not fall off the wagon and not try some unhealthy foods. And make sure you go where locals go… remember busy restaurants typically do not have food issues with food poisoning.
Think creatively at places that are busy. Eat what the locals eat. Sometimes that means it's not a fresh salad for an option. But you can always find healthy local foods, or opt for side dishes. If you are feeling like you're missing out, you can still get the base of the food you want to order, and all of the side additional flavors or sauces, get those on the side. If it's not all mixed in, you can control the amount of sauce and the extra additives. Sometimes you get half a cup of sauce on the side, and you just don't need that. There's often nothing wrong with the meal. It's just the amounts of sauce, so getting it on the side can help."
3. Focus On WHY You Want Healthy Travel
"When people focus on their 'why' (why they've made a choice to be healthy), that reminds them of their true motivation. It's easier to choose a healthier option if you're aligned with your why. Your why could be, "I don't want to feel bloated", "I don't want to feel lethargic", "I want to have more energy," or something along those lines. You can write it on a card, and when you're tempted you can pull it out and remind yourself of why you want to make that healthier choice. It's emotional for people and that can often be the best motivation."
4. Make Sure to Take Supplements
"I always advise people travel with their supplements depending on where they're going. I always recommend a probiotic to support healthy digestion. Most people who have bloating it's because of a digestive issue. Usually we can prevent some of that by helping them break down their food better with a probiotic. Undigested food equals bloating, so helping with the digesting part and breaking it down, we reduce the bloating. New shelf stable probiotics are also available like, Renew Life's FloraSMART Extra Strength 6 Billion and FloraSMART 2 Billion are both ones that are way more convenient for travel, because they don't require refrigeration.
Sometimes it's not even food poisoning that's happening. It's food that's different from what your body is used to, it has a reaction to reject that particular food. You prep your body and start taking it a few days before, so it's more preventative."
More From Travel & Style:
Who and How Much to Tip at Hotels
The Best Travel Photography Tips
12 Globe-Trotting Instagramers to Follow Now