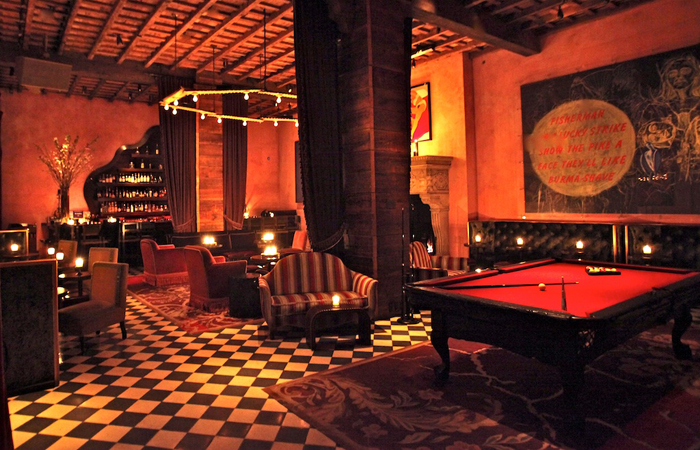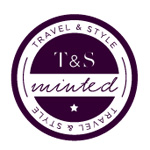 The Vibe: The Gramercy Park Hotel is anything but boring. With a complete art collection that includes originals by Andy Warhol and Jean-Michel Basquiat, paired with a renaissance feel (think rich deep reds, purples and royal blues as colours mixed with dark woods), this boutique hotel has become a landmark spot for both creative thinkers and the upper echelon of travellers.
The Facts: The hotel officially opened in 1925 and since then the likes of Bill Clinton, Humphrey Bogart (who even tied the knot on the hotel's rooftop terrace) and Madonna have strutted through the doors and rested their heads in one of the 185 rooms and suites. Adjacent to the city's only private park, the hotel's exclusiveness comes with an Italian restaurant, a rooftop terrace and a swanky lounge bar, and one of our hotel musts—free Wi-Fi throughout.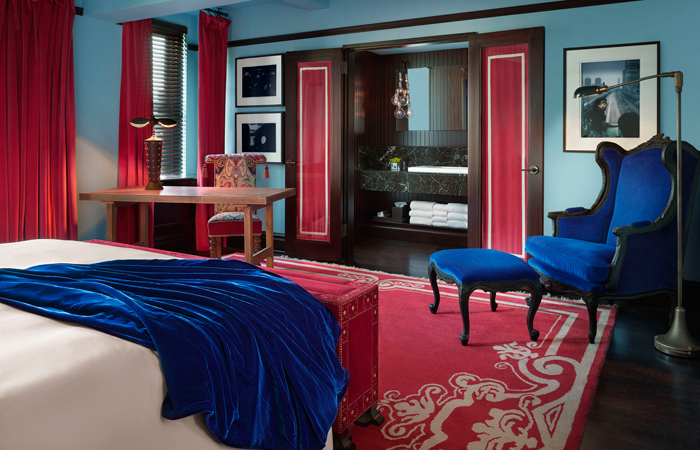 The Experience: When it comes to New York City, bigger and over-the-top is usually the name of the game. The Gramercy has the ability to have that New York feel, but also feels like a private retreat. With a list of visits (both long and short) by the Rolling Stones, U2, Bob Dylan and the Beatles, the Gramercy's ties to music and rock 'n roll are permanently engraved in the walls. In 2006, art collector and developer Aby Rosen took over the hotel and gave its modern update a slice of culture with an extensive art collection.
One of the most inviting aspects of the hotel is the scent as soon as you walk in. More often than not, we're not fans of a heavily scented hotel. But with the Gramercy, the soft scent wafts through the lobby and hallways, but is never overpowering or strong. It's just enough to set the ambiance and mood – luxe and rich without being pretentious or modern. After a day exploring SoHo a visit to the small spa on site for a massage, or pamper your feet with a pedi in your room or suite (where the Italian linens are super soft, and we also loved the plush seating area for cozying up with our book).
You can't be in New York and not tempt your Italian taste buds. The acclaimed Italian trattoria Maialino, run by restaurateur Danny Meyer will definitely give your pasta, tomato and cheese fix. But even better could be the Gramercy Terrace for a lunch option – a chic dining space mixed into a rooftop garden with vines and flowers sprouting all around along with pieces by Andy Warhol and Damien Hirst.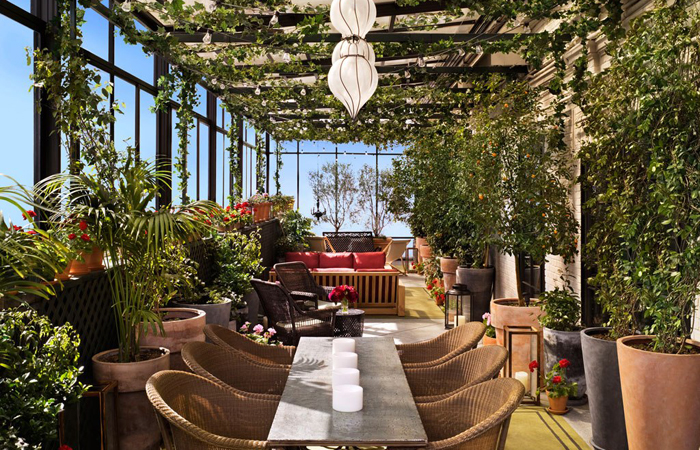 Room to Book: For music lovers, room 501 is where Blondie's Debbie Harris lived in the '70s.  But honestly, any room is unique and richly decorated in Italian linens.
Table to Book: At the Gramercy Terrace book a corner table for the best views from two angles.
Treatment to Book: The Dovetail Swedish massage will ease tense muscles after shopping, and the Vitamin E Facial gives your skin a much-needed boost of vitamins E and C.
Getting There: The three main airports that get you into New York City are JFK (JFK), LaGuardia (LGA), Newark (EWR). A ride in a cab can take anywhere from 30-90 minutes depending on the time and day and traffic. Expect to pay anywhere from $40-60 (plus 15-20% tip) for a cab from the airport depending on what airport you are coming from. An alternative cash-saving option is taking a shuttle bus, such as the GO Airlink NYC, which will take you get you dropped off right at your hotel.
Insider Tip: Staying here allows you to get a key to the private park the hotel is named after. Stroll through the green space pre-dinner or just after brunch for some quiet time.
Price: $$$$
Rates start at $425 for a queen room.
Where to Find
Gramercy Park Hotel
2 Lexington Ave.
New York, NY 10010
866-784-1300 for reservations | 212-673-5642 local
gramercyparkhotel.com