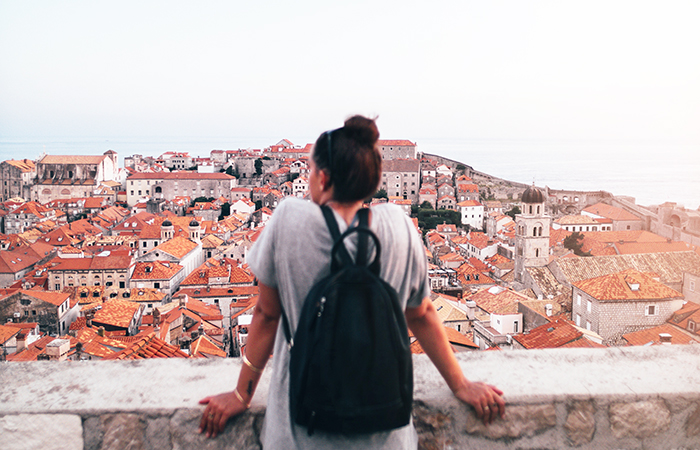 Sometimes taking the road less travelled means embarking on a new adventure by yourself. And it's not as scary as it may seem. Without having to compromise on where you want to go and how long you'd like to stay there, the world becomes your oyster. It just requires a little extra planning to make your trip run as smoothly — and safely — as possible, especially if you're female. With some of the top travel bloggers as our guides, we rounded up the ten best reasons to book a ticket for one to Ireland, New Zealand … or wherever you want. Here's why you'll want to explore solo travel (and maybe even become a female travel blogger?).
1. You Get to Make New Friends
One of the best secrets of solo travel, or solo female travel, is that you're rarely ever alone. In big cities like New York or even sleepy islands in Indonesia, you're likely to meet new and lifelong friends when you open yourself up to it. "It forces you to meet new people," says Stephanie Be, female travel blogger of TravelBreak. "By nature, it's easy to stick with the people you know if you're travelling with friends, so being alone allows you to open up to people you may not have met."
2. You Get to Learn More About Yourself
When you actually are alone, you can tune in to your own needs and desires during quiet moments. "It allows you to get to know yourself better," Be explains. "You really know what you like and don't like when you don't have to compromise for anyone else." This also helps when you have no one else to rely on to make an early-morning flight or ask for directions. "You take more responsibility and sharpen your problem-solving skills."
3. You Can Plan Your Own Itinerary
Female travel blogger Alyssa Ramos of My Life's A Movie explains that she always researches local culture, customs and current events when planning her solo trips. "I also look for blog posts from other solo travellers to see if anyone had any negative experiences," she says. "For the most part, though, if I'm going somewhere alone, I make sure to research how to get to where I'm going and how to say basic phrases in the local language."
4. If You Get Lonely, You Can Always Reconnect With Friends
Whether you're travelling to a city or returning to an old favourite, break up your solo time with familiar faces. "I also love going to New York or big cities where there's a solid chance someone I've met in the past lives there or has a friend that lives there," says Be. Of course, reach out to friends who may know a local in town. "I always post on social media where I'm going to see if friends have a mutual friend to show me around," says Be. "It's a surprisingly small world."
5. You Don't Need An Excuse to Hop On a Flight
The best part about taking a solo trip is that you can just travel for the sake of it. Always wanted to visit Rome? Go for it! Want to see the Northern Lights but can't find a friend to get the vacation time? Book a ticket for one. It could be your ticket to becoming a female travel blogger, too. "My number one reason to travel solo is simply because I want to travel," says Ramos. "I never meant to become a solo traveller. I wanted to travel with a partner or friend but was never able to find anyone who wanted to travel, so I bit the bullet and went on my own."
6. You Learn Pretty Quickly to Trust Others to Help You On Your Journey
You know how they say it takes a village to get anything done? This is especially true in times when you're feeling lost on the open road and just need someone to guide you in the right direction. And help usually comes in the strangest and simplest of ways when you need it most. "Ironically, travelling solo has taught me how to be both independent and dependent," says Be. "I'm independent by nature but learned to be dependent on the kindness of strangers. Travelling solo taught me how many good people there are in the world."
7. You Become Responsible for Your Own Safety
This may sound like a cliche, but safety always trumps the thrill of a new adventure. And you learn very quickly to trust your gut when entering any new situation alone. "One drawback I typically experience is that I limit myself when doing things at night," says Ramos. "It's a safety precaution, and a smart one, even if it means missing out on some fun. I know what I look like as a young woman walking alone or having a drink at the bar, and I know better than to put myself in that situation. I'd rather continue experiencing life than experience one wrong night of nightlife anyway."

8. But Don't Be Afraid to Accept Invitations From New (Potential) Friends
"People would even invite me to eat at their tables when they saw me sitting alone, and were fascinated when I told them I typically travel alone," Ramos says of her recent jaunts in Norway. "I also distinctly remember being warmly welcomed by travellers at a hostel in Krabi, Thailand. I was, again, sitting alone and they literally came up to me and convinced me to come sit with all of them and play cards!"
9. You Become a Boss at Getting to Your Next Destination
Once you become responsible for planning all elements of a trip, you learn that you don't have to rely on someone else to do it for you going forward. (In fact, we're pretty certain that you'll become addicted to taking the lead.) "My biggest concern when I'm travelling solo is transportation," says Be. "When are the trains available? Is this somewhere I can legally drive? What are safe, reputable companies to hire a driver?" Your research skills will become top-notch from the minute you land at your new destination.
10. Ultimately, You Learn That Travelling Alone Doesn't Mean That You'll Be Lonely.
Travel as you normally would, just a little more conscientiously. Stay off the beaten path, make friends, and be open to new adventures. "I suggest meeting other travellers, or another travel blogger, during the day to hang out with at night as opposed to going out alone at night," Be recommends. "'Solo' doesn't mean 'alone,' especially when it comes to female travel, it just means meeting new people!"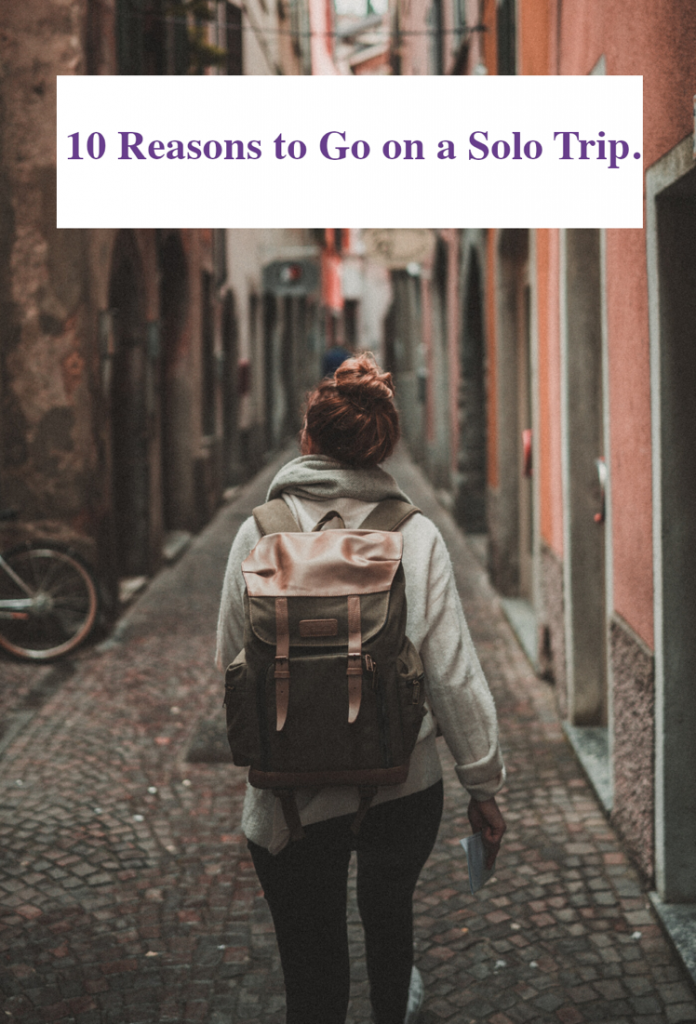 More From Travel & Style
5 Tips for Photographing Sunrises and Sunsets
The Most Instagram-Worthy Spots in Toronto
5 Things I Have Learned as a Travelling Vegetarian