Being hot in the city isn't as fun as it sounds — unless you have a place to find respite, like a gorgeous rooftop patio complete with skyline views. Near or far, when we're city travelling a rooftop bar is a great way to not only enjoy the outdoor temps, but to also be dazzled by the surrounding urban landscape. Our solution for beating the heat this summer? Find a rooftop patio and relax. We've found 7 different bars in major cities across Canada and the U.S. we suggest you hit up next time you're in town.
1. The Rooftop Lounge at the Thompson Toronto
The Scoop: There aren't too many bars in Toronto that can boast 360 degree views of Toronto, except maybe the C.N. Tower's upstairs resto, which is much to fussy a place for an evening cocktail. Go early if you want a seat, as many of the booths tend to be reserved for bottle service. You'll find a huge cocktail menu list, tons of wine's by the glass and a small nibbly menu with items like beef sliders, veggie spring rolls and calamari.
Price: Wine's by the glass start at $10. Cocktails are around $15.
Where to Find:
500 Wellington St. West
Toronto, ON M5V 2V4
(416) 640-7778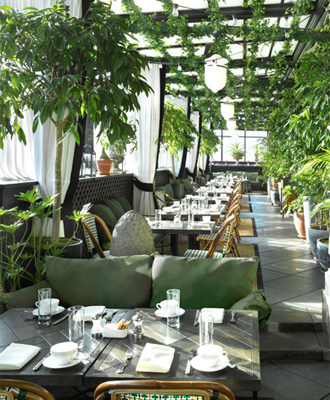 2. Gramercy Terrace at the Gramercy Park Hotel New York City
The Scoop: Imagine having a drink in what feels like your own private garden terrace overlooking Manhattan? That's what it's like at the 17th floor terrace at the Gramercy Park Hotel. Recently refurbished, the space is lush and green, and serves up weekend brunch, breakfast and lunch. You'll find American classics like biscuits and pancakes for breakfast, and diverse offerings for lunch ranging from pizza to sandwiches.
Price: All cocktails are $14.
Where to Find:
2 Lexington Ave.
New York, NY 10010
(212) 201-2171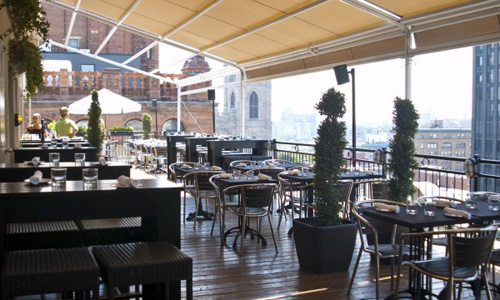 3. La Terrasse at Hotel Place d'Armes Montreal
The Scoop: A open-air rooftop patio on top of the Hotel Place d'Armes in Old Montreal, this is where you can expect to find the cool crowd hanging out. Open until 3 a.m. Thursday, Friday and Saturday, you can enjoy lunch, dinner, small bites, and plenty of custom cocktails including sangria pitchers, fruity martinis and their signature raspberry mojito. The patio also recently added an awning, so if it's too sunny or it happens to rain, you can still enjoy the outdoors.
Price: Everything is reasonable here, with cocktails starting at $11 and wine's by the glass $8 and up.
Where to Find:
55 Rue Saint-Jacques West
Montreal, QC H2Y 3X2
(514) 904-1201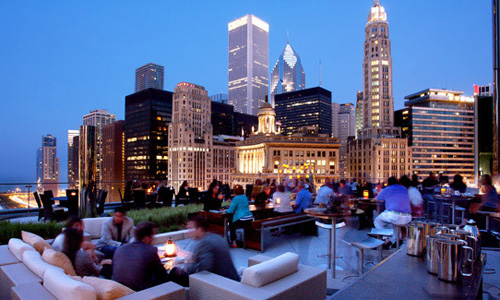 4. The Terrace at Trump Chicago
The Scoop: The city always looks better from above, especially if you have a cocktail in hand, which is why we think The Terrace at the Trump Hotel in Chicago is worth a visit. Open for service from 2 p.m. until midnight 7 days a week, the menu is seafood heavy with items including oysters, sushi, "lobster babies" and shrimp cocktail. For drinks their specialty is "freeze pops" a.k.a. an adult popsicle, nicely boozed up for $11.
Price: Craft cocktails start at $18 (you can even buy a punchbowl for $180). Wine's by the glass start at $17.
Where to Find:
401 N. Wabash Avenue
Chicago, IL 60611 US
(312) 588-8000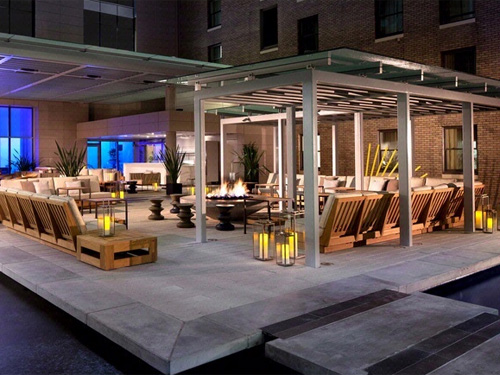 5. Reflections at the Rosewood Hotel Georgia Vancouver
The Scoop: You'll find Reflections on the 4th floor of the hotel in an inner courtyard, purposely positioned to be an urban oasis for guests and visitors alike. Complete with relaxing water features, private cabanas, oversized teak couches and a fire pit, the upbeat music and lanterns help to create a laid-back atmosphere. Terminate any hunger pangs with something from their tapas menu or better yet try one of their custom cocktails or many wine's by the glass.
Price: Cocktails are $12. Wine's by the glass start at $10
Where to Find:
801 West Georgia St.
Vancouver, BC V6C 1P7
(604) 682-5566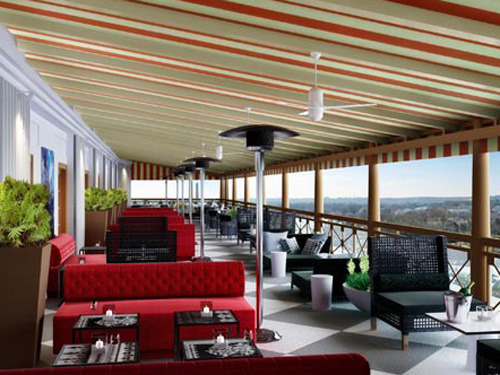 6. P.O.V. Rooftop Terrace at the W Hotel in Washington D.C.
The Scoop: Depending on where you sit you'll either be looking over the White House or the Washington Monument, which isn't too bad of a view if you ask us. Dazzling at night, the terrace can be found on the 11th floor of the W Hotel, where you'll find plenty of cozy seating including velveteen banquettes and wicker lounge chairs. The cocktails are more varied than your standard hotel fare with yummy options including a pisco sour and strawberry lemonade.
Price: Cocktails are $12. Wine's by the glass start at $9.
Where to Find:
515 15th Street NW
Washington DC 20004
(202) 661-2400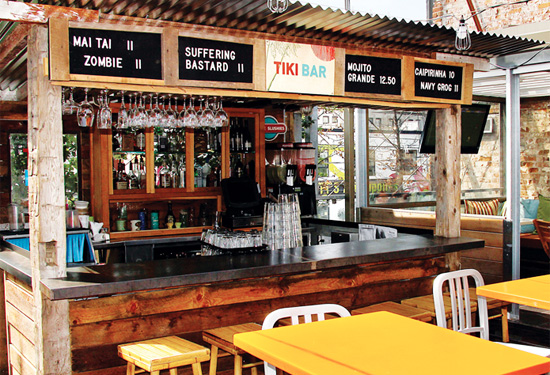 7. The Sky Yard at the Drake Hotel Toronto
The Scoop: While there are no shortage of attractive, well-dressed people who sit at the Drake's Sky Yard patio for drinks, it's much more laid-back than the Thompson's rooftop terrace. Serving up a full-menu from appy's like Lobster Nachos and Oysters on the half-shell, to pasta, burgers and a variety of sushi. Their custom cocktails go beyond your standard mixes, with tasty twists on classics like their Lavender Lemonade, and Blackberry and Rhubarb Julep.
Price: Cocktails start at $12. Wine's by the glass start at $8.50 for a 5oz.
Where to Find:
1150 Queen Street West
Toronto, ON M6J 1J3
(416) 531-5042