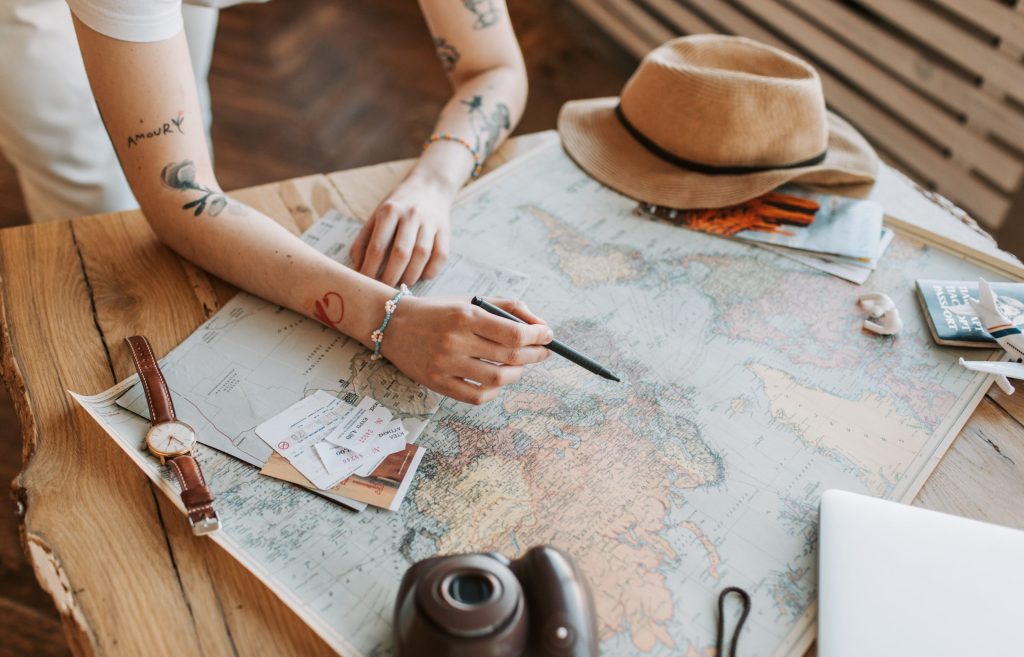 While travel may be on hold right now many experts are eyeing up a rebound and less restrictions in the spring and later in 2022. That means this could be a great time to start booking a much needed vacation. Here is the best of travel 2022… from travel trends to travel resolutions.
Travel 2022: What will Canadians be looking for in travel? 
Ease—it's already been a stressful enough time, Canadians are expected to look for relaxation, outdoor activities. They're also looking for places that offer some sense of safety. Low case numbers/high vaccination will be key along with ease of getting that required PCR test (in terms of cost and access).
Affordability—with the costs of testing and the potential of extra days of quarantine when you return home, Canadians will be seeking affordability when it comes to travel 2022. That may mean sticking closer to home for some.
What kind of trips are Canadians booking? 
Canadians ARE excited about travel. And they're planning into the future. In addition to family reunions, bigger Canadian trips we're seeing big ticket vacations, once in a life time trips being booked. Think safaris, cruises that are months long, or remote destinations like Tahiti, Antarctica, luxury all-inclusives and more. These are being booked well into 2023 and beyond. Just make sure you check all those refund options!
Workcations
With the new norm of working from home, you can technically work from anywhere. Workcations are on the rise and expected to be big in the coming year. More than 40% of Gen Z employees plan to take a "workcation" in 2022, according to data provided by Kayak.
We still want to get outdoors
Considering it was the only safe option for a while, Canadians are still feeling the most comfortable with trips that are nature focused for easy social distancing and a chance to get out of the house.
Trip stacking
Think of this as taking advantage of when it's safe to travel and booking in as many vacations as you can. So let's say it's summer, you're vaxxed and the cases are low. This is the time to book a bigger vacation, or a few smaller ones within a short period of time. Think about an island hop in the Caribbean, or get a few countries on your list in Europe.
Home swapping
Swapping homes has been booming on Tiktok for travel 2022, but it also makes sense for those looking to do longer stays. Home swapping allows you to save on costs of dining out, expensive hotel nights, and is ideal for a bigger family gathering. And, as more and more people look to hunker down in one destination and practice "slow travel" (ie not skipping from city to city because of more covid exposure risk), setting up a home-base in a home swap is becoming increasingly popular.
Destinations to consider for travel 2022
Cuba—Talk about ease and safety for Canadians. Canadians love Cuba in general, but the fact that it is mainly Canadian tourists and no Americans can make travelers feel more comfortable. They have a high vaccination rate and they make getting a required PCR test easy. It's done on site at your hotel, $30USD. No testing before hand if you have proof of vaccination.
Switzerland—You just need to show proof of vaccination uploaded on their app before travel. They have incredible outdoor activities, small cities and towns to explore and the Italian region is being pegged as a new top destination in the country.
Portugal—This European country is affordable, has an extremely high vaccination rate and they have pretty much everything Canadians are looking for. Sun, beaches, cities, wine, countryside and great food. Plus there are great flights out of Toronto and Montreal. Right now you do have to test to get there, but that may change as time goes on later in 2022.
The US—A close destination for Canadians, we expect to see more travel resume back to the States. But again focusing on the great outdoors—national parks, smaller cities, wineries, adventure.