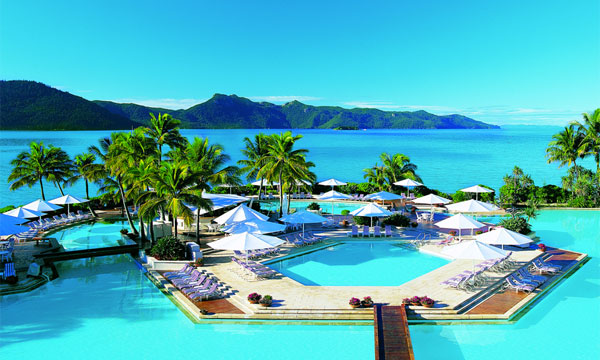 You may know her for her fashions, furniture, textiles and jewellery, but design queen Diane von Furstenberg is not stopping there. Just last week the icon launched her personally-designed penthouse suite at the luxurious Hayman Island Resort in Australia.
This isn't Furstenberg's first foray into the hotel world. In 2010, she designed 20 suites at The Claridge's Hotel in London after noticing "inescapable signs of wear and tear," according to Wallpaper* magazine. For Furstenberg, travel is a way of life (as she shared in a video last year), so it's no surprise to us that she's putting her signature stamp onto the travel industry too. 
The DVF Penthouse, as its called, has two-bedrooms, gorgeous furniture pieces, all upholstered with DVF signature fabrics, a four-poster bed and a vibrant mix of colours and textures seen in the fabrics and rugs. The large balcony features stunning views of the surrounding Hayman Beach, tropical waters and garden landscape. The space wouldn't be complete without a luxurious master ensuite bathroom, and this penthouse has just that. Complete with a freestanding stone bathtub, the neutral palette gives a spa-like feel.
Accommodating up to four adults, the Penthouse offers full butler service, meals and other special inclusions.
As huge fans of Furstenberg and her work, we would be thrilled to see this stunning space in person!
Where to Find:
Hayman Island Resort
Great Barrier Reef
Queensland 4801 Australia
1800-122-339
hayman.com.au