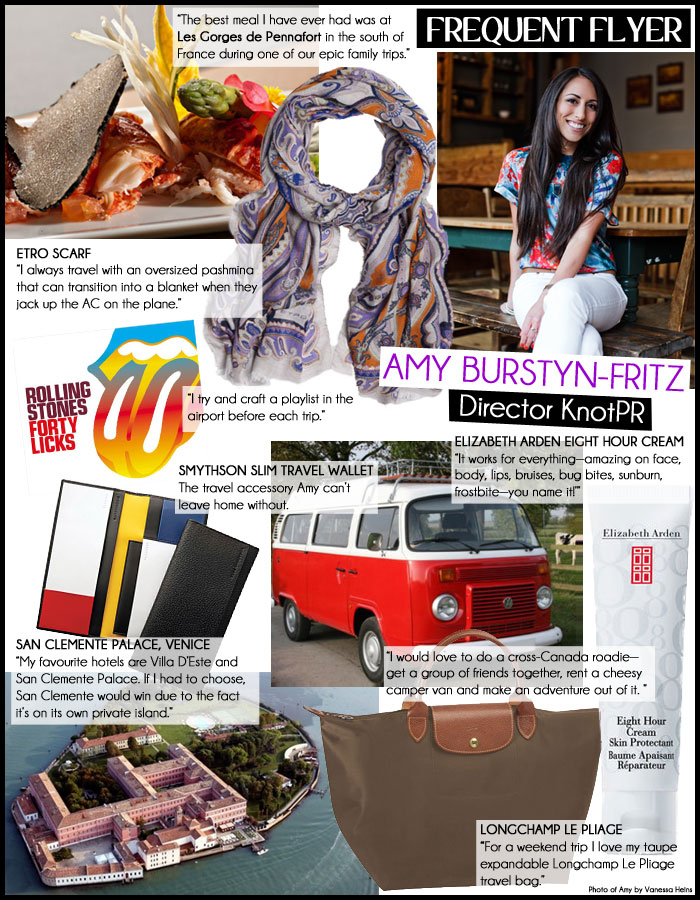 It wasn't too long ago we had the pleasure of featuring Tatiana Read of Knot PR, so it's only natural that we complete with equation with the company's other stylish half, Amy Burstyn-Fritz. This Toronto arts and culture enthusiast (her twitter bio confirms) has a love for globe-trotting and does it in serious style (think Rag & Bone jeans with Chanel ballet flats). With aspirations of doing a cross-Canada road trip, fond memories of an 11-course meal in the south of France and two favourite hotels found in Italy, Amy has us inspired for our next trip.
What city do you find yourself landing in the most often?
New York is always a frequented destination — it's an easy commute, I have close friends that always offer me a warm bed, and it is relevant to my business. Also, my three sisters live in different cities; New York, Los Angeles and Maastricht and my Dad lives in Boca Raton, so I try and ensure I also visit with family as much as possible.
What's your carry-on bag?
My go-to carry all is the Louis Vuitton Damier Neverfull — true to name, it really is the Mary Poppins bag (only downfall is it doesn't have a top zipper). For a weekend trip I love my taupe expandable Longchamp Le Pliage travel bag — the middle zipper allows you to alter the size based on your needs and it folds up neatly for easy storage in my condo when not in use.
What are your top 3 essential pieces you put in your carry-on?
My electronics take centre stage when I'm in transit: iPhone 4S, MacBook Air and iPad are always in tow — and I make sure I have a paperback to read should the flight attendant ask me to turn off my devices.
Travel accessory you can't leave home without?
My Mondrian inspired Smythson passport wallet.
How do you kill time waiting for your flight?
Most airports have free WiFi nowadays so it's a great time to catch up on all the latest news, blogs and scout out my next shopping purchases. Also, I generally find a comfortable seat at the closest airport bar and order myself a Caesar. I tend to have work on the brain most of the time, so this acts as a sensory signal that I am officially on "vacation." Coming home is the opposite — I'm gearing back into office mode, using my MacBook Air to catch up on emails and starting to tackle projects for the upcoming week.
Favourite hotel?
My favourite hotels are Villa D'Este in Lake Como and San Clemente Palace in Venice. Both right by the water, gorgeous views and all the amenities. Think full size bottles of Aqua di Parma and Etro for San Clemente Palace (custom!) toiletries in the rooms, the world's top spas on site and gorgeous landscaping and architecture. If I had to choose, I guess San Clemente Palace would win due to the fact that it's on its own private island.
Best meal on your last trip.
The best meal I have ever had was at Les Gorges de Pennafort, a Michelin star restaurant in the south of France during one of our epic family trips when we rented a house in Callas. We ordered the tasting menu and kept getting course after course (each paired with the finest regional wines). The experience has become part our family lore, continually discussed and embellished upon so that every time we describe it there are more courses and exaggerated decadence involved in the tale of the night we dined there (it was actually 11 courses). From melt-in-your-mouth foie gras ravioli to sinfully sweet Mont Blanc confections, I rolled (literally) out of there completely satiated.
Current travel reading material?
I love all forms of literature and always have a number of works of fiction, biographies and current papers and magazines on the go. When travelling, I like to read books that relate to the region I am visiting — a habit passed down from my mother. I read The Thorn Birds while travelling around Australia and The Poisonwood Bible in Africa. I have a trip to the Netherlands booked for March and plan on starting Girl with a Pearl Earring.
Travel music playlist?
I try and craft a playlist in the airport before each trip, but my go-tos are generally Rolling Stones, G N' R, Tragically Hip, Annie Lennox, Stevie Nicks, The Band, Dave Matthews, Jack Johnson, Bon Jovi, Bon Iver, Florence and the Machine, 2Pac, Biggie, anything classic rock, and whatever my little sisters tell me is cool these days. Basically if it has a beat, I will find it enjoyable.
Favourite travel-friendly beauty product?
Elizabeth Arden's Eight Hour Cream. It works for everything — amazing on face, body, lips, bruises, bug bites, sunburn, frostbite — you name it! And an intense hydrator for skin that's left feeling dry after a flight. I hear they are coming out with a fragrance-free version in April (I'm pretty excited).
Window or aisle?
Window all the way — I have a gift (and a curse) of being able to sleep in any public place, but the window allows a place to rest my head for added comfort. The aisle also leaves you susceptible to getting hit by the beverage cart.
Tell us what your airplane style is.
I always travel with an oversized pashmina that can transition into a blanket when they jack up the AC on the plane — favourites include designs by Etro, Missoni and Epice. Comfort is key, so my outfit usually consists of Vince loose-fitting sweaters with Rag & Bone jeans or black Theory stretch cotton-blend pants that are comfortable yet can easily be dressed up for a night out (I'm often going straight from plane to dinner). I pair this will simple black Chanel ballet flats (very comfortable to walk in) and store cashmere socks in my carry-on to slip into for the flight (not a fan of cold feet).
Where was your last vacation and who did you travel with?
My family rented a villa in St. Martin over the holidays with close family friends who we regularly travel with.
What was the best thing you did on your last vacation?
We went for a hike on Pic Paradis, the tallest point on the island of St. Martin and accidentally took the wrong route, ending up on the very advanced trail — it looked completely uncharted but for a single rope to pull yourself up on. I was very inappropriately dressed for such an undertaking and had to fasten my purse into a makeshift knapsack (at least I was wearing running shoes) — but I love a challenging adventure and at the bottom Loterie Farms has L'eaulounge, a treetop oasis where you can indulge in amazing food and a dip in the private pool. It was the perfect mix of rugged and luxury.
Dream destination?
I would love to do a cross-Canada roadie — get a group of friends together, rent a cheesy camper van and make an adventure out of it. I do feel like I sometimes take for granted how beautiful the natural landscape we live in really is — I would like to rectify that.
Photo of Amy by Vanessa Heins.