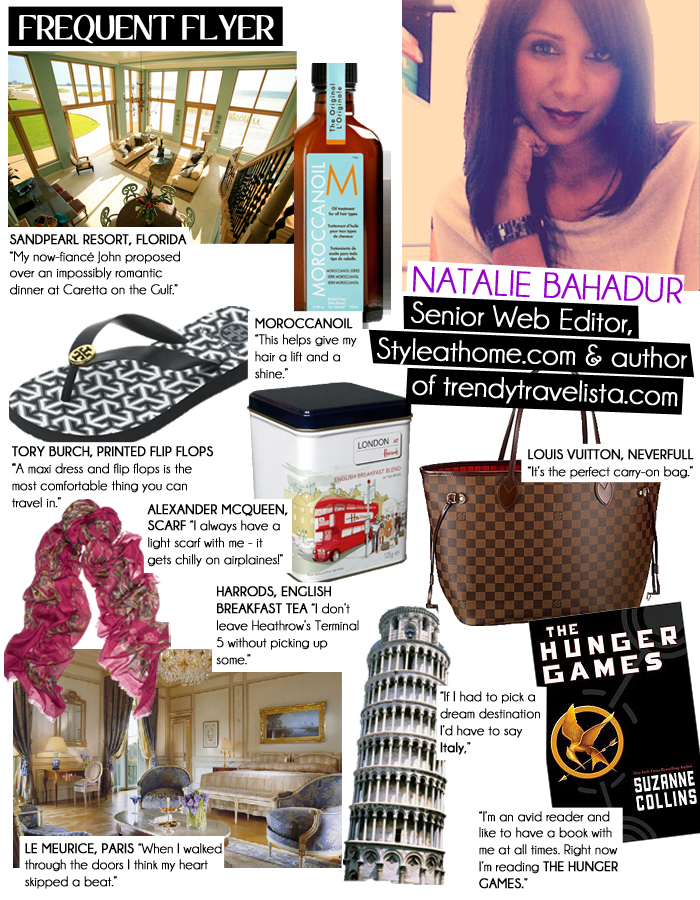 Welcome to Travel & Style's newest feature! We're going to turn our spotlight on jet setters who love to travel and do it in style. We're so excited have Natalie Bahadur be our first Frequent Flyer. Senior Web Editor of Styleathome.com and author of the fashionable blog Trendytravelista.com, Natalie beyond qualifies and has a passport to prove it at 36 countries and counting. Her most exciting trip to date however, might just be her recent visit to Florida, where she got engaged to another travel aficionado, Johnny Jet. We chat with Natalie about the proposal and get her latest travel musts.
What city do you find yourself landing in the most often?
Since my fiancé lives in LA, I'm often visiting the City of Angels. But London is another popular destination for me — sometimes to visit family and sometimes as a stopover as I make my way to other European destinations, since Heathrow is a major hub.
What's your carry-on bag?
Finding the right carry-on bag can be a challenge and I've gone through quite a few before settling on my current favourite. Right now, I'm using the Louis Vuitton Neverfull GM in Damier and it's the perfect carry-on bag. It's large enough to carry all my essentials, including my laptop, and the straps are comfortable on my shoulder, which is essential when you have to carry it for a long time.
What are your top 3 essential pieces you put in your carry-on?
Oh, it's hard to choose! But my list goes something like this:
1. Laptop: I never go anywhere without my laptop because it's how I stay connected no matter where in the world I am.
2. Kobo eReader: I'm an avid reader and I like to have a book with me at all times. My Kobo Touch is as light as a feather and holds up to 1,000 books so I'm never stranded without something to read. It's an absolute essential for whiling away long flights.
3. Charlotte Ronson makeup bag: Especially after a long flight, it's nice to freshen up before deplaning. It's filled mostly with M.A.C. makeup, moisturizer and Chapstick.
How do you kill time waiting for your flight?
When I travel, I'm not a huge shopper. I prefer to spend my time in new cities exploring must-see sites and local markets. But when I'm killing time in an airport, the shopping bug seems to kick in. Heathrow's Terminal 5 is one of my favourite places to shop. The clean, bright terminal is filled with all kinds of great shopping from high-end designer boutiques to the Marks & Spencer food hall, which is great for picking up duty-free treats to bring home. I don't leave without picking up some English Breakfast tea from Harrods, too!
Favourite hotel?
That's another tough question but I would have to say that my favourite hotel is the Le Meurice in Paris. When I walked through the doors of my room at this luxury, 5-star hotel, I think my heart skipped a beat and I was left momentarily speechless. Silk, cashmere and velvet combine in the rooms to create a space that is so stunningly beautiful I never wanted to leave. A Juliet balcony provides a view of the Eiffel Tower and the service was second to none. The Four Seasons Bora Bora is a close second!
Best meal on your last trip?
The best meal on my last trip is one I'll never forget. It was the night I got engaged! My now-fiancé John proposed over an impossibly romantic dinner at Caretta on the Gulf at the Sandpearl Resort in Clearwater, Florida. Think: fine linens, rose petals and the gentle glow of candlelight everywhere. My meal started with a jumbo shrimp cocktail with ginger dressing, followed by a butter lettuce salad with seasonal vegetables, cucumber and red wine vinaigrette. My entrée was diver scallops with cauliflower puree and balsamic pearl onions. Our decadent dessert was the signature cake for two, made with Valrhona chocolate and a raspberry and chocolate sauce. We dined in a private beach suite and everything — from the meal to the proposal — was perfection.
Current reading material?
I just finished reading Jeffrey Eugenides' The Marriage Plot. I'm currently reading The Hunger Games. When I travel, I'll both read my book on my Kobo or fire up my iPad and read my magazines – everything from Glamour to Travel & Leisure. I love how magazines display on an iPad and instead of weighing myself down with three or four actual magazines, I can have as many as I want loaded on to my iPad.
Favourite travel-friendly beauty product?
One of my favourite beauty products is Moroccanoil. Especially when I'm traveling and don't have a lot of time to spend on my hair, this product helps to give it a lift and a shine. Unfortunately, it doesn't come in a travel-friendly size (I travel with carry-on only so I have to adhere to all the liquid restrictions), but that doesn't mean I leave my favourite beauty product at home. I bought a travel-size plastic bottle at the drug store and fill it up with Moroccanoil every time I travel.
Window or aisle?
Window! For me, one of the thrills of travel is to see everything I can — and what an exhilarating perspective from all the way up there in the air! I especially love to see out the window when I'm landing in a new destination. That really gets my blood pumping.
What's your airplane style?
My airplane style depends on the time of year I'm flying and where I'm going. If it's warm, I opt for a maxi dress and a pair of Tory Burch flip flops. This is the most comfortable thing you can travel in — it's simple, you don't have to worry about removing a belt when you go through security and flip flops are easy to remove when you have to take off your shoes. I try as much as possible to simplify the process when going through security!
If the weather is cooler, I might wear my dark denim Mavi skinny jeans with a comfortable shirt and my Michael Kors leather jacket. Ballet flats are perfect for traveling because they're comfortable and easy to remove when going through security. My current fave is a camel-coloured pair of flats from Oka B. And I always have a light scarf with me — it gets chilly on airplanes!
Where was your last vacation and who did you travel with?
My last vacation was with my fiancé John — we met in Miami for a quick weekend visit. He travels for a living so we try to squeeze in visits whenever and wherever we can!
Dream destination?
I have been so lucky to travel to as many countries as I have. I never take it for granted. It's a true blessing and privilege. I've been to 36 countries so far … and counting! Any new destination is a dream come true but if I had to pick my dream destination, I would have to say Italy. I dream of Florence, Rome, Tuscany, Venice, the Amalfi Coast, the islands like Capri and Ischia, the Lake District — I'd love to spend a month (or two, or three) in Italy, eating fresh pasta and gelato, soaking up the history and reveling in this country's beauty.