The Vibe: The Sofitel Fiji Resort and Spa almost perfectly captures the essence of Fiji: The staff is friendly and always smiling, the grounds are lush and filled with tropical touches and all the action revolves around the water.
The one aspect of Fiji that the hotel misses? The island chain's amazing sandy beaches, which are often accompanied by turquoise water and stunning coral reefs. Thankfully, the Sofitel makes up for its murky beach with a large, luxurious pool that is the heart of the action at this resort.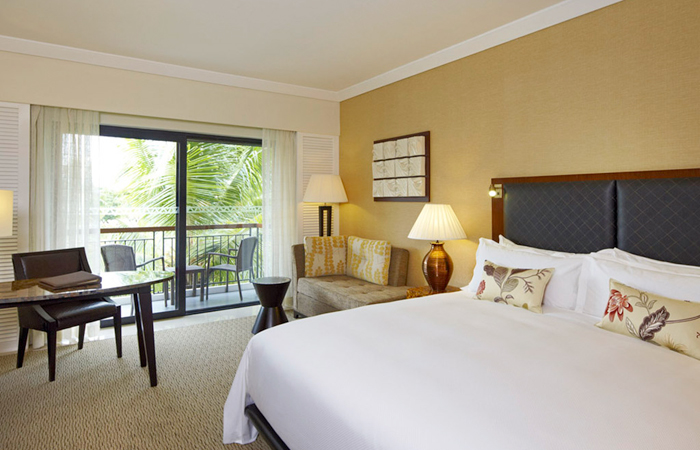 The Facts: The Sofitel is located on Denarau Island, a manmade creation (hence the lackluster beach found at not just the Sofitel but at all local resorts). It houses the Fiji's top hotels, an 18-hole golf course, and Port Denarau, which is the gateway to the popular Yasawa islands, as well as home to shops and restaurants.
Each of the resort's 296 rooms and 10 suites come with either a patio or balcony that frames at least a partial ocean view. But while we loved seeing the South Pacific right from our super-comfortable king-sized bed, our favourite feature of the room had to be the strong but quiet air conditioner, a must-have have in hot and humid Fiji.
The standard rooms have large footprints though we could have used a bit more space in the shower/water closet. The bathroom area in general could have done with some upgrading, to bring it up to the luxury level that one associates with the Sofitel brand.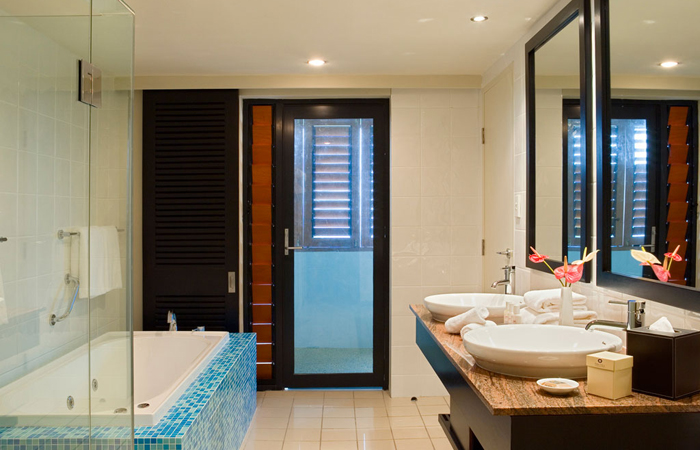 However, the rooms do come with all the amenities that you would expect and even some that we thought we'd have to pay for, like Wi-Fi and two bottles of Fiji water (yes, it really is made right on the island). Bath products are provided by Pure Fiji, a local brand that you'll want to work into your everyday beauty routine (and picking up more is easy to do, thanks to the on-site Pure Fiji shop).
Also available on-site is a gym and a luxury spa, which offers all of the usual treatments as well as few Fijian ones.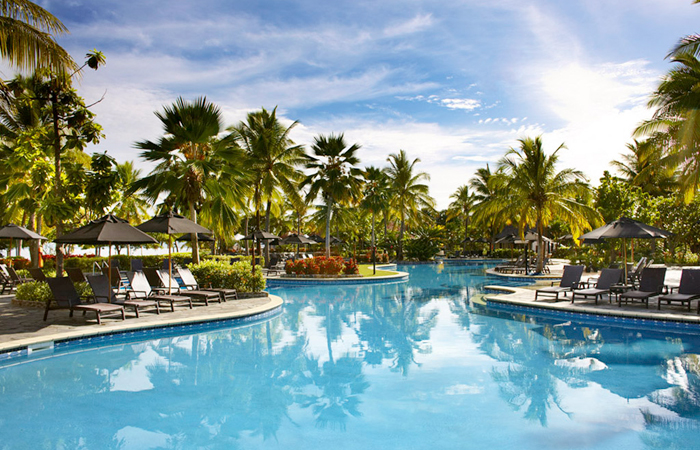 The Experience: Our experience with this resort started at roughly 6:30 am, after a 10-and-a-half-hour flight from Los Angeles. Despite the early hour, the staff was all smiles and "Bulas," the traditional Fijian greeting. Standard check-in time is 2 pm but we were in our room by 8 am, a move that was much appreciated.
The Sofitel brand is known for its commitment to elegance and luxury. In Fiji, these qualities are combined with local flavour to create an attractive, well-maintained resort that is true to both its French and South Pacific roots. Nowhere is this more apparent than the large pool area, which houses its own mini-island and is gorgeously landscaped. At no point did we ever have an issue finding a lounge chair and while pool-side food and beverages were on "Fiji time," the results were tasty and generously portioned.
While the resort offers a number of free activities, including water aerobics, volleyball and such Fiji-specific experiences as basket weaving, coconut opening and kava tasting, splashing around in the refreshing, fresh water pool was our favourite thing to do. For those more adventurous than us, assorted water sports are available for a fee, including jet sking, paddle boarding and scuba diving.
We did indulge in some of the resort's various food options and were particularly impressed by V, the resort's fine-dining option. Top-notch service, an elegant room and simply fantastic food resulted in the best meal we had our 12-nights in Fiji (if you're a fish fan, the snapper is a must-order).
Also notable is La Parisienne coffee shop. If you're not in the mood for the resort's expansive buffet breakfast, pop by La Parisienne and order the continental breakfast. For a very reasonable price, you'll receive coffee, juice and enough fresh pastries and fruit to feed two people. We also loved the shop's delicious smoothies and milkshakes, which are perfect to break up the afternoon heat.
Good To Know: The resort is well-known for its kids' club, which can result in a lot of young families staying at the hotel. To make sure your beauty sleep isn't interrupted by the shrieks of early-rising children, ask for a room away from the pool.
An adults-only beach club and pool are currently being constructed, and should be open later this year.
Room To Book:  If you're looking to take your visit to the next level of luxuary look into one of the spacious suites. Both the Prestige and Imperial suites come with a jacuzzi on a private terrace and the latter also has a separate living room.
Price: Rooms start at about $300 Canadian
Where To Find:
Denarau Island, Fiji
+679-675-1111
sofitel.com