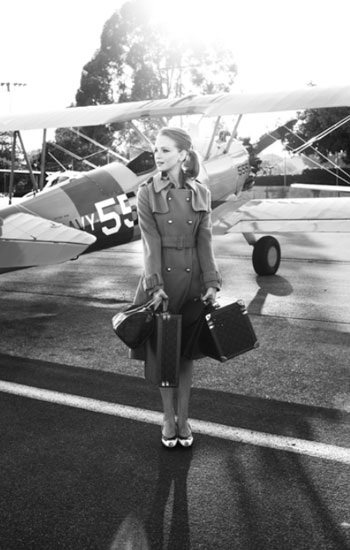 There's nothing worse than looking like you just rolled out of bed after a red-eye flight (the mirror says otherwise), and while a messy 'do is OK if you're heading straight home (or the bar), if you're booking it to an important meeting or are just trying to look refreshed, you may want to opt for something a little more polished.
We chatted to Nina Farrauto, Garnier's Styling and Colour Expert to find out some easy ways to style your hair post-flight and also tips on what you can do before you board to make sure your locks hold for the duration of the flight.
Can you suggest one or two hairstyles you can do quickly (in say airport washroom) if you're heading straight to a work meeting post-flight?
If you're going straight to work or a meeting from a flight, and need a quick and simple hair fix, a classic bun or ponytail is easy to do and it's versatile. A high ponytail can be polished or casual, as can a high or low bun. You'll only need a few bobby pins, an elastic and a comb. For a polished look, apply a quarter sized amount of Fructis Sleek & Shine Moroccan Sleek as you put your hair up. It will smooth any flyaways and its about 100ml to bring in your carry on.
What's a cute way to wear long hair after a flight?
If your hair is long and you're looking for a cute style to wear right after a flight, braided hair can be beautiful, and help manage your mane while travelling. Braiding your hair, whether it's one braid, two, or French braided, will keep your hair untangled during your flight, and brushing it out will be easy once you've reached your destination. When you brush it out, the braid will leave your hair wavy with texture, and now styling it in a side braid, or a braided headband could be a really simple and stylish look.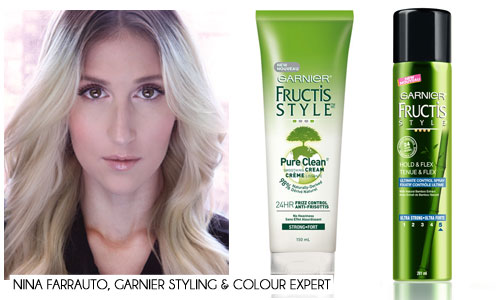 What would you suggest to help refresh your hair after a long flight?
If your hair after a flight is frizzy with flyaways and static, using a hair cream such as Fructis Style Pure Clean Smoothing cream will give you light weight frizz control. If your hair after a flight lacks volume and body, try boosting your style with a hairspray such as Fructis Hold & Flex hairspray. It's non-aerosol for the flight, and the strong hold will put the life back into your style when you spray your hair flipped over and work it into your hair and roots.
What can you do pre-flight or on the flight to help make sure your hair stays relatively nice, so you have less to do once you land?
If you want to make sure your hairstyle lasts beyond the duration of the flight, you should commit to the styling of it pre-flight. Have your hair blow dried and styled before flying, and make sure you use mousse and products with great hold. Fructis Style Sky-High Root boost, and Fructis Style XXL Body Thickening Mousse will give you build-able hold to last your trip.
What do you suggest ladies with frizzy/curly hair, landing in a hot destination from a cold place do with their hair so you look put together, not messy when you first arrive?
If your hair is curly or frizzy and you're heading to a hot and humid destination, preparing to embrace your curls will be the most low maintenance option, and you might develop a new love for your natural curls. Using a spray gel such as Fructis Style Curl Shaping Spray Gel can be used on your damp hair to give you defined natural texture without the frizz, and also scrunched into dry curls to further amp up the volume.