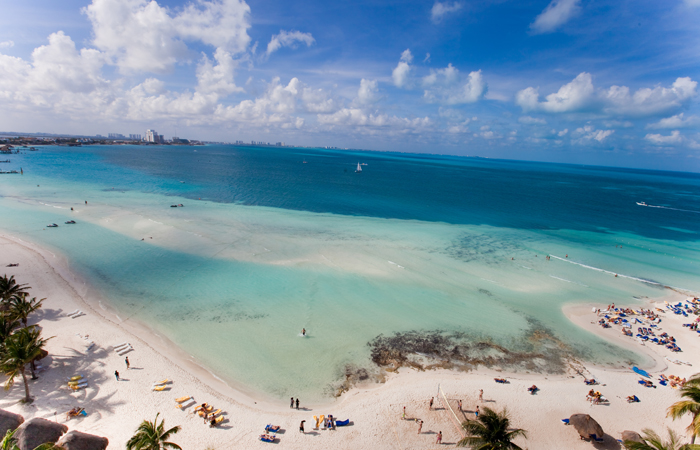 There's a reason why Cancun is one of the most popular tourist destinations in the northern hemisphere — it delivers the perfect escape with its sun and sand! But there's more to this Mexican hotspot to discover, including its impressive archaeological sites, colourful coral reefs, cultural activities, and not to mention a vibrant nightlife. Looking to go off the resort and explore? Here are 7 must-see places and activities in Cancun.
1. Isla Mujeres
Take an afternoon and visit the tiny, laid-back Isla Mujeres (Island of Woman) a mere 12 kilometres off the Yucatan Peninsula. All it takes is a quick ferry trip, which you can pick up at the Gran Puerto ferry terminal. Ultramar offers frequent service for 146 peso return ($12 CDN), departing every half hour. A fun way to explore is the island is by golf cart. It's the cheapest way to cover the most ground and you can easily stop and explore at your own pace. Isla Mujeres Golf Cart Rentals allows you to reserve in advance online, if you want to guarantee you have a cart upon arrival. During high season rates are $49 USD/day, which is about average.
Some photo-worthy pit stops include Playa Norte, a quiet beach with calm waters, ideal for snorkeling and Punta Sur, the southern most point on the island where you can explore the sculpture garden and gaze out at the ocean. Animal lovers should consider a visit to Tortugranja is the island's turtle farm where you can see how they help breed and protect the tiny creatures right from when they hatch. Admission to Tortugranja is 30 pesos.
2. Museo Maya de Cancun
Take a break from the sun for a couple of hours and soak in some Mexican culture at the Museo Maya de Cancun. Opening to the public in 2012, the museum features 350 archaeological artifacts that took 30 years to procure. There are three main exhibition halls, two of which are permanent. The first room is dedicated to the Mayan population in the state of Quintana Roo, while the second hall represents the diversity of the various regions, featuring Mayan art, architecture and other artifacts. Next to the museum is the San Miguelito archeological site. Zigzag through jungle paths until you reach a variety of ancient structures — the largest being a 26-foot high pyramid. Admission to both costs 57 pesos.
3. Interactive Aquarium

You'll find Acuario Interactivo in the heart of Cancun located within the La Isla Shopping Village. The aquarium has 13 tanks, each designed to replicate the natural environments of the species living in them. Some of the sea life you can expect to see? Piranhas, sea horses, barracudas, sea turtles, tiger sharks and dolphins. As the name suggests, you can do more than just look through the glass, there are opportunities to feed sharks underwater, swim with dolphins or even get up-close and personal with sea lions. Adult admission is $13 USD. Interactive activities are extra.
4. El Ray Ruins
You don't have to travel far to visit Mayan ruins — case in point — the El Ray Ruins found within the Cancun Hotel Zone. The ruins are composed of 47 structures many with round columns (no pyramids here), and some faint murals are still visible on the stone walls. Funny enough the biggest draw of the ruins are the iguanas that inhabit the area. The park staff regularly feed these reptiles, making them quite friendly towards humans and easy to get up close for a photo op. The ruins are open between 8 a.m. – 5 p.m. daily and admission is $5 USD.
5. Coco Bongo Cancun
One of the most entertaining nightlife spots in Cancun is Coco Bongo. Non-stop performances are done by singers, acrobats, actors and musicians who cover pop songs, musical numbers, and movie scenes in a unique and thrilling way. Elaborate costumes, movie clips projected onto large screens, balloons, confetti and streamers is just a sample of what to expect at Coco Bongo. It's not a traditional DJ-spinning club, but the whole space turns into a club-like atmosphere. The show starts at 10:30 p.m. and goes until 3:30 a.m. For $65-75 USD (depending on the day of the week), your admission covers entrance plus unlimited domestic drinks.
6. La Isla Shopping Village
An open air mall in downtown Cancun, La Isla Shopping Village has more than 150 national and international stores including Kiehl's, Coach, Nine West, Zara and Hugo Boss. It's a pleasant atmosphere to stroll, with its Venetian-style look including canals and lagoon boardwalk. Whether you're looking for an extra swimsuit or are just hoping for a Starbucks you'll find it here.
7. Tulum Ruins
A 2-hour drive from Cancun, the Tulum ruins are in the most picturesque location perched on a cliff above the Caribbean Sea. What was once a walled city, its most iconic structure is Castillo — a large structure facing the ocean. The beach below the ruins is considered of one of the most beautiful beaches along the Mayan Rivera, so make time to take a dip! Organized day trips or tours are the easiest way to plan a trip here.
Learn more about Transat Holidays Duo Experience Collection with Cancun & Merida.
This post has been sponsored by Transat Holidays.