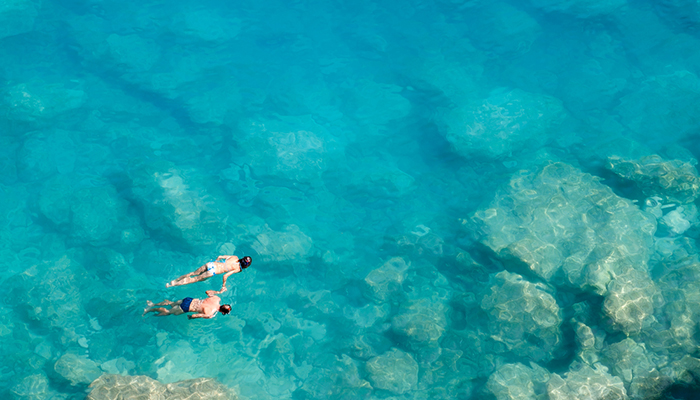 So often when someone travels to Mexico they sip cocktails poolside and chill out on the perfect sandy beaches. Ideal things to do when you're looking for an uber-relaxing vacation, but Mexico can be so much more than that, if you're looking to take things off the resort. If you're looking to up the romantic and adventure factor, and get off the resort, here are some options that are different, showcase all that Mexico has to offer, and can give your trip that extra special vibe.
1. Hit Up a Local Town

Whether you're sticking to Cancun, Merida or vacationing in the Mayan Riviera, there are always small town options that are beckoning for a day visit. The charming locales can be a treasure trove of souvenirs, pottery, jewellery, Mexican delicacies and hidden gems. Always check in with your resort first – they can recommend key places to visit, arrange a taxi or car service, and can suggest the best spots for that chilly margarita with chips and guacamole.
2. Visit an Island

Just north of Cancun you will find some of the most romantic beaches around. The island of Holbox is a big departure from the bustle of the main part of Cancun — think sandy streets, quiet restaurants, nothing in the air but the warm breeze — a slice of romantic paradise separated from the mainland by a lagoon filled with pelicans and flamingos. You might not even feel like you're still in Mexico, making it the perfect romantic retreat from the bustling hotspots.
3. Snorkel
Adventurous couples take note, snorkelling is a must if you're heading to a Cancun, Mexico, especially the Mayan Rivera, which is considered one of the best diving spots in the country. Off the coast of the Yucatan Peninsula is The Great Maya Reef — more than 965 km long and home to over 500 marine species. Even though most resorts offer snorkelling gear, the best spots to explore are off the resort, including the Puerto Morelos area south of Cancun, where you can join a snorkelling tour like The Original Snorkeling Adventure. For something even more unique, a cenote (cave diving) tour is definitely a worthwhile adventure.
4. Wine & Dine
Food is an important component to any memorable trip, so a candlelit dinner for two is an evening you should definitely plan. There are many Cancun resorts with high-end restaurants, including Tempo by Martin Berasategui at the Paradisus Cancun, which offers a six-course tasting menu with wine pairings in a gorgeous setting. Plus, since dining here is an add-on at the resort, it's not packed, making for an intimate meal. But don't be afraid to venture out further. For authentic Mexican cuisine, a highly-rated destination in Cancun is La Parrilla, which gets points for its live mariachi music and solid food menu and wide selection of tequilas. In Merida, La Chaya Maya is a hit with both locals and tourists, serving traditional Yucatecan food in a cozy setting.
Learn about Transat Holidays Duo Experience Collection with Cancun & Merida.
This post has been sponsored by Transat Holidays.
More From Travel & Style
7 Must-See Sights in Merida
How to Get a 2-in-1 Honeymoon Experience
7 Must-See Sights in Cancun