South Australia is often overlooked by tourists who flock to Sydney, Melbourne and the Queensland coast near Brisbane. Those places are highly worthy of a visit. But the fact that South Australia flies under the radar makes it that much more attractive. Here are three highlights.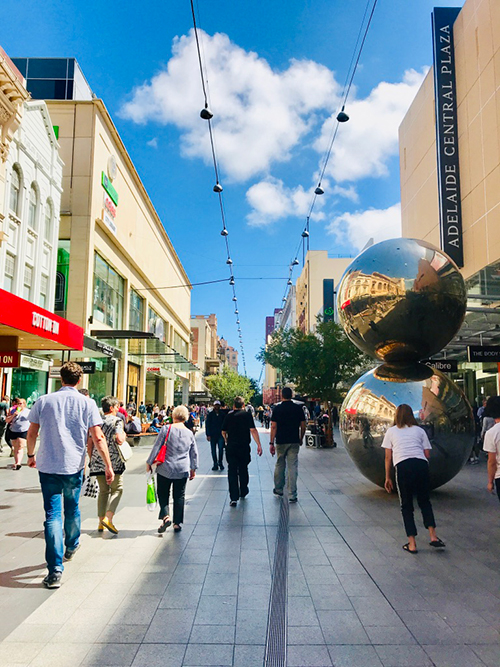 Adelaide Chic
I'd heard bits and pieces about Adelaide, Australia's fifth-largest city, over the years from my husband, who briefly lived and worked there when he was in his 20s during the late 1980s. He loved the place, and had had a favourite pub, called The Austral. So, the first thing we did after checking in to the Mayfair Hotel, a classy five-star in a historic building (and the most incredible breakfast buffet I've ever experienced), was to seek it out. As we walked east from the Mayfair along Rundle Street, a pedestrian mall that is the lifeblood of the city, it was a trip down memory lane: there was The Austral, a beauty of a heritage building with its stained glass and wraparound balcony. We had schooners (an Aussie measure that's smaller than a pint) of Coopers Sparkling Ale while he told me things he was remembering for the first time in decades: Things like what his construction job had been like, how he dated a local girl while he lived there, and what a laugh he and his work mates had after work in that very pub. Which, I shouted over the '80s soundtrack, must have been playing the same music even back then. He laughed and said, "Exactly right!"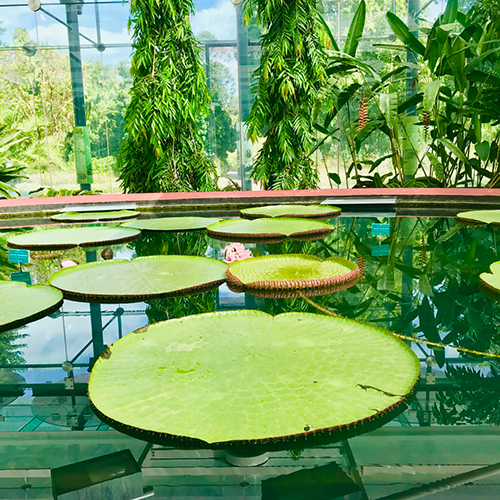 We strolled along the lovely Torrens river that flows through Adelaide, checking out the large grazing birds: strange-looking red-shielded moorehens, and long-billed white ibis. The path meandered past the Adelaide Oval cricket ground and concert venues. Then we diverted through the lush Botanic Gardens, where exotic plants like giant green lily pads with spiky bottoms, and colourful parakeets in the massive Moreton Bay Fig trees filled our senses. Back on Rundle Street we saw bands setting up for performances later as part of the Adelaide Fringe Festival that was taking over the city.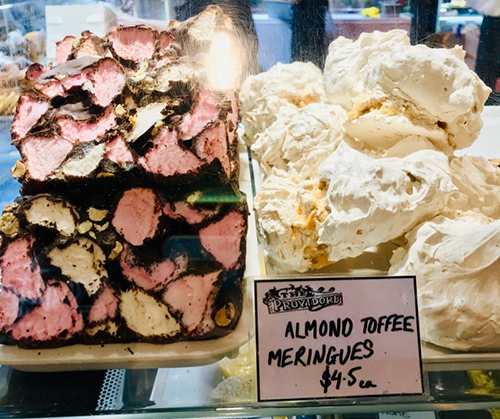 A highlight the next morning was a visit to the Central Market, just a few blocks away from Rundle Street. Founded in 1869, it's celebrating exactly 150 years of providing the freshest of foods to locals. Central Market is the southern hemisphere's largest covered food market, and it's bursting with cheeses, meats, seafood, produce, baked goods, nuts—you name it, you'll find it here. We stocked up on ciabatta, local cheddar and goat's cheese, spicy sausage, olives and tomatoes, because we were heading out on a little side trip: Kangaroo Island.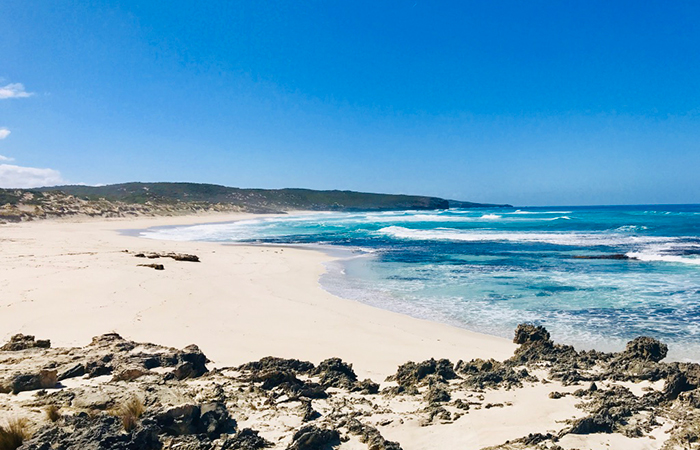 Kangaroo Island Adventure
Just 20 minutes from Adelaide by the local Aussie airline Rex (or less than an hour by ferry), Kangaroo Island is a true retreat off the south shore of Australia. It was early afternoon when we picked up a rental car at the airport, and we were so ready for that picnic we had brought. We headed for the south shore, stopped at the first beach we found—it was deserted, as were most beaches we'd visit over the next two days—and unpacked our treats at a picnic table. We sat there in awe, enjoying the scene of crashing waves and expanses of pure white sand mingled with beautiful, purple-coloured shore plants. The thought that the closest land mass due south of here is the Antarctic was just mind-boggling.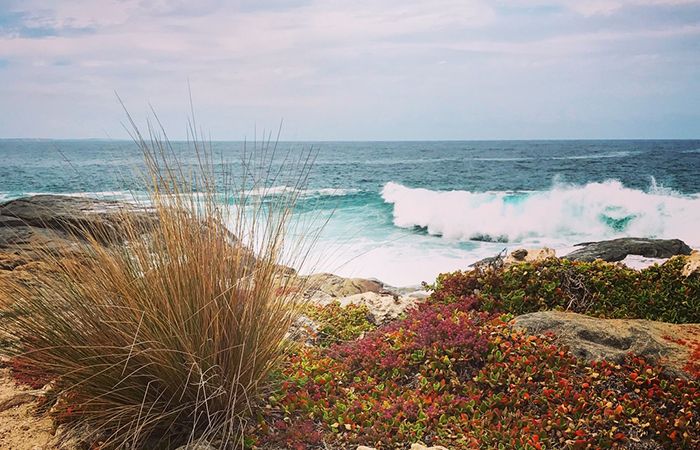 We had two days to explore this island, and based ourselves in the main town of Kingscote (population about 1,800; there are around 4,000 residents Kangaroo Island). We stayed at the excellent Aurora Ozone hotel, and from its seafront balcony saw dolphins arcing past in the distance. As its name suggests, the island is known for its vast animal conservation areas, including of course for kangaroos. With the goal of seeing some of those marsupials, and I really wanted to see a koala, we headed out on our second day toward Hanson Bay Wildlife Sanctuary and its Koala Walk on the west end of the island. We weren't disappointed, walking among loads of gum trees, and looking up into their branches to see the little nocturnal cuties blinking sleepily as they checked us out from above.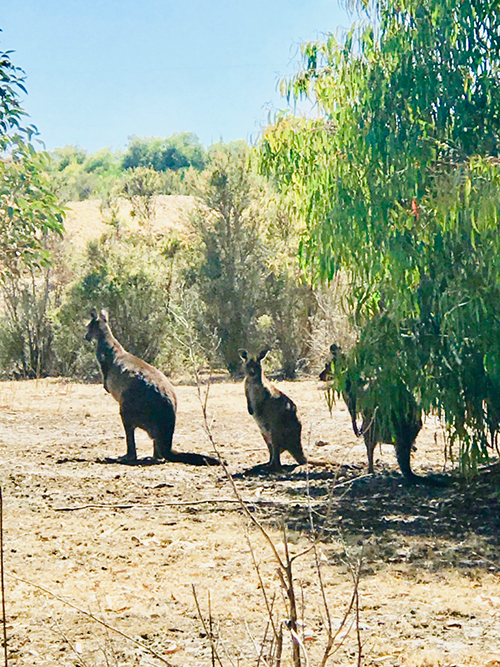 Walking away from the gums and into a desert-like part of the reserve, we encountered wallabies, and loads of kangaroos. They seemed a little timid, bouncing away when we slowly approached, but that was okay with us; they are known to get aggressive if they feel threatened. Watching them bounce away was just the coolest thing.
Back at the Ozone, we talked about the sights we'd seen over glasses of Australian Merlot, then went for fantastic fish and chips at Kangaroo Island Fresh Seafoods a short stroll away. It was early to bed, as we looked forward to heading the next day to one of the world's premier wine regions.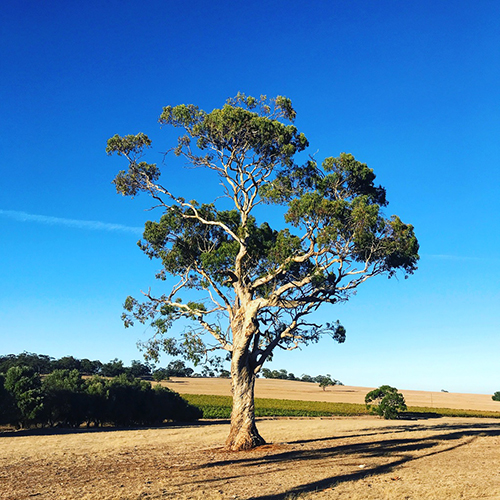 Barossa Valley Wines & Cuisine
Our third and final destination in South Australia took the glamour up a notch. Barossa Valley is world-famous for its jammy shirazes, and as we soon found out, so much more. It's only a one-hour drive from Adelaide into this hilly wine-lover's paradise. We stayed at the gorgeous Novotel Barossa Resort, next to the quaint café-filled town of Tununda. The hotel's lobby has huge glass walls that put the full, hilly glory of the Barossa on display. And Jacob's Creek burbles through the property (yes, THE Jacob's Creek, but, sadly, it does not flow with sauvignon blanc). It was March—the end of summer for that part of the world—and still desert-hot, so the hotel's gorgeous pool was just perfect.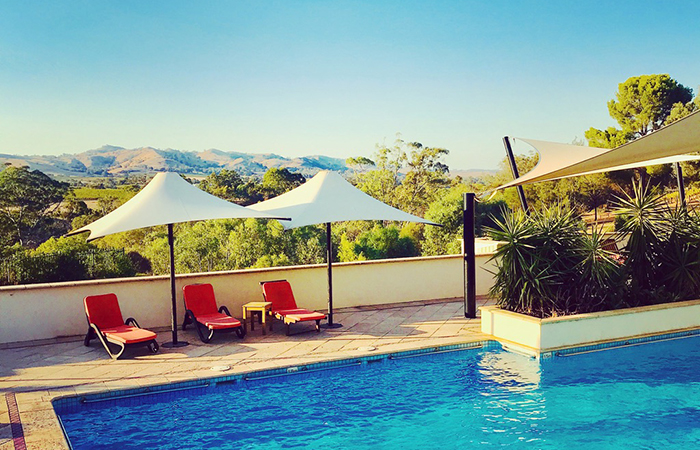 Over two days, we explored wineries and country roads by car and on foot. There's a lot I could mention but I want to get to the true highlight of our visit: Dinner at 180-year-old St. Hugo. St. Hugo is an upscale winery, as we learned from wine ambassador Tim Redman. Tim toured us through the vineyards, past the massive stone fireplace in the lobby, and then took us to a private tasting room in the luxurious wine cellars downstairs. Tim stresses that while St. Hugo's setting is indeed fabulous, "To this day, it's still our wines that are at the centre of everything we do."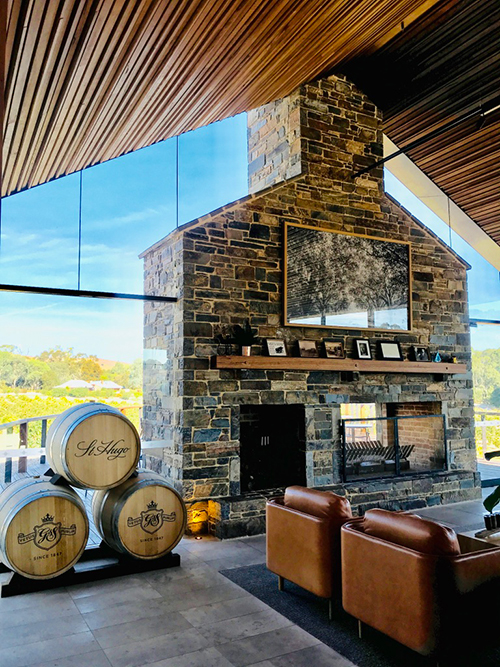 That applies to the unique restaurant where, unlike many eateries that try to match wines to their dishes, it's the other way around. St. Hugo Executive Chef Mark McNamara tells us that he and his team choose the wines they want to serve, and then do a tasting of several ingredients—say, macadamia nuts, duck breast, strawberries, etc.—and dishes are then created using the ingredients that worked best with a particular wine.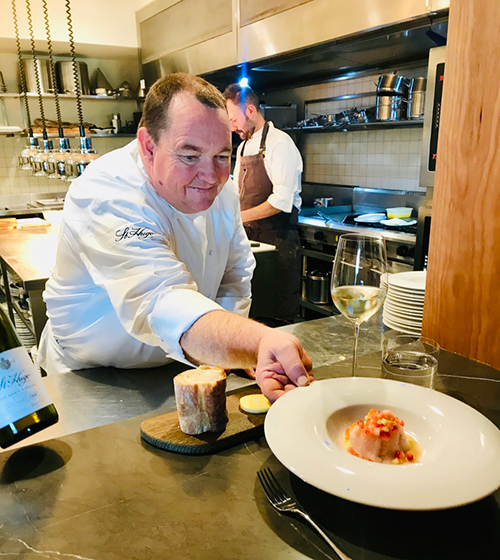 Highlights of our Chef's Table experience were the Riesling paired with carpaccio of whitefish, avocado and salsa, and the Cab Sauv with duck breast, croquette and buttered spinach. But to die for was the Grenache Shiraz Mataro paired with a vegan dish: aubergine fillet topped with black olives, tart local barberries and shaved macadamia nuts. The delicious dessert—local peaches with sago cream and homemade berry ice cream—came with a very welcome coffee.
My husband and I will be talking about this meal for years to come. It was one of many highlights of our time in South Australia. I recommend putting this part of the world on your must-go list.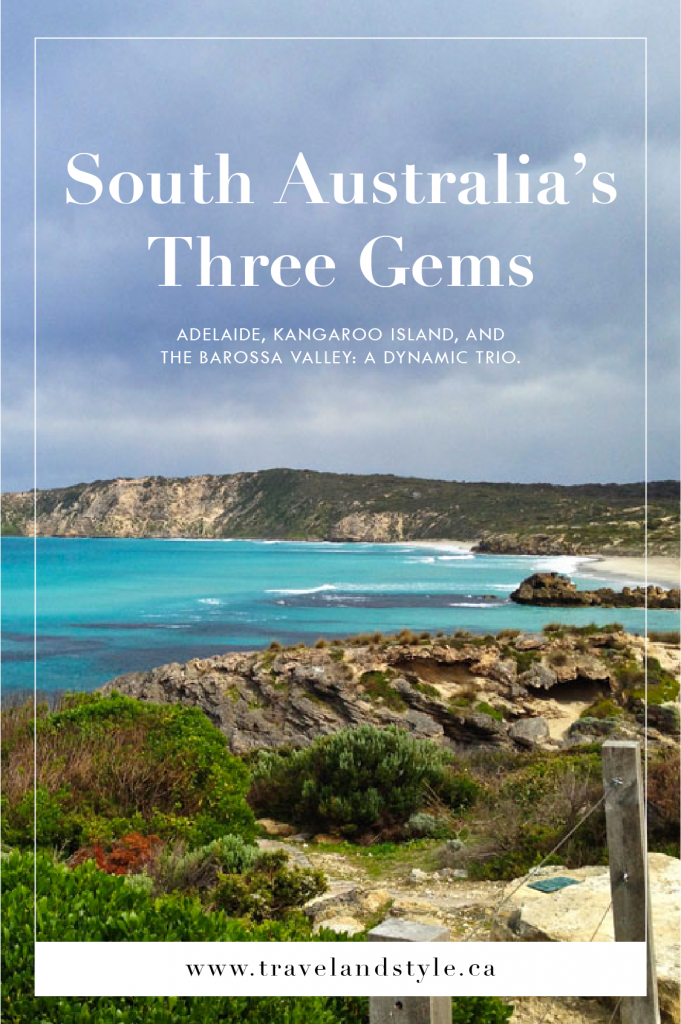 More From Travel & Style:
Ovolo Woolloomooloo: Where History Meets the Future
Hotel We Love: Cordis Hotel, Auckland
Hotel Review: The Vic, Hong Kong
From Five-Stars to Farms to Paladars: How Cuba's Food Scene is Blossoming