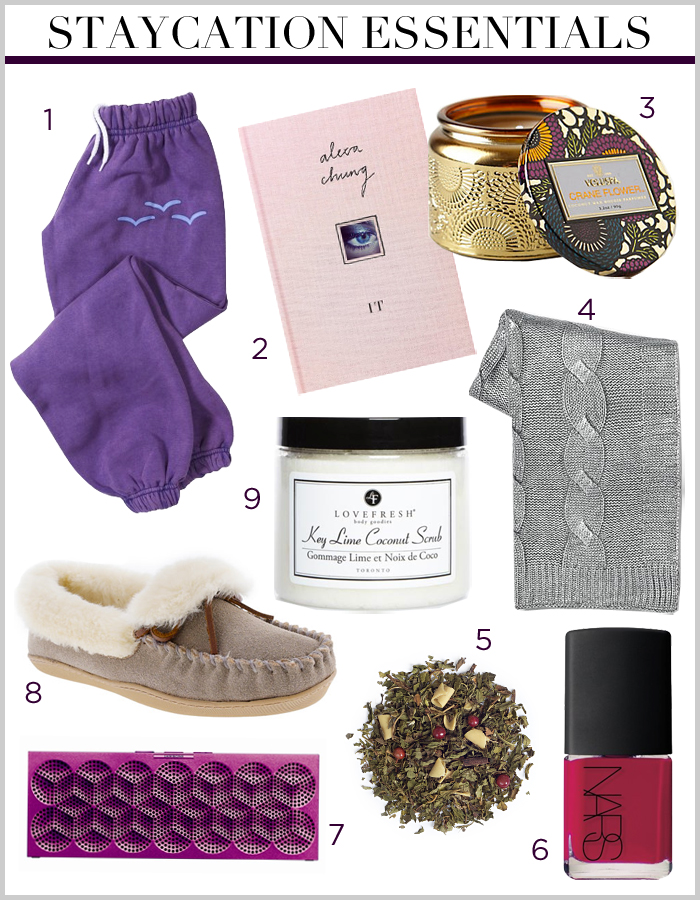 It's pretty much impossible not to travel during the holidays — whether it's by plane for an exotic escape from the snow or a short drive to see family — that being said there is something about staying right in the comfort of your own home. For those cozy days when you're not braving the elements (or stores), we suggest you curl up on the couch and make your own perfect getaway without going anywhere at all.
1. Lazypants pants in acid purple, $90, eluxe.ca
The name truly says it all. Slip into a pair of these comfies and you won't want to leave your couch.
2. IT: Alexa Chung, $20, amazon.ca
Catching up on a little reading is a must when you've got no where to go. For a light read, try style maker Alexa Chung's first book IT, which is part-scrapbook, part-style guide, which will probably have you dreaming up some new outfits.
3. Voluspa Japonica Mini Candle in Crane Flower, $10, anthropologie.com
Throw in some aromatherapy to get into full relaxation mode. We're partial to candles that are pretty on the outside too.
4. West Elm Gilded Cable Throw, $89, westelm.com
A staycation isn't complete without a throw, since impromptu naps are the name of the game.
5. David's Tea in White Chocolate Frost, $17 for 100g, davidstea.com
In between sneaking leftovers and Christmas cookies you may be craving sweets but don't feel like stuffing yourself with more food, which is why we're fans of this yummy tea that's practically calorie-free.
6. NARS Guy Bourdin nail polish in Follow Me, $21, narscosmetics.com
Forgetting dragging yourself to the nail salon — give yourself a manicure at home with this gorgeous new shade from the NARS Guy Boudin holiday collection.
7. Jawbone Mini Jambox in Purple Snowflake, $180, chapters.indigo.ca
Whether you're busting out Christmas tunes or the new Beyonce album, you'll want to have your music wherever you want. This mini portable speaker is so small it's actually pocketable, meaning you can easily pack it on your next trip too.
8. J. Crew Lodge Moccasins, $58 (US), jcrew.com
Not only are these perfect for lounging at home, but you'll want to throw these in your luggage for your next ski getaway or trip to the cabin.
9. Lovefresh sugar scrub in key lime coconut, $30, lovefresh.com
Complete the whole spa-at-home vibe with a tropical-scented scrub. It will slough away your dry winter skin and just might tide you over until your next sunny getaway.