Born in Canada, but based in Paris, Tanya Heath has solved one of the biggest challenges facing women on-the-go and has managed to do it without compromising style or comfort. Officially launching her brand Tanya Heath Paris in 2013, Heath took it upon herself to develop the first multi-height interchangeable heel. Working with 14 engineers and shoe technicians in Paris, in addition to several designers and master boot-makers, she eventually created an incredibly unique heel and shoe system.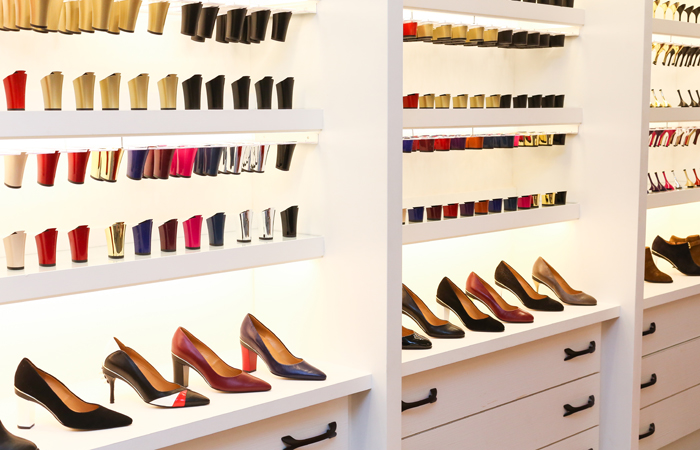 Currently offering 56 shoe styles ranging from size 35-42 (European), you'll find everything from sandals to almond shaped toes in classic, yet fashion-forward colours and patterns. Offering four heel styles ranging from 4.5 cm to 8.5 cm, all come in an array of finishes (as you can see in the photo above) for a total of 160 interchangeable heels to choose from.
We had the opportunity to chat with her during a recent visit to Toronto, where she told us about her upcoming plans for the brand and also the shoe she wears the most (it's Blondie). Right now, Heath has four boutiques, including one in Toronto's Yorkville (pictured here), but she plans to expand to more cities including Bogota, Lisbon and Rome. She also plans to launch two new heel shapes by the end of the year, including the launch of a bootie for fall.
There are a few things we love about this concept. First, it allows you to completely customize your shoe from the start. Every shoe is sold without a heel, so instantly you're picking a style that suits your taste. We also love that with a quick click you can take your heels from day to night. For example, Christophe (the low trotter heel at 4.5 cm) is perfect for running around in during the day. Swap out that heel for Francois (an elongated stiletto at 8.5 cm) and you're ready for a night out on the town.
Space is a premium when you're travelling and shoes tend to be the accessory that gets tossed when making packing decisions, which is why we think this is the perfect solution for stylish travellers who can't travel without at pair of heels (or two).
Shoes range in price from $495 – $1,000 with heels priced between $45 and $145.
Visit tanyaheathcanada.com to learn more.