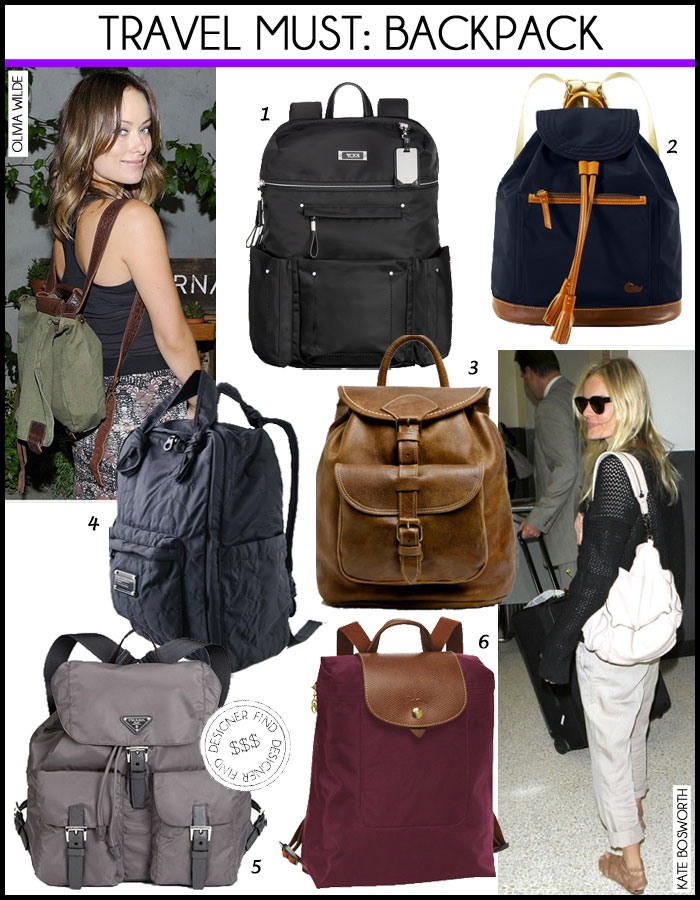 Backpacks bring us back to the days of semesters, text books and study breaks — hence why we've shrugged them off for so long. However, we're suggesting you re-consider this freshman favourite for your next trip. Why? Besides making a fashion comeback, they're super practical.
If you need proof, just look at Kate Bosworth who was spotted slinging a white Alexander Wang Marti backpack while in the airport or Olivia Wilde who recently teamed up with Alternative Apparel to create a limited-edition canvas backpack (sorry it's sold out!). Whether you're biking in Bordeaux, hiking in Colorado or just want to go hands-free to take photos, a stylish backpack is a must. Read on to find out our 6 picks!
1. Tumi Calais backpack, $295, tumi.com
Part of Tumi's best-selling Voyageur collection, this backpack is sleek and simple, and comes with pockets for all of your travel essentials. Large enough to fit a 15″ laptop, there are tons of interior pockets to store your electronic accessories, plus enough exterior pockets for items that need fast access.
2. Dooney & Bourke Nylon backpack, $195, dooney.com
With 17 different colour combinations to choose from, we're certain there is a shade for you, however we're fans of the classic navy bag. A simple design with one interior and one exterior pocket, while it's not big enough to carry a computer it's perfect for toting around your day essentials — like a map, snacks and cellphone.
3. Roots Papa Alex in vintage tribe leather, $218, canada.roots.com
We love the vintage feel of this leather backpack, which promises to look better with age. With a drawstring opening, note there aren't any interior pockets, so we suggest throwing a cosmetic bag with your essentials in it instead. In need of a chic camera bag? We think it's a great alternative that easily fits a 35mm.
4. Marc by Marc Jacobs Pretty Nylon backpack, $206, shopbop.com
Can't handle a heavy backpack? If so, this this lightweight bag is for you.  The interior is roomy (although no interior compartments) and there is an outer pocket great for storing your room key, lip gloss and passport. Plus there's a side pouch for your water bottle. This is definitely our pick if you're planning on doing any outdoor activities.
5. Longchamp Le Pliage backpack, $125, longchamp.com
We're no strangers to Le Pliage and love that they have their foldable bag in a backpack format. We think it's a great option if you know you're going to want a backpack later in a the day or during your trip, but would rather carry a handbag the rest of the time. Our only gripe is the lack of pockets. Available in 13 colours including burgundy (pictured).
6. Prada Vela backpack, $828, saksfifthavenue.com
The first time we remember really, really wanting a backpack was when Cher Horowitz sported a mini-Prada backpack in Clueless. Though we still kind of really wouldn't mind owning that Prada mini, our grown-ups selves have spotted an equally covetable option that also happens to be Prada. Extremely lightweight, it has just the right amount of pockets, an adjustable strap and comes in a soft grey (a lovely alternative to black). A splurge yes, but if Clueless is any indication, it will be loved for years to come.