It's that time of year again: the time where it's totally acceptable to drink your calories in the form of rich, hot chocolatey beverages as a means to stay warm and no one can judge you because they're likely doing the same. But no two hot chocolate drinks are alike, and there are some that are worth venturing to all parts of the city for the creamiest cocoa-ladden cup. So in the pursuit of journalism, and really good hot chocolate, we personally trekked across the city to taste taste the best chocolate beverages that Toronto has to offer and handily listed them here. You'll want to visit (and drink) them all.
1. MoRoCo Chocolat, Sipping Chocolate, small pot for $12
It's no surprise that this French salon du chocolat serves up some of the best chocolate experiences in Toronto: from fondue to afternoon tea to macarons you will literally lose all self control over. But the sipping chocolate is unlike any other: a decadent pot of your choice of 66 per cent dark chocolate, milk chocolate infused with chai or a feature flavour (like Nutella!). And if for whatever reason you're still undecided, we'll leave you with these words: Boozy Pumpkin Hot White Chocolate cocktail.
Where To Find:
MoRoCo Chocolat
99 Yorkville Ave
416-961-2202; morocochocolat.com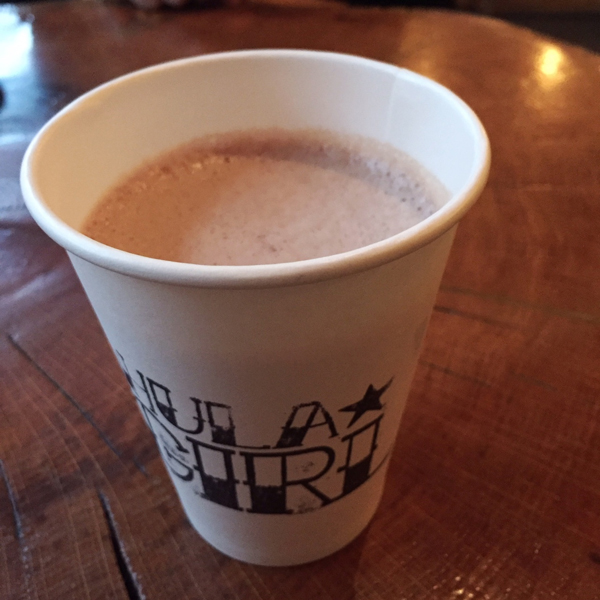 2. Hula Girl Espresso Boutique, Hot Chocolate ($3.50)
With two locations in the city, including Ossington and Dundas West shops, your odds for finding delicious and unique coffee blends in Toronto just doubled -- so did your chances of curling up with a steaming mug of hot cocoa. The hot chocolate is made to order with real cocoa and a splash of whatever milk type you fancy: including almond, soy, coconut, and of course, real dairy. We can't think of a more perfect end to a chilly winter day in the city.
Where To Find:
Hula Girl Espresso Boutique
2473 Dundas St W. and 456 Ossington Ave
hulagirlespresso.com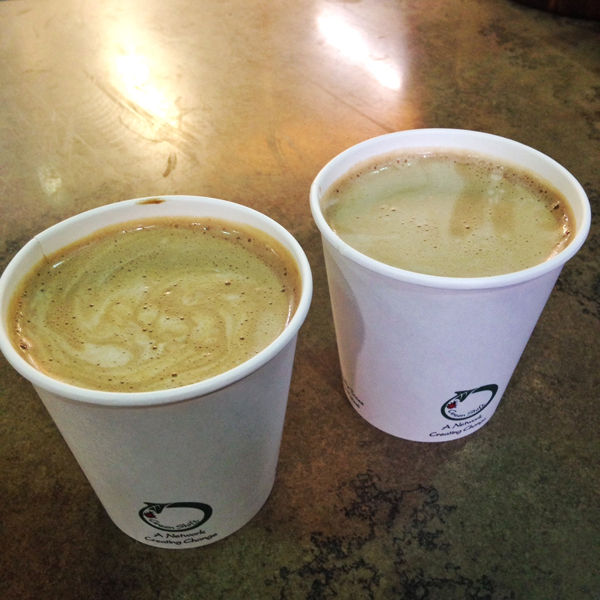 3. SOMA Chocolatemaker, Spicy Maya Hot Chocolate ($4.43)
There's something sweet brewing in Toronto's historic Distillery District, and no, it's not an organic craft pint at the Mill St. Brew Pub. Tucked away in the quaint locale, is one of the cutest chocolate factories the city has to offer, and what the team at SOMA does with cacao beans is nothing short of magical. For their classic hot chocolate -- served as an intense shot of melted chocolate or in a mug mixed with milk or water -- the rich concoction is made with 64 per cent dark chocolate shavings melted with steamed milk (pictured above, left, with soy). For the adventurous types, order the Spicy Maya, infused with chili peppers, cinnamon, ginger, Madagascar vanilla, orange peel and "secret spices". It's worth it, trust us (above, right, made with soy milk).
Where To Find:
SOMA Chocolatemaker
32 Tank House Lane or 443 King Street West
somachocolate.com
4. FIKA Cafe, Lavender White Hot Chocolate ($4)
This creamy, foamy, decadent white chocolate drink tastes like a spa in a cup. The milky white chocolate mixture is infused with lavender bitters and vanilla bean, then steamed to perfection (we ordered ours mixed with equal parts almond milk, and the result was just as rich and delicious). Pair with one of the café's home-made treats, say a cinnamon bun or pain au chocolat, and truly soak up the authentic deliciousness of this this Swedish-inspired coffee house. Hands down, it's one of the best white hot chocolate drinks in the city.
Where To Find:
FIKA Cafe
28 Kensington Ave.
416-994-7669; fika.ca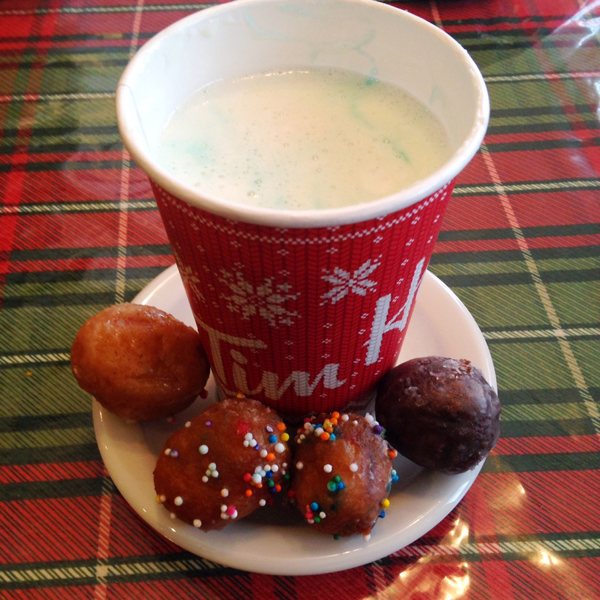 5. Tim Hortons, Sugar Cookie White Hot Chocolate ($2.99)
We couldn't not include a classic Canadian favourite winter treat on our roundup.  And this season, Tim Hortons sweetened their hot chocolate game by adding a Sugar Cookie White Hot Chocolate to their menu. This milky, frothy drink tastes like a vanilla birthday cake and is topped with whipped cream and blue frosting. For those who prefer the classic chocolate beverage, the standard hot chocolate made from powered hot chocolate and steaming water never fails. For an off-menu twist, ask to add a bag of peppermint tea to your cup to create a delicious mint hot chocolate drink. Or as a less-sweet (and caffeinated) option, order yours with half-coffee, half-hot chocolate for a lovely mocha beverage.
Where to Find:
Any Tim Hortons locations!
timhortons.com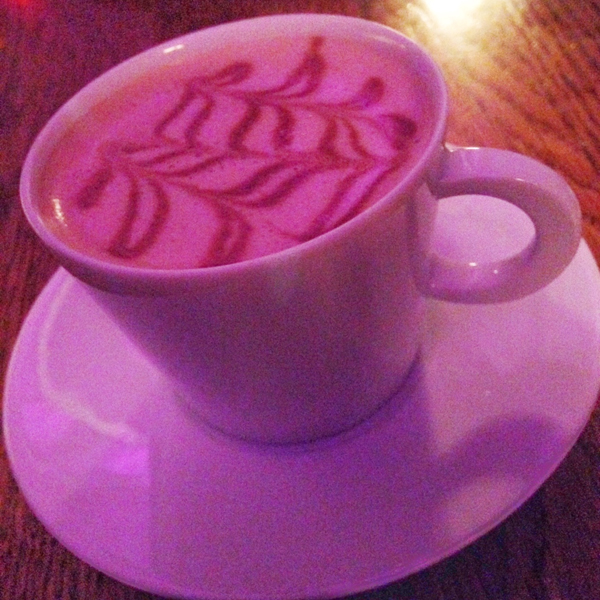 6. dbar at Four Seasons Hotel Toronto, Creamy Hot Chocolate
Steeped under the dim ambient light at the Four Seasons Hotel Toronto's lobby bar is the perfect mix of people watching the city's elite and fine cocktails. Cap off your date night menu of charcuterie and a glass of Prosecco with a foamy, double-chocolate drink (that's hot chocolate drizzled with a lattice of chocolate syrup on top) and a plate of freshly baked Madeleines served warm. Bon appétit, friends.
Where To Find:
dbar at Four Seasons Hotel Toronto
60 Yorkville Ave
416-963-6010; dbartoronto.com
More from Travel & Style
How To Plan For That Trip of a Lifetime
The Top 2016 Honeymoon Destinations
The Best Shoes to Get You Through Airport Security