In a city so rich with history (who can compete with the British royals?), culture (punk, anyone?), and art you could plan an entire trip to London solely around museum hopping. Or sometimes, on a dreary London day (there's plenty), there's nothing better than popping into a museum and exploring a new world or art, fashion, history or science. We round up the top London museums that never fail, never bore and are always worth a quick visit when in London Town.
The Victoria & Albert Museum
Hands down our favourite London museum, if not favourite museum in Europe. Curating some of the world's best fashion exhibits (from Princes Diana's stunning gowns and wedding dress to the exhibit on David Bowie, to a Through the Ages exhibit showcasing some stunning high end fashion pieces), the V& A is fondly noted as a favourite for fashion buffs, or anyone who indulges in style. Your best bet to see this summer (besides the amazing David Bowie exhibit)? Club to Catwalk: London Fashion in the 1980s showcasing some of London's most influential fashion designers from that decade (Betty Jackson, Katharine Hamnett, Wendy Dagworthy and John Galliano). You can also ooh and ahh at the vast selections of royal jewels they often have on display (and who doesn't want to do that?).
The Victoria & Albert Museum
Cromwell Road,
London SW7 2RL
vam.ac.uk
On the Tube: South Kensington underground station (on the Piccadilly, Circle and District Line).
The National Gallery
That National Gallery has been home to London's finest collection of Western European paintings from the 13th to the 19th centuries and has always been a hub for the arts and culture scene in the city. It also happens to be where the royal official portraits hang (it's where Kate Middleton's first portrait was unveiled). Peruse through classic Monet, portraits by Johannes Vermeer and pieces by sporting painter George Stubbs. On this summer, the Michael Landy: Saints Alive collection will surly get you in touch with something a bit more ethereal. And love it or hate it, a close up view of Kate's portrait will be a must-stop. An added bonus: It's open 361 days a year, free of charge – perfect for a rainy or gloomy afternoon in London.
The National Gallery
Trafalgar Square
London WC2N 5DN
nationalgallery.org.uk
On the Tube: Piccadilly underground station (on the Piccadilly and Bakerloo Lines).
The Tate Modern
The Tate museum first opened its doors in 1897 as one single location in London, displaying a small collection of British artworks. Today there are 4 major Tate sites that are home to over 70,000 artworks – pretty impressive if you ask us. Our favourite Tate location is the Tate Modern, opened in 2000, and the gallery specializes in modern and contemporary art and is the perfect spot to spend a morning in London. Showcasing this spring is the works of Lichtenstein: A Retrospective – a colourful look at the artist's renowned work on comic strips, running until May 2013.
The Tate Modern
Bankside
London SE1 9TG
tate.org.uk
On the Tube: Southwark underground station (on the Jubilee Line)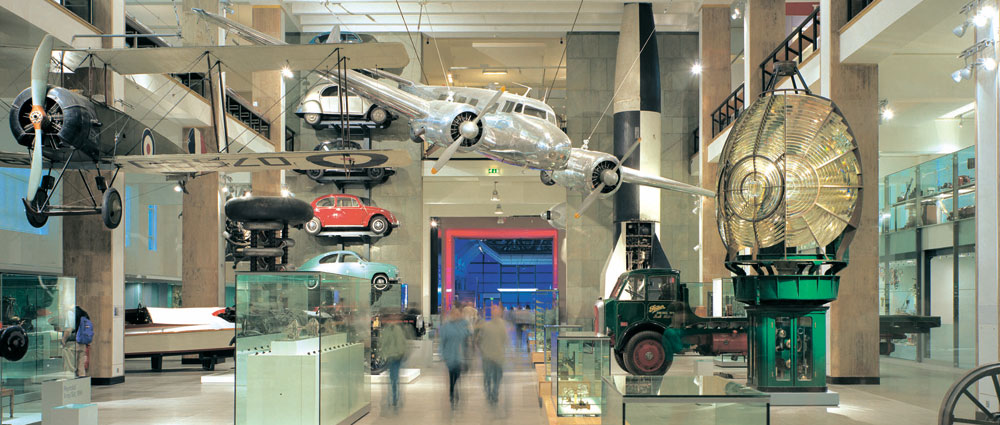 The Science Museum
There's always something wondrous happening at the Science Museum in London. Whether it's an exhibit on crazy new technology, the best British innovations over the past 100 years, or the inner workings of the Internet brought to life, exhibits here make your mind wander and explore many possibilities. Open every day (except for December 24-26) and being free of charge also makes this museum an amazing place to visit whether you're looking to get your channel your inner nerd, or wanting something beyond a traditional gallery.
The Science Museum
Exhibition Road, South Kensington
London, SW7 2DD
sciencemuseum.org.uk
On the Tube: South Kensington underground station (on the Circle, Piccadilly and District Lines)
MORE ON LONDON:
Must-see: The David Bowie exhibit opens at the V&A
Go Boutique in London at the Ampersand Hotel
6 must-see sites in London