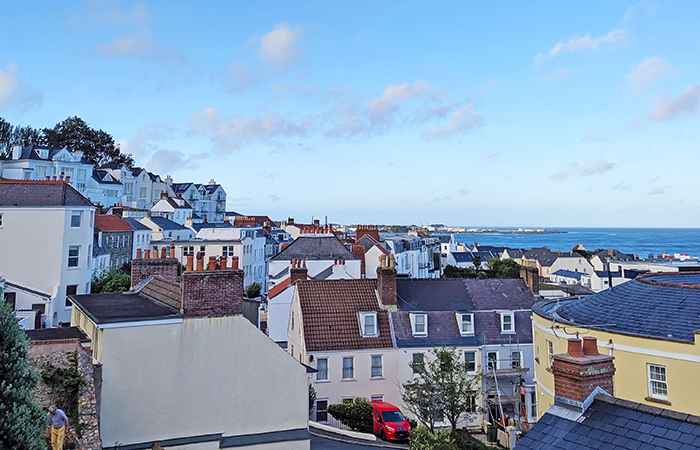 I confess. Once I spent time on the island of Guernsey, I started kicking myself for all the times I described other places as "charming" because, quite honestly, in comparison to Guernsey, they just weren't. Guernsey wholly embodies the word charm along with similar words like enchanting, whimsical and fairy-tale-like. As a speck of an island between England and France, Guernsey, like the other Channel Islands, is somewhat removed but has played a vital part in European history for decades.

Being perfectly situated between England and mainland Europe made the islands a valuable commodity, changing hands between countries various times (mainly British and French, which gives locals a distinct Guernésiais dialect) and even being occupied by the Germans during World War II for five years. In those days, Guernsey was a prize to claim. Today, the prize in Guernsey is the undeniable warmth its residents exude (about 63,000 people live on the island) and its ability to be modern (it's a financial hub, believe it or not) while still feeling old-timey and hanging on to traditions like fog hangs on the coastline. Here is what you can't miss if you have the chance to explore this little island of magic. 

Potato Peel Pie Society
Lovers of the book and the film The Guernsey Literary and Potato Peel Pie Society, written by Mary Ann Shaffer and Annie Barrows, will be in heaven on the island of Guernsey. The novel and film follow a London-based writer who visits the island after corresponding with its residents about the German occupation during WWII. You can also follow in her footsteps, finding little gems along the way, specific coastal points referenced in the book, laneways and alleyways that seem impossible to fit a car through. With the novel in mind, it's worth a day exploring the entire island.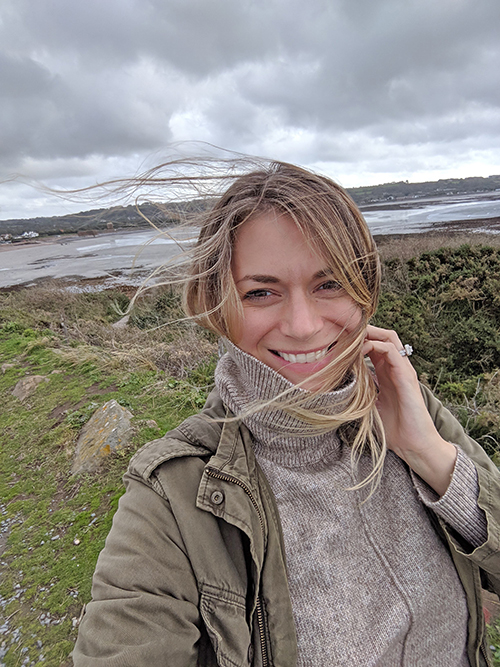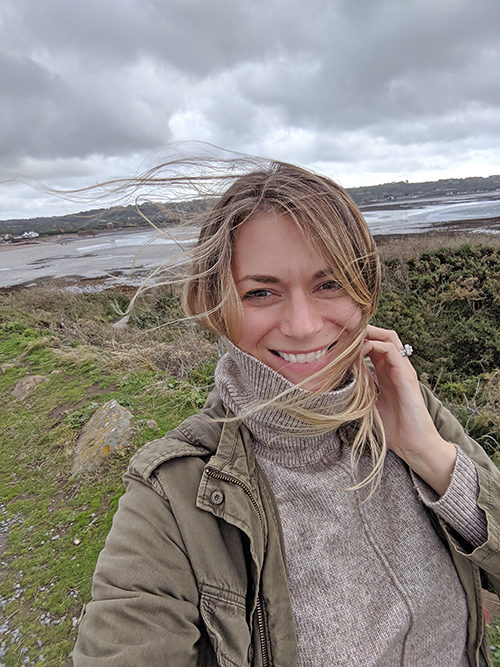 World War buffs
On the 30th of June 1940, German forces invaded Guernsey, staying for five years and leaving an indelible mark on the island. You feel the presence of the Germans physically and emotionally throughout the tiny island. You'll hear quips and stories of when German soldiers patrolled the streets with parades, rations and strict curfews. One decision the people of Guernsey made was to preserve or keep the German bunkers that were created by German soldiers and their prisoners of war. A few of them are open to the public for viewing and for a little history lesson, or you can get a glimpse into life during the war at the Guernsey Museum.

Almost everywhere you drive, you'll see grassy lumps in the field or along the coastline–those would be the bunkers. There are thousands of bunkers and fortifications of various sizes and significance. And having been built to last, they are incredibly hard to remove, so the people of Guernsey keep them in place, denoting a dark, tumultuous time in their history, but also one of strength as they overcame a huge struggle.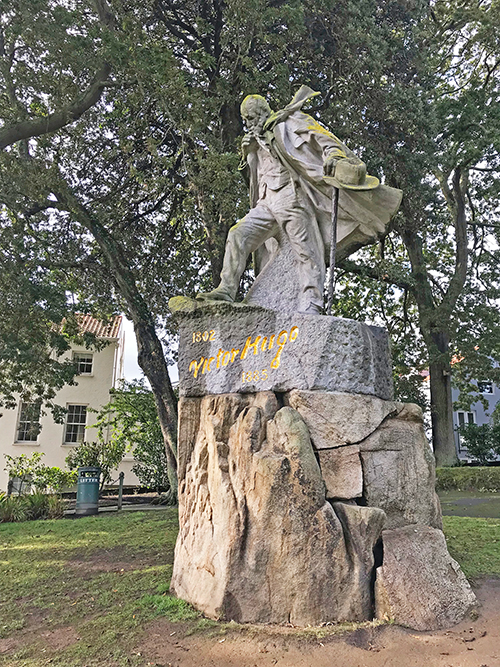 Follow Victor Hugo's footsteps
The famed French writer and fierce rebel of Napoleon Bonapart fell in love with the island of Guernsey, a place he referred to as the "rock of hospitality and freedom," when he was forced into exile. Its rainy coastline in 1855 proved to be a great refuge for the political writer. "Even in the rain and mist, the arrival at Guernsey is splendid," he once wrote. Guernsey is where Hugo wrote Les Miserables and he loved it so much that even after his exile was removed, he returned with his family and mistress. There are loads of Hugo references throughout the island, from his favourite swimming bays and rugged coastline walking areas, to his barber shop, his home (which is now a museum) and his preferred haunts.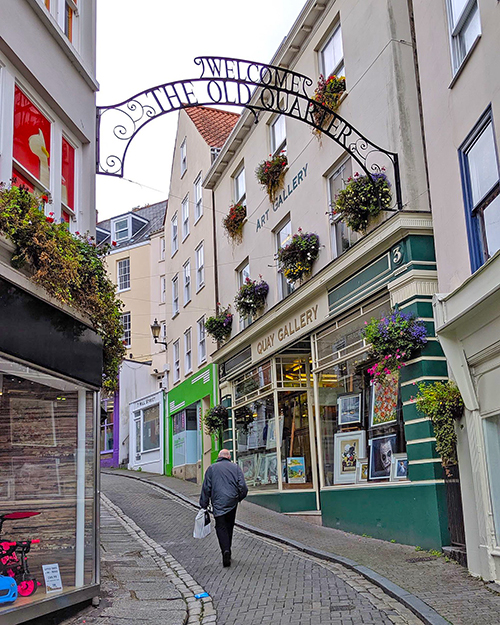 Stroll St. Peter Port
If ever there was a little town of whimsy, it would be St. Peter Port. It's the main hub for Guernsey, so it's "bustling" by the island's standards (with a population of 18,000 people).  The town is filled with old pubs that are often tucked into the cellars of old fishing merchants' mansions. There is a bell tower that you can climb to the top of (ask for the key at the visitor's centre, remembering to return it once you're done). Cobblestone streets turn sharply left or right at any given moment. You'll see Victor Hugo's old barber shop, his former home, the home of his mistress. Plus, oodles of chocolate shops, candy stores, gift shops and clothing stores, all locally owned, likely for generations.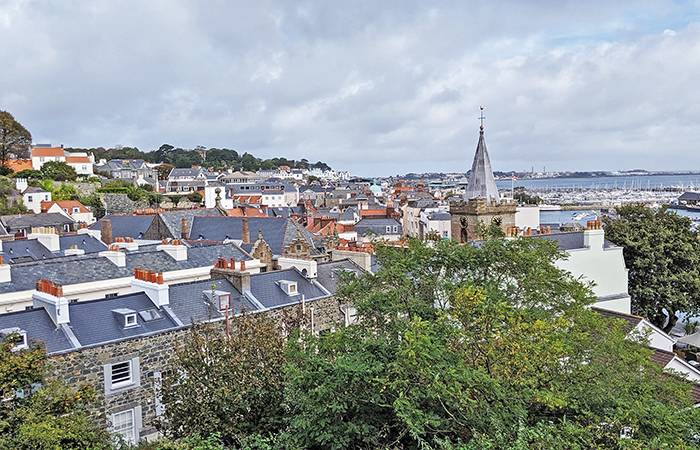 Stay at the La Fregate Hotel
When your morning views include the picture-perfect St. Peter Port and the sound of clinging bells and seagulls from your balcony, you know it's a good thing. La Fregate Hotel is one of the most comfortable and cozy spots you can stay on the island. Boutique rooms with balcony views of the seaport and the town's rooftops is enough to bring me back for another visit, but there are other plusses. It's perfectly located for an easy walk down to the old town (you may want to get a car back up unless you're game for a decent uphill hike). It also has a fantastic restaurant onsite where you can delve into the island's seafood.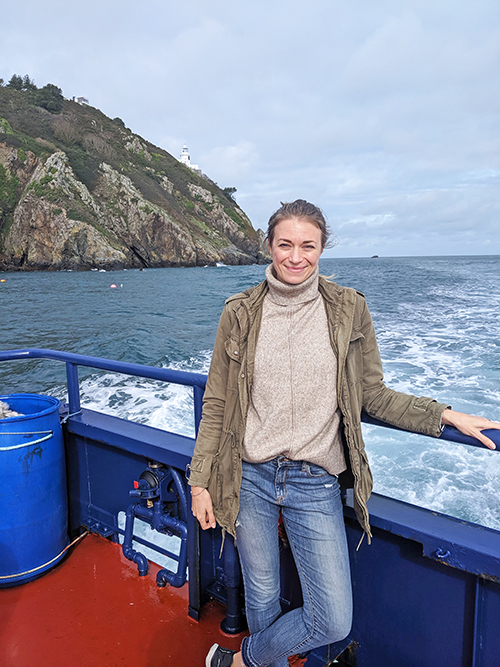 Take the ferry to Sark
A choppy 45-minute ferry ride gets you to another Channel Island, Sark. Home to about 400 people, this island has no cars, so you'll be making your way around by horse-drawn carriage or bicycles you can rent on the island. If all else fails, a local might give you a ride on a tractor, the only vehicle on the island used for farming. Dirt roads lined with cottages, fields and rocky cliffs and it is truly a place of wonder. Biking along the cottage roads, hiking the coastline that comes with incredible views, and visiting shops will provide so many local stories about myths, witches, the angry sea, the beauty of a summer's day, or even scandalous and torrid local love affairs. I can guarantee, it's a day trip you won't soon forget, if ever. 

Pick up a traditional Guernsey sweater
If there's one thing I am kicking myself for not bringing back with me from Guernsey it's their traditional wool Guernsey sweater. Made for fishermen who need to stay warm and dry on that unforgiving coastline, its unique crewneck, cuffs and hem pattern make it as special as the thick wool and bright colours it comes in. I consider that I'm still thinking about the sweater as a sign that I will have to make my way back to Guernsey for another charmed visit.
More From Travel & Style:
8 Extreme Weather Beauty Essentials
Everything You Need to Look Fresh on a Plane
How to Get Your Best Skin While Travelling