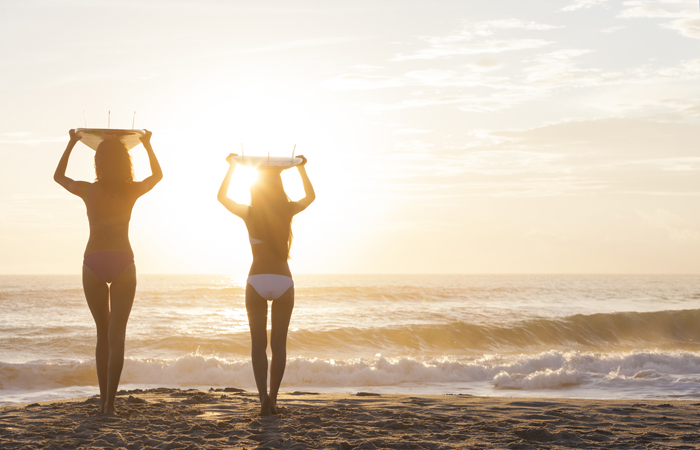 CALIFORNIA
The Golden State is home to some of the world's best bodies, and there's a reason for it. With more than 1,700 kilometres of coastline, four national parks, and sunshine year round, it's easy to see how Los Angeles ladies keep their "California Girls" shape and sun-kissed skin. A California getaway can always do the mind, body and soul a little good.
Surfs up
The California coast boasts some of the best beaches in the world. Take a barefoot stroll and feel the sand in your toes, bust out your best beach volleyball moves or try surfing, a quintessentially Californian pastime. You can also just stretch out in the sun and soak up some Vitamin D — just don't forget your sunscreen.
For those overcast days why not check out California's tide pools. In 2012, the first statewide system of protected marine areas was launched. These "underwater parks" occur where the ocean meets the land and are like mini-universes teeming with marine life. Strap on your snorkel and prepare to be dazzled by the colourful reef structures and exotic marine animals. The tide pools get the most activity on cloudy windy days, offering a fun alternative on those rare occasions the sun doesn't shine on the golden coast. They can be found in dozens of locations up and down the California Coach, including Laguna Beach, Sonoma and Santa Cruz.
Tee off and unwind
There is no shortage of golf courses in California; San Diego alone boasts 92 greens. The pleasant temperatures and year round sunshine make California the perfect place for a golfing getaway. If teeing off isn't really you're thing, indulge in a little rest and relaxation at one of the state's hundreds of spas and wellness centres. A mecca for health and beauty, California has something for everyone. Big cities like Los Angeles and San Francisco offer state of the art day spas, while the High Sierra and the North Coast use Mother Nature to their advantage offering hot spring resorts and organic spa treatments in a rustic and natural setting.
ICELAND
Born out of volcanic eruptions and carved by icy glaciers, Iceland's landscapes have hardly changed since the first Viking washed ashore 1,100 years ago. Whether you're longing for a peaceful escape or a rugged adventure, this raw and pristine place has something for every health conscious traveler.
For the fit adventurer
The battle between fire and ice still rages in Iceland making it one of the most stunning landscapes on the face of the earth. More than half of the country sits 400 metres above sea level, making it a spectacular place to hike and bike.
Horseback riding, kayaking and skiing are also great ways to take in Iceland's one-of-kind scenery. Waterfalls, rocky volcanoes and crystal clear glaciers are just some of Iceland's stunning natural features. Day trips are easily booked through most of Reykjavik's hotels.
Feeling bold? Why not try a glacier hike. They have guided glacier walks tailored to both beginners and experts. Or take a deep-sea dip into the belly of the north Atlantic. Iceland is home to some of the world's most unique deep sea diving and snorkeling sites. The Silfra Rift offers some of the clearest waters in the world with visibility of more than 100 metres. This deep-sea rift marks the crack between the Eurasian and North American tectonic plates and has been dubbed one of the top five places to scuba dive in the world by some of the dive world's most respected magazines. Just don't forget to your insulated wet suit, the water is most definitely cold.
Relax and rejuvenate
Breathe deeply and let your lungs inhale some of the freshest air on the planet. Iceland is one of the least polluted countries in the world and visitors frequently comment on how well they sleep.
Take the relaxation one step further by visiting one of the countries geothermal hot springs. They're everywhere. Almost every village and town is home to its own hot spring and pool.
Iceland's also home to the Blue Lagoon, or the so-called fountain of youth. This state-of-the-art spa is built around a group of geothermal hot springs loaded with detoxifying and nourishing minerals. Icelanders are known for they're beautiful complexions, and after taking a dip in the Blue Lagoon you can see why. The spa has its own line of skin care products available online or at the Blue Lagoon gift shop. The spa also offers bliss inducing water massages and guests have access to a lounge, steam room and saunas.
SWITZERLAND
The land of mountains and water, Switzerland is one of the most peaceful and beautiful countries in the world.  Internationally acclaimed for its environmental legislation and sustainability practices, the Swiss are living examples of what it means to live ecologically.
Alpine adventure
While the country's world-renowned Swiss cheese and chocolate might not be the most slimming snack for the health minded traveler, you'll burn enough calories hiking or skiing the Alpines to indulge guilt free.
The Alps offer endless options when it comes to fitness. The ski resorts that call the mountain peaks home are some of the best in the world. Engadin St. Moritz is a stunning ski resort situated on the southern side of the Swiss Alps at an elevation of 1,800 metres above sea level. With more than 350 kilometres of ski runs, it's a haven for downhill and cross-country skiers alike.
Switzerland Mobility promotes and coordinates hiking, biking, skating, canoeing and other forms of leisure tourism. There are more than 23,000 kilometres of trails in its network including 23 national, 147 regional and 430 local routes.
Deep thinkers
Keep your legs busy and your mind occupied year round by walking along some of Switzerland's most stunning pathways. Whether you sport running shoes in the summer, or snow shoes in the winter, the Philosophers Trail will get you to think deeply. One of the most picturesque walking trails in Switzerland, the path offers spectacular views of Swiss scenery and features plaques with quotes from some of philosophy's most acclaimed thinkers like Socrates, Nietzsche and Sartre to get your creative juices flowing.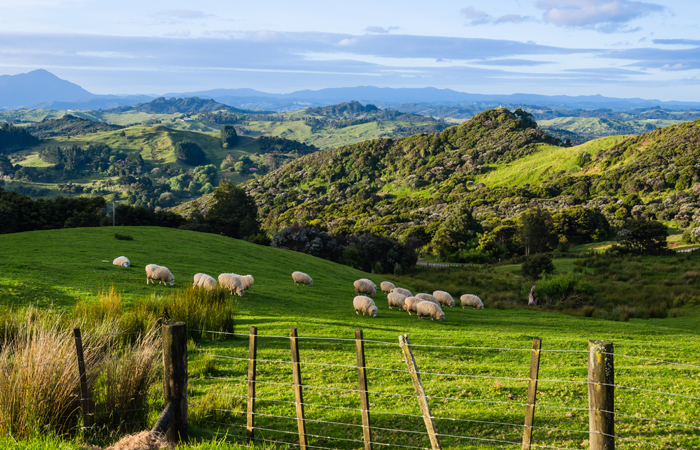 NEW ZEALAND

From sun-kissed beaches, to internationally acclaimed ski slopes and endlessly enchanting hiking trails, New Zealand has something for to offer travelers of all fitness levels.
Not your average day at the beach
Kiwis love water. And with more than 15,000 kilometres of coastline it's no wonder. New Zealand is an aquatic paradise. For divers there are hundreds of offshore islands, ship wrecks, drop-offs and reefs to explore. It's also a world-class surfing destination. Dozens of bays and coastal inlets mean there's always a big wave waiting. Highway 45 around the Taranaki Coast curves 180 degrees, and is a hit with surfers of all skill levels.
Hikers paradise
The best way to explore New Zealand's bountiful beauty and lush landscapes is on foot. The country is home to thousands of kilometres of hiking trails that wind through glaciers, fiords, subtropical forests, mountains, volcanoes and beaches. You can hike the entire length of New Zealand by following the Te Araroa, a series of interconnecting trails that vary in difficulty. If you're a beginner, try one of the country's "Great Walks." New Zealand has two to four day hiking trips designed for hikers of varying fitness levels.  The country is also known for its bike trails. New Zealand's roads are well maintained making it perfect for cycling. The New Zealand Cycle Trail encompasses 23 great rises that stretch the length, north to south, of the island.
BRITISH COLUMBIA, CANADA

Awaken your inner explore in beautiful British Columbia. One of Canada's true gems, the province is the perfect vacation destination for healthy travelers. From reluctant weekend warriors to hardcore athletes, there's no shortage of outdoor adventure and serene relaxation pit stops along Canada's west coast.
Catch a thrill climbing and caving
Alpine climbing in North America originated in British Columbia 100 years ago when an old hotel was built below Rogers Pass in the Selkirk Mountains opening the door to unspoiled wilderness, causing mountaineers from all over the world to take notice. Whether you're a serious climber or a recreational hiker, there's something for everyone.
Thousands flock to B.C. each year to explore the province's mountains and caves. Vancouver Island is home to an extensive network of caves. Take a guided cave tour for a chance to see crystal formations and rappel down an underground waterfall. Vancouver Island is also home to the West Coast Trail, an internationally acclaimed 75 kilometre walking route known for its breathtaking beauty and physically demanding stretches.
Slopes and spas
For ski and snowboard lovers, there's no better place to hit the powder than Whistler Blackcomb. The ski resort is one of the top rated winter sport destinations in the world and was home to the 2010 Olympic and Paralympic Games. For the ultra adventurous, there's heli-skiing. Pioneered in the Kootenay Rockies, heli-skiers jump out of a low flying helicopter onto the white powder below.
The Kootenay Rockies are also home to a large percentage of B.C.'s natural hot springs. These hot pockets of water are the perfect place to unwind and take in the breathtaking scenery and stillness B.C. offers. Can't make it out to the remote natural pools? Visit one of the provinces 400 plus spas or wellness centres. Pop in for a quick treatment or immerse yourself in a weeklong wellness retreat. Many of B.C.'s spas incorporate local ingredients into their relaxation remedies and products.
FINLAND
In the rush of modern life, space and quiet time are rarities. But, you'll find plenty of both in Finland. The perfect place to escape and decompress, Finland's raw beauty will leave you feeling peaceful and at ease.
Hot & cold health boost
Finnish people are known for the love of saunas. They're a place to physically and mentally relax, as well as a place to socialize with friends in family. They're also everywhere. Finland has a population of 5 million people, and is home to more than 2 million saunas, that's almost one per household.
These steamy wood rooms are known to have plenty of health benefits. They help detoxify the body and have been used to help treat various heart conditions.
In Finland, bundles of leafy birch twigs, called vastas are placed in the saunas to help boost relaxation. Gently beat the branches on your skin to massage sore muscles and stimulate blood flow.
When the sauna gets to hot and uncomfortable it's time to cool off with an icy dip. Plunge into one of Finland's chilly lakes through an "avantouinti" – a hole in the ice – or take a cold shower. Taking your body from a hot to cold helps improve circulation, strengthens immunity, helps fight depression and keeps both skin and hair healthy.
Nature's touch
There's no better way to leave the stresses of life behind than by immersing yourself in Finland's raw natural beauty. Rent a cottage along Lake Saimma, Finland's largest lake and enjoy a week of calming kayak and boat rides and peaceful walks along the water.  Want to explore more? Take a reindeer or huskie sled tour through Finland's awe-inspiring landscapes.
Or enjoy a front row seat to Mother Nature's greatest light show.  The Finnish Lapland is one the best places in the world to catch a glimpse of the mysterious Northern Lights. The lights are visible more than 200 nights a year.
Now you can watch the magnificent natural wonder inside you're home glass roof thermal igloo. The Kakslauttenan Resort in the Northern Laplands offers unique overnight stays for those who want to fall asleep beneath the colourful glow of the Northern Lights.
Looking to keep active? Cycle the Archipelago. Finland's coastal biking trails offer amazing views of the coastline and take you through the country's villages, giving you a chance to experience true Finnish culture. Finland also boasts first class ski resorts.