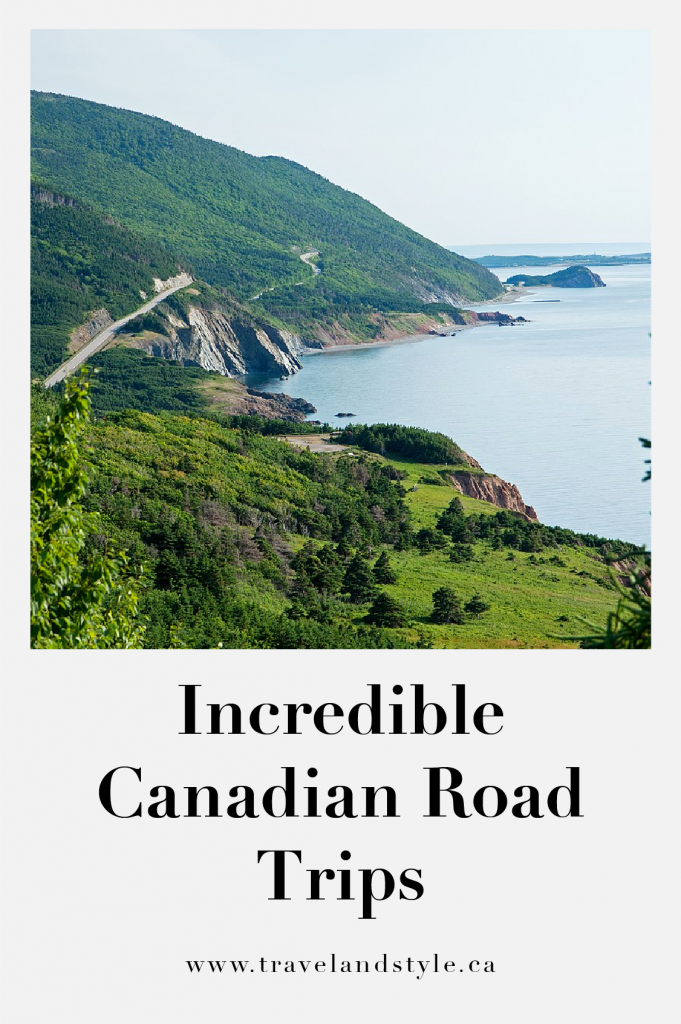 Canadians are notorious for not seeing much of our vast, beautiful country. But in the summer there's no better time to explore our country by road! Pack your car and get ready for some scenic drives, amazing food, and history lessons throughout the country.
Cabot Trail: Cape Breton, Nova Scotia
Probably the most well-known route in the Atlantic Provinces, the Cabot Trail is not just stunning during the fall. Most people take a trip around the scenic coastline drive to take in all the fall colours, but Cape Breton in the summertime is incredible. The drive along the Atlantic Coast showcases the rugged coast, rolling hills, and make sure to get lots of time in the Cape Breton Highlands National Park. Give yourself a few days for the trip to make sure you have time to do hiking, photos, and relaxing. If you're looking for a place to rest up there are loads of B&Bs along the way, but one of my favourite stops is the Keltic Lodge Inn at Ingonish Beach in the highlands. It's a stunning location with an amazing spa and a great golf course.
Icefield Parkway, Alberta

Easily one of the most scenic drives in Canada (if not the world!), the highway from Banff through Lake Louise up to Jasper is filled with those stunning aquamarine lakes, glaciers, Rocky Mountains and wildlife. Give yourself extra time, because around every turn is a photo op, a perfect spot to stop and have a little picnic, or just breath in clean fresh mountain air. Some highlights include: Lake Louise, Moraine Lake, Peyto Lake, Crowfoot Glacier and walking along the ice at Athabathsca Glacier. In terms of hotels, the Fairmonts are all iconic here… Banff, Lake Louise, and end off in the cabin-like Jasper Fairmont. But there are also a lot of Airbnb options and B&Bs.
Dempster Highway, Yukon
If you're really looking for a sense of adventure, why not drive across the Artic Circle? The Dempster Highway is known as one of the world's most unique drives, but you need to give yourself a lot of time. Plan for about 10 days to go from Whitehorse through Dawson City and ending by crossing over the Arctic Circle. It's probably one of the most beautiful and awe-inspiring road trips you can take in a very untouched part of our country. Tombstone Mountain and Tombstone Territorial Park are definite highlights aside from the bragging rights that come with the Arctic Circle. Accommodations-wise, it will be a bit more rustic along the way. The Boreale Ranch rooms are simple but modern, Black Bear Wilderness Adventures offers small cabins tucked into the woods, and of course, there are so many camping options along the way. Things to remember here: The road is mostly unpaved, weather conditions change frequently, and always make sure you have insurance for any roadside issues.
The Okanagan Route, B.C.

The easiest way to see all that glorious interior British Columbia has to offer? This drive! The Okanagan region is so rich in food and scenery and of course, wine! And depending on how much time you have, you can do this in one to 3 days… it all depends on how much time you want to spend sipping and eating! Start out in the city of Vernon and head south toward Kelowna, making sure to stop by Kalamalka Lake for that Instagram pic. Another highlight is the Kettle Valley Rail Trail with its trestle bridges and tunnels (you'll want to rent a bike or hike these trails). Heading further south to Penticton provides amazing wine options (you can't go wrong at Poplar Grove Winery… just look at those views while doing a tasting!). Your best bet is to book a hotel in Kelowna and make that your stopping point. You have everything from the super fun and eclectic Hotel Zed to the boutique Prestige Hotel and Resort and family-friendly spots like the Cove Lakeside Resort.
The Georgian Bay Loop, Ontario

If you love beaches, then this is the road trip for you. It's also the perfect escape from Toronto this summer. Loop around the Georgian Bay area by starting it out at Wasaga Beach (most Torontonians know this as a hot beach spot!), drive up to Perry Sound where you can see all the 30,000 Islands. And make sure to loop around to Tobermory and Flowerpot Island (it's hard to believe that this beautiful blue water is right here in Ontario. It always makes me think of the Caribbean or Mediterranean!). Don't forget to do some ferry and boat rides to take advantage of the water and get some hiking done in the Killarney Provincial Park. The Rocky Crest is a great resort with a golf course in Perry Sound, or rent a cottage (perfect for a group or family) at Lakes of Wasaga.
Road trip tips:
One easy way to save money on a road trip is to use your travel points (for example Aeroplan or other credit card rewards programs) for hotels and car rentals. A lot of people forget that they can use their points for things other than flights!
Check up on your insurance, as mentioned before. You'll want to make sure you're covered/your car is covered.
Handy apps:
Waze: Offers real-time traffic updates and the ability to compare gas prices.
Hotel Tonight: Provides last-minute booking options when you're just too tired to keep going.
Glympse: Since you can't be texting updates and driving, Glympse shares your GPS location to contacts of your choosing, so family members always know where you are.
More From Travel & Style
5 Reasons to Carry-On Your Luggage
5 Tips for First Time Cruisers
Who and How Much to Tip at Hotels