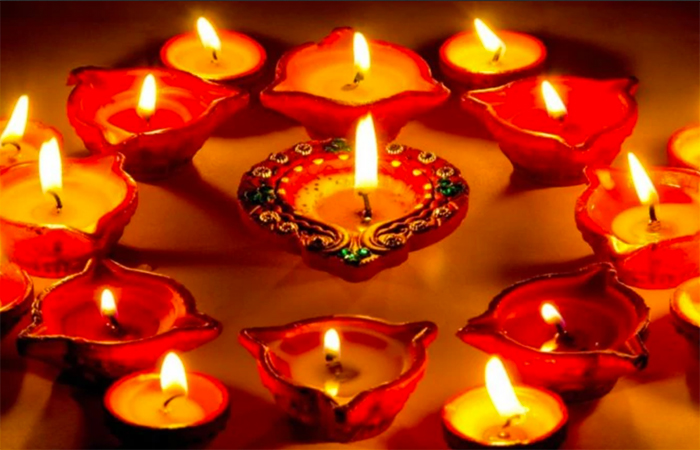 In India, the festival of lights is everything you would imagine it to be and more. Celebrated once a year in autumn, it's known to be the liveliest, brightest and the biggest holiday in India. The world Diwali itself is derived from the Sanskrit word "deepvali" meaning "series of lighted lamps" and is celebrated over the course of five days. This year, it starts on October 25th with the most significant celebration taking place on October 27th across the subcontinent.
Here's everything you need to know about one of the most enchanting and auspicious festivals on earth before booking your next trip to India on Insight Vacations' 12-day Classical India With Nepal journey and experiencing the magic first-hand.
WHAT IS DIWALI?
The festival of Diwali is used as a way to acknowledge several spiritual events, and most notably, celebrating the victory of light over darkness such as the return of the god Rama, his wife Sita and brother Lakshmana from their 14 years of exile. The festival also marks the beginning of a new Hindu year in some parts of India and is celebrated by other faiths as well. During the festival, participants celebrate life, its enjoyment and a sense of goodness. Visiting India during Diwali is a mesmerizing experience – the country is illuminated with homes full of lights, colourful flowers and firecrackers filling the skies, said to be a way to express respect to the heavens and request peace, health, prosperity, wealth and knowledge.
CELEBRATING DIWALI
The primary deity worshipped throughout the festival is the goddess Lakshmi, though each of the five days throughout the festival holds unique significance. The first day (October 25, 2019) is dedicated to celebrating prosperity and citizens clean and beautify their homes and purchase gold or metal kitchen utensils. On the second day, they decorate their courtyards with Rangoli design patterns filled with coloured powders of sand. October 26th is known as Naraka Chaturdasi or Chhoti Diwali (small Diwali) and in Goa, demon figurines are burned in celebration of Goddess Kali and Lord Krishna destroying the demon Narakasura. The most important day, October 27, 2019, signifies the new moon day and is the darkest day of the month during which Lakshmi (the goddess of prosperity) is worshipped with unique rituals in the evening, a delectable feast and an exchange of gifts. In general, when in India, expect to see people celebrating by lighting lamps, bursting firecrackers and lighting bonfires to burn away any negative spirits. The sight is spectacular with millions of lights shining brightly on housetops, doors, windows, temples and across the entire country.
DELICIOUSLY AUTHENTIC DINING
Diwali also serves as an occasion to feast and you can expect to indulge on traditional delicacies, snacks and delectable sweets. Experience lavish vegetarian dishes with paneer, a type of fresh cheese widely used in Indian cuisine, samosas, pakoras and a large variety of desserts including the popular ladoo, jalebi, gulab, jamun and barfi. Indian desserts differ from those you typically find in other countries as they are considered heartier, using nuts or vegetables as a base along with sugar and milk – surely a treat for your taste buds.
GETTING THERE
Insight Vacations, the global leader in premium guided journeys, offers a remarkable itinerary taking you to enigmatic India and Nepal during the Diwali festival next year (beginning November 14th, 2020) on its new 12-day Classical India with Nepal journey. Along with witnessing the celebration first-hand, travellers will have the opportunity to meet a local who summitted Everest for inspirational learnings as part of an Insight Experience. They will embrace ancient wisdom and get up close and personal with locals at an Aarti chanting sunset ceremony on the Ganges River to honour the River Goddess, Mother Ganga and enjoy a dawn cruise past the sacred ghats. Also, Stay in Style at the Taj Ganges Hotel in Varanasi as they experience the holiest city of Hinduism. Guests enjoy a hands-on experience in Kathmandu by visiting a pottery workshop in the Pink City, Jaipur. A Deliciously Authentic Dining experience includes an evening at esteemed Dera Amer, located in the wilderness. Guests will witness wild elephants roaming free as they savour traditional cuisine.
*Courtesy of Insight Vacations.