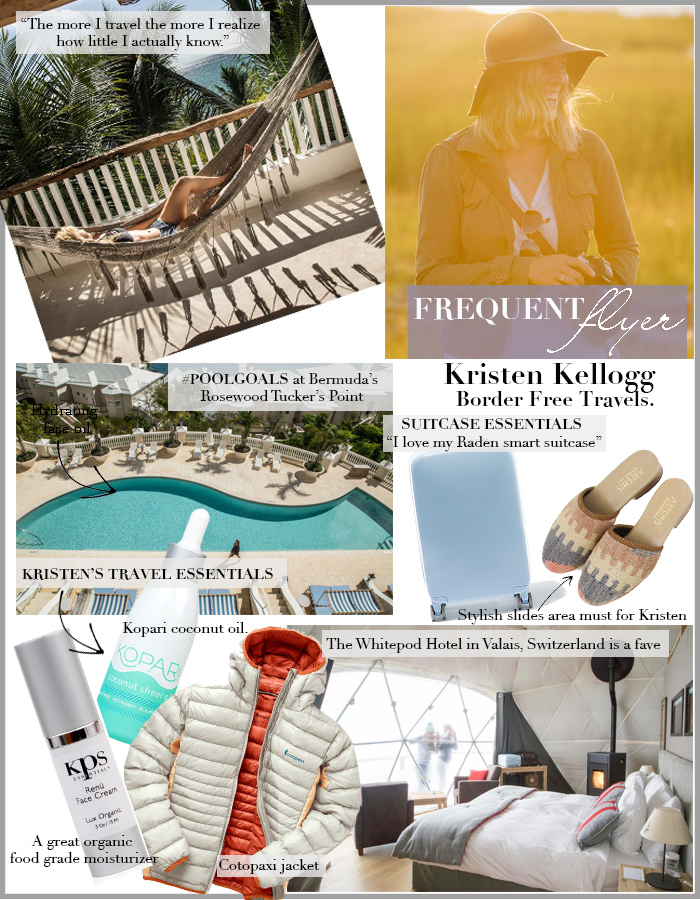 1. Name. Job Title. Company/Blog.
Kristen Kellogg, Creative Director/Filmmaker at Border Free Travels
2. Tell us about what you do and, more importantly… why you love it.
I create films and photography for brands and destinations, and also have a travel blog. I love storytelling in general and any chance I get to share an interesting aspect of what someone is doing or something special about a place it makes me really happy.
3. What keeps you constantly travelling? Work or personal?

About 70% of the time for work and occasional bouts of personal travels. I just returned from a trip to Jordan where I was working with Adventure Travel Trade Association to produce a series of brand films for a clothing line, ExOfficio.
4. You must have a go-to carry-on bag… which one do you love?
I love my Raden smart suitcase – mine is light blue. I love this brand because you can charge your phone by plugging into h
5. What are the top 3 essentials you put in your carry-on?
I never travel without a great organic food grade moisturizer, COOLA mineral face sunscreen, and matcha tea.
6. Let's get techy. What's the travel app or accessory you can't live without?
I always carry my Pixi Mini tripod by Manfrotto and a remote control for my canon with me so I can easily take self portraits when traveling solo if I can't find a model to shoot in lifestyle settings.
7. What do you do with your time if you get stuck on a layover?
I usually edit images or videos or explore a lounge. If you're ever stopping through Istanbul, the Turkish Airlines Business Class Lounge is one of my favorite spaces to explore and kill time.
8. Favourite hotel?
Bermuda's Rosewood Tucker's Point, The Siam in Bangkok, and Whitepod Hotel in Valais, Switzerland. Both exceptional luxury hotels that nail all of the details throughout your stay.
9. Hotel amenity you can't live without?
An oversized bathtub and a soft robe and slippers. Most of the time I'm traveling for work and the days are long. There's nothing like slipping into the tub and if I still have to work editing from there.
10. What was the best meal you've had while travelling?
In Oslo at Pjoltergeist. There is no menu. You just sit down, tell them what kind of wine you like to drink and they start bringing out food. Nine courses over four hours in a relaxed and fun setting.
11. Current travel reading material?
I usually pick up a magazine in the airport. I love Suitcase Magazine!
12. Travel music playlist?
I have one I created on Spotify called The Journey. It's constantly being updated with new music.
13. Favourite travel-friendly beauty/grooming product?

I love Kopari coconut oil.
14. Window or aisle?
Usually the window because I love taking photos.
15. Give us the low-down on your airport style.
I usually always have my Cotopaxi Jacket with me in case it's cold on the plane…or a denim jacket. White denim or black leggings for bottoms. I love my slip on Artemis Design Co. shoes. And my leather messenger bag I got in Norcia Italy some 10 years ago.
16. Most memorable souvenir?
My passport. Those stamps tell some great stories!
17. Where was your last vacation and who did you travel with?
Tulum with my friend Megan. Half work half play. We did some glamping and also ate some incredible food, jumped into cenotes, and of course had salty margaritas.
18. What was the best thing you did on your last vacation?
I loved our two night stay at Villa La Semilla we stayed in in Tulum's Soliman Bay which is just north of Tulum town. It's a sleepy little street and the perfect place to spent quality time with friends or family in the beautiful setting that is Mexico – private chef, kayaking, two pools, hammocks galore, and a roof with a view included.
19. Dream destination?
I'd really love to go to Reunion Island and Madagascar this year.
20. What's the biggest lesson you've learned while travelling?
The more I travel the more I realize how little I actually know. There's always something new to learn!
More From Travel & Style:
Who and How Much to Tip at Hotels
The Best Travel Photography Tips
12 Globe-Trotting Instagramers to Follow Now