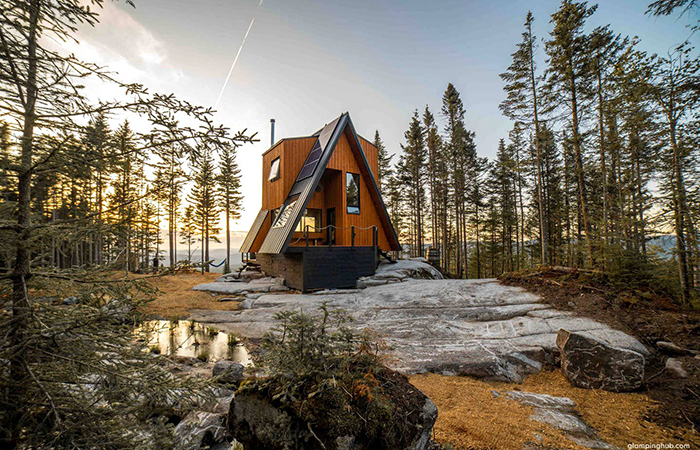 For the traveller who doesn't want to compromise: Glamping in Lac Beauport
You can love the idea of peace and tranquility in the outdoors and not sacrifice indoor plumbing. This glamping gem of a cabin just west of Montreal allows up to four guests to enjoy a lake, forest and Tourbillon mountain views. The added bonus: it's in a luxe setting complete with a private kitchen, meaning it never you're 'camping' per say.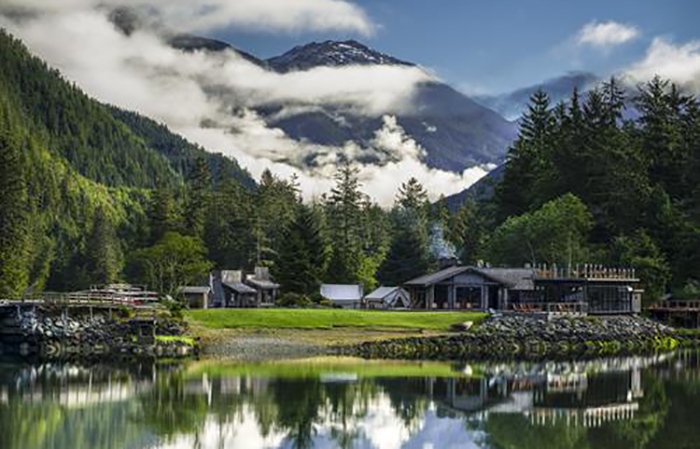 There's something magical about the nature and wilderness of British Columbia. And Clayoquot Wilderness Resort captures that true British Columbia vibe with an eco-safari experience within the UNESCO-designated protected Biosphere Reserve. The Biosphere Reserve is one of the last remaining ancient temperate rainforests in the world. And there's no shortage of things to do: whale and bear watching, paddle boarding and helicopter exploring.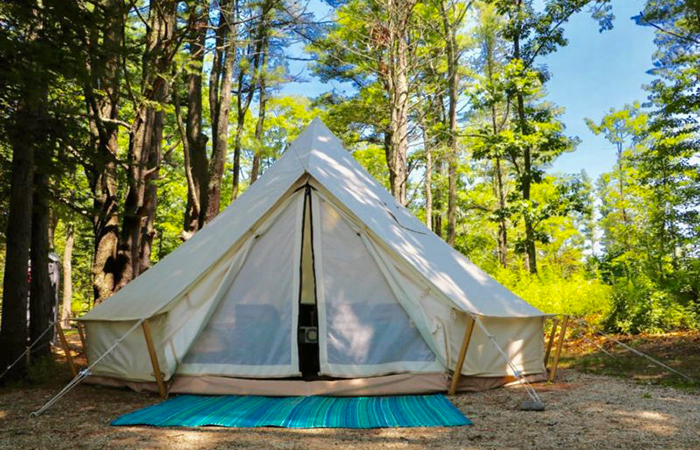 A great Canadian road trip should always be on your bucket list. Plus places like Wolfe's Oceanfront make a stop midway through even better. This camping spot provides comfort camping. The comfort tents feature a queen and two twin mattresses along with a canopy. Have kids? This resort is kid-friendly, so pack up your kids with snacks and plenty of in car activities for the road trip.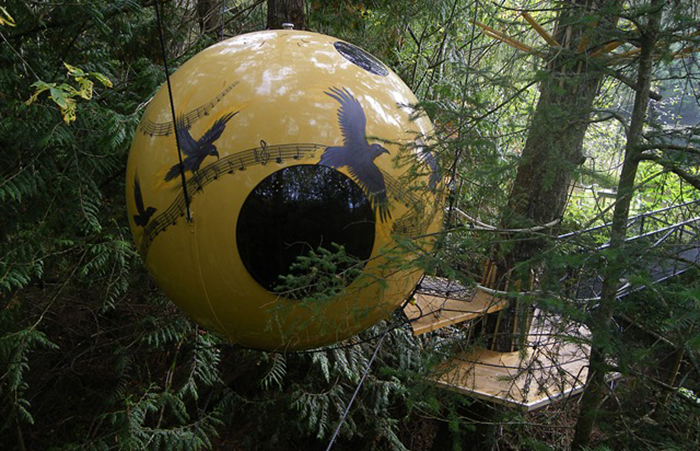 For the traveller wanting to ascend to the trees: Free Spirit Spheres
This spot is definitely a greener alternative and camping destination. The focus at Free Spirit Spheres is as a place to heal, meditate and be aligned with the peace British Columbia's forests bring. It may be less luxurious than the previous options but it truly allows space for you to breath.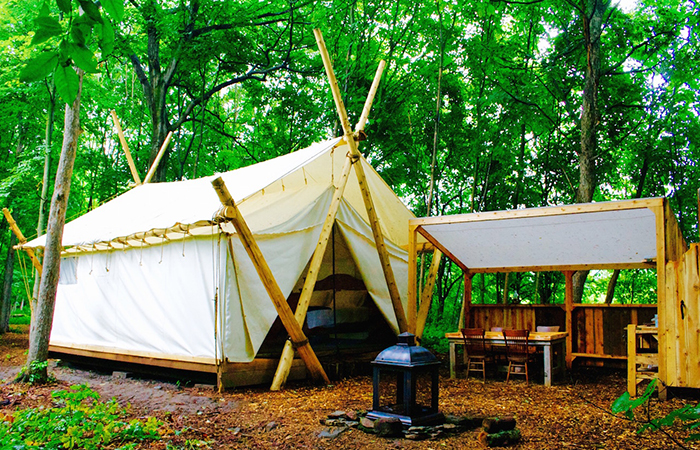 This Prince Edward County, Ontario camp and brewery is at the forefront of argo-tourism. Even when we're glamping, we always want to combine food and travel. Farm-to-table style travel not only promotes incredible local food, but also sustainability. The luxury campsites offer dockside access, comfy accommodations and, of course, incredible food and brews to sip on, making it the perfect summer escape.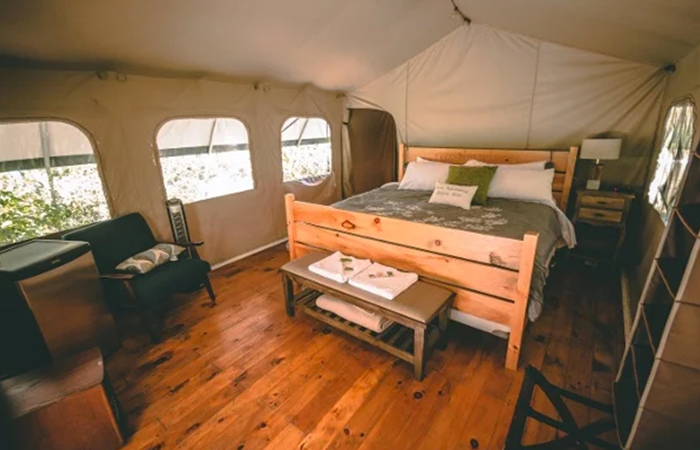 For the traveller who wants glamping and play: Ipstay Resorts 
This tucked away resort was once a 68 acre tobacco farm. The forested back drop made for a stunning location where visitors and animals alike can co-exist. They have an array of activities for guests to enjoy such as: kayaking, zip lining, ax throwing, and nature workshops, to name a few. Our pick of accommodations? The Elite Pod with a full double bed and bath.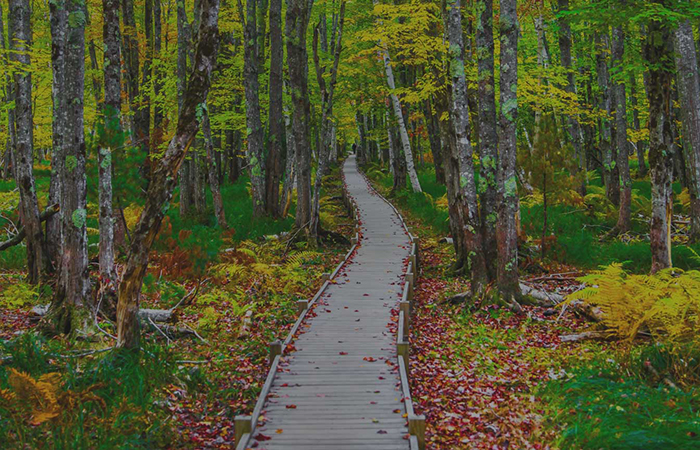 Terramor Resort is located near the seaside in Maine. Terramor Resort specializes in a simple yet luxurious immersion in nature. If you stay here you can enjoy Maine's Acadia National Park. Guests stay in the tents while enjoying the amenities of the lodge, field, and the pool. Maximum of 5 guests can occupy the tents. Find a trail and hike there and back again and be welcomed by a warm space to take off your shoes.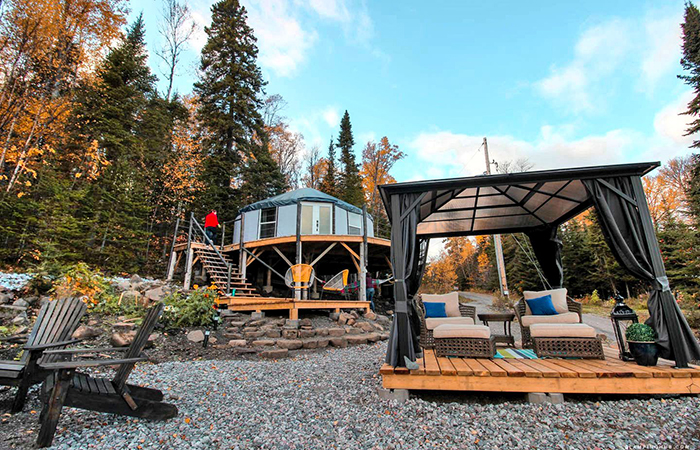 For the traveller seeking isolation in style: Rossport Yurts
Just bring yourself and three other friends to this wonderfully secluded yurt. A yurt is a style of tent that connotes luxury. This yurt also features a fireplace and wifi. The yurt overlooks Lake Superior and features a hammock. Grab a book and lounge with peace of mind that wifi and all your creature comforts are steps away.