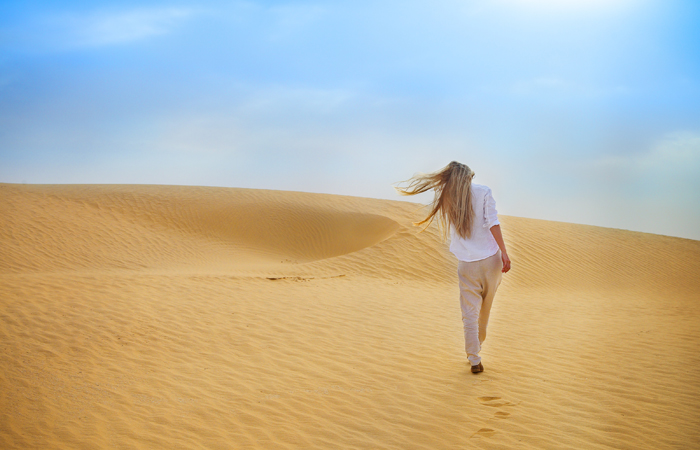 Editing your wardrobe when you travel is difficult enough (hello carry-on), but when you're headed to an Islamic or conservative country such as Qatar, Egypt, India, Dubai or Turkey, your outfit choices need to be that much more thoughtful. Sorry, you'll have to leave your crop tops at home. The main reason for dressing modestly is that it's considered disrespectful to the local people to show a lot of skin. Plus wearing skimpy outfits (or what their culture considers skimpy) can lead to unwanted attention from men.
With temperatures ranging from 30 to 40 degrees Celsius (or more), it can be hard to think about throwing on the layers when it's hot like a sauna outside. You'll see many of the local Qatari women in an abaya (long, loose dress) and shayla (headscarf), but as a foreign visitor you aren't expected, nor should you try to dress this way. So what are you supposed to wear?
Surprisingly you'll find there are a lot of clothing options available to you. You just need to be creative and most of all, think layers. These guidelines will serve you well in any destination where visitor's are expected to cover up, but note that different countries can be more lax than others, with Qatar being one that is particularly conservative.
The dress code women visitors should adhere to is:
–        Cover your shoulders (no cut-offs or tank tops)
–        Nothing tight, sheer or low-cut
–        Pants or skirts covering the knee or below
Here are a few items you should plan to pack:
Scarf – From keeping you warm on the airplane to covering your head should you plan on visiting a mosque, a scarf is a travel essential for every destination. Leave your winter wool scarf at home and instead bring a light cashmere or pashmina, which you can easily pull from your purse when needed.
Capri/Cropped Pants – If the idea of pants in a desert destination sounds like a sauna to you, don't fret. During the evenings it cools down (the winter can be as low as 12 degrees Celsius) and there's plenty of air conditioning indoors, which can actually make you feel chilly. Opting for light colours and natural fabrics are your best bet, such as cotton or linen in white, beige or blue, to help you beat the heat. Just be sure they're not too sheer.
Maxi Skirt/Dress – Probably the easiest and most versatile item you can pack is a long skirt or dress. It will cover you, but keep you cool at the same time. Just be sure there are no major slits going way up your thigh.
Long Button Ups – Best used as a layering piece, over say a tank top or t-shirt, aim for natural fabrics like linen or cotton to keep you cool.
Leggings – On their own (like as pants), they're definitely a no-no, but if you're wearing a tunic or a long t-shirt dress that hits just above the knee, a pair of leggings can instantly make the outfit appropriate. Just remember to opt for breathable fabrics.
Cardigan – Like your office wardrobe, it's a useful item here too, especially when you're headed to an air-conditioned mall or restaurant.
Exceptions to the Rule
Of course there are always exceptions and in this case it's when you're at the beach or pool. When swimming at public beach modestly is still required. Plan to take a dip in a pair of shorts and a t-shirt (men will also need to cover up their top half). You'll have more flexibility at the pool, where you can wear a bathing suit (yes, bikini's are OK), but leave your thong swimwear at home.
More from Travel & Style
Sun Protection 101
Top 5 Reasons to do Carry On
How to Take Better Instagram Photos