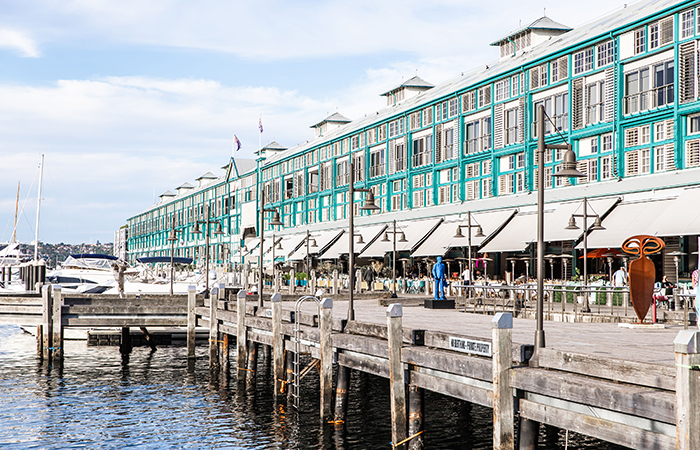 It's a problem when you're in stunning city like Sydney and you stay at a hotel so quirky and, well, interesting that you don't want to leave the property. Okay, fine: you cannot skip things like the Opera House and Harbour Bridge; you have to take the ferry to and from Manly; and you really must experience the ocean views along the coastal path from Coogee to Bondi Beach, where you can check out the surf scene. But once those are done, if you have the time, spend some of it enjoying your stay at the Ovolo Woolloomooloo.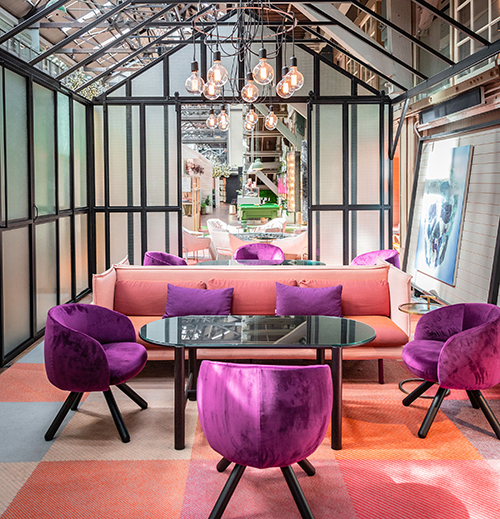 The Facts
I've never stayed in a hotel as unique as this one. I guess that's because it's a paradox of something so contemporary built within something so iconically historic. The Ovolo has been built within the huge walls of the historic Finger Wharf building in the neighbourhood of Woolloomooloo, beside Sydney's central business district. This massive wharf building dates back to 1912, and for most of that century was key to the growth of the city and even Australia: It's where exports, chiefly wool, flowed out to the rest of the world, and where imports arrived—most importantly, immigrants. It was the centre of commercial activity, and the staging point for troop deployment to key battles in both World Wars.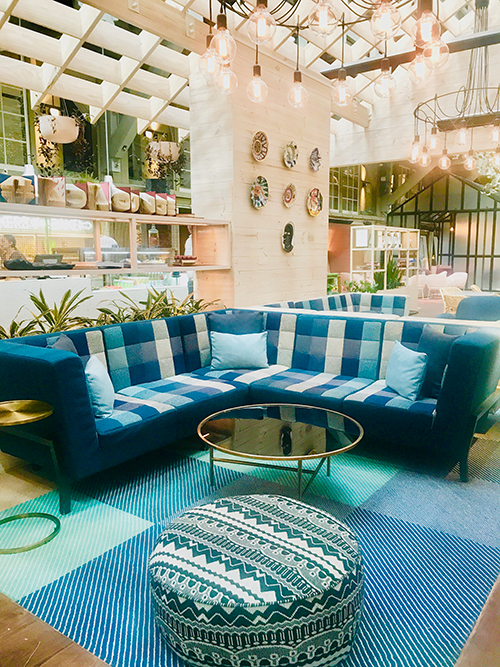 Today it hosts a large marina and several top-notch eateries (including Manta, where I met up with friends for the freshest seafood one evening). It's also home to Ovolo Woolloomooloo, the Australian flagship of the Hong Kong-based Ovolo group of hotels, and a member of Small Luxury Hotels of the World; you can actually book it directly through SLH. Of the 100 rooms, most have harbour views, and all are spacious. Mine had the view, and as it was a loft room, it also had two levels: a luxe ensuite bedroom upstairs and a large living area (and, awesomely, a second bathroom) downstairs. But beyond the ultra comfort of this room, there was so much else to experience.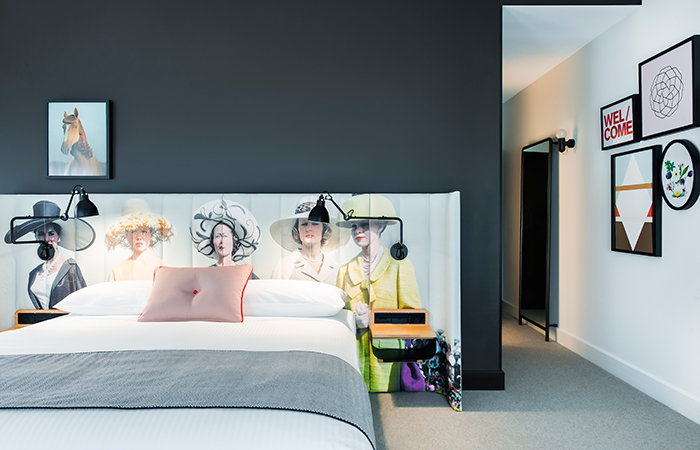 The Vibe
As mentioned, this hotel is literally encased in history, and the interior's industrial-chic design both embraces and contrasts that. There is artwork, including neon-lit pieces, throughout; a giant marquee-lit "5" greeted me every time I got to the top floor, where my room was. Everywhere, I loved the pops of colour, and the soundtrack of my youth playing in the background. (More on that later.) Riding the glass-walled elevator, which is hydraulically powered using the harbour water below it—remember, the hotel is on a wharf—offers a wide-open view of the entire space. The huge exposed wood beams and original timber floors are the backdrop to playful and unusual art works that fill the little pockets of space you can ensconce yourself in. I arrived too early for check-in, but that was a bonus: finding somewhere comfy to hang out and do some writing while I waited was no problem here.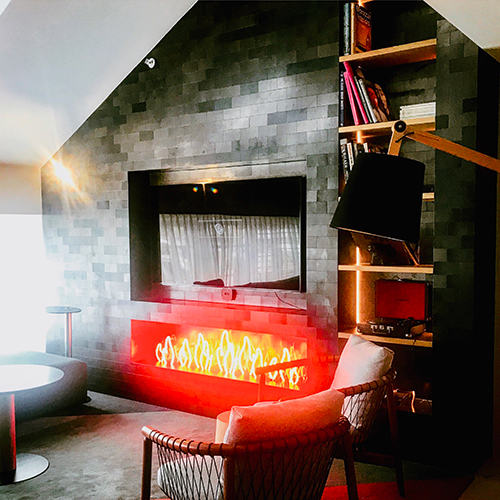 I strolled the huge lobby perusing the various alcoves, and chose a cozy round spot filled with colourful cushions. Had my husband been with me, we might have chosen one of the "kissing booths" (you can pull a blind down for privacy) or the faux firepit. All of the rooms have eclectic pieces of art and whimsy, but the two Rock Suites, which I got to check out, are over-the-top playful. Both the INXS and ACDC rooms (named for Aussie bands) have a round bar in the centre, a hammock nook "play area" with mirrored walls and ceiling and a faux fireplace complete with neon flames. How cool is that?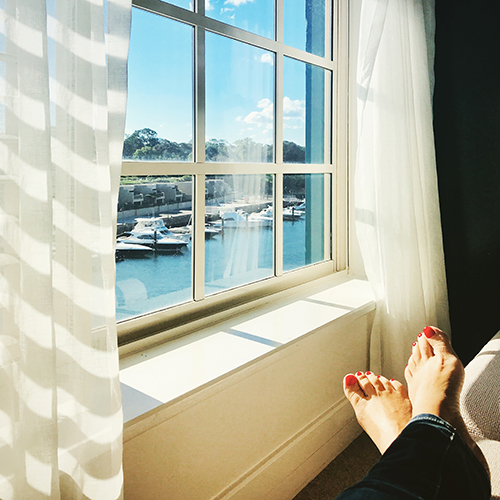 The Experience
I quickly realized that this is a place where your senses are turned on and tuned in at all times, starting, as I said with my hang-out in the lobby before check-in. There, I was delighted with a backdrop of all-'80s-music, all the time. I discovered that the soundtrack is actually an exclusive station on Spotify called Ovolo Radio, featuring music curated by Ovolo Group's founder and CEO himself, Girish Jhunjhnuwala. (FYI, during my stay, I didn't hear any songs repeated from Jhunjhnuwala's beloved era.)
Once I got to my room, again I was delighted—this time, to find a loot bag filled with treats like chocolate, lollies and chips. Also, Alexa was ready and waiting for my questions. AND, there was a free mini bar. Yes, free. (There's also a free breakfast, and a free laundromat.) Then I checked out the hotel's information book, and right on the front page was: "We know you want to know where the free Happy Hour is." Well, I guess I did! And it was in the lobby, at Alibi Bar and Kitchen, Australia's first hotel restaurant with a 100-percent plant-based menu. By the time Happy Hour started, my husband had joined me, his timing great as usual ☺. We each had a limoncello spritz, which, garnished with fresh flowers, was almost too pretty to drink. Almost. By day, Alibi is bright and airy, but with the lights dimmed for Happy Hour, it's a buzzy atmosphere as people chat over their cocktails under illuminated "blossoming" trees.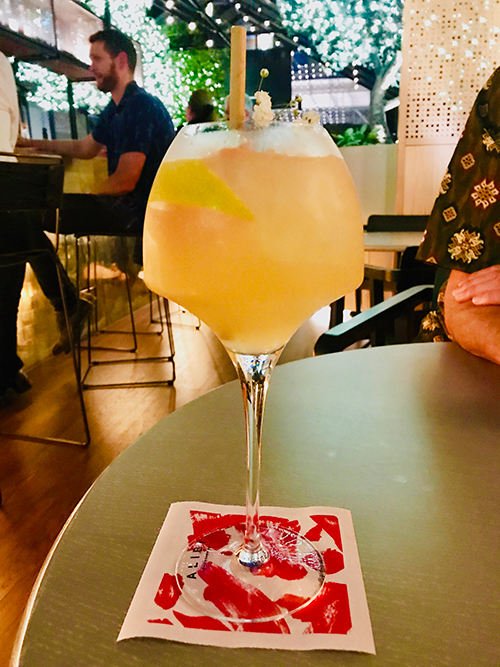 I mentioned the word paradox at the start of this article, but now that I've described the hotel in more detail, let me finish by getting more specific about that: Ovolo Woolloomooloo is historic yet modern; simple yet glamorous; and energizing yet laid back. It's the best kind of paradox.