A veteran of the bar and nightlife industry for the past 20 years, Rande Gerber knows a thing or two about where to go for good food and good times. An original pioneer of the South Beach night scene, opening The Whiskey on Ocean Drive in 1991, he's launched countless bars, restaurants and lounges all across the globe from Los Angeles to Madrid.
His latest venture is a passion project that he and longtime friend George Clooney developed during late night "research sessions" sipping Reposado tequila and asking themselves, "What if we made this stuff ourselves, the way we like it, and make for our private house tequila?" Enter Casamigos Tequila.
This small-batch, ultra-premium tequila is made from hand-selected 100% Blue Weber agaves grown in Mexico's Jalisco Highlands for a minimum of seven years. Since launching in 2013, it's received countless awards from some of the industry's most respected authorities. Clooney even had 100 cases of it shipped to Italy for his September 2014 wedding to Amal Alamuddin.
We had a chance to catch-up with Gerber and find out some of his favourite spots to grab a bite and relax in his home base of Malibu and his home away from home, Muskoka. He also shares with us two of his favourite cocktail recipes (featuring Casamigos Tequila of course). We bet he'll be sipping on these in cottage country this summer.
MALIBU
1. Café Habana: In Malibu you can often find me on the patio at Café Habana, it's my local hangout. It's also a great place for a business lunch. I usually get the kale salad with salmon, the fish tacos, grilled corn and carne asada – not all at once though!
2. Nobu Malibu: I also really enjoy Nobu Malibu. It recently moved to a new beachfront property along the Pacific Coast Highway. The views of the ocean truly never get old.
3. Malibu Kitchen: Another favourite is Malibu Kitchen, it's a gourmet market located within Malibu Country Mart. They have delicious sandwiches and an extensive bakery, everything is made from scratch.
4. Tra di Noi: Lastly I like to go to Tra di Noi for the finest Italian food in Malibu. It has a warm atmosphere and it's a romantic spot for a date with my wife. All of these places have the most-friendly staff you will ever meet, it really brings the whole experience together.
MUSKOKA
1. Bass Lake: I fell in love with the beauty of Muskoka years ago. It's like going to summer camp. There's nowhere better than being dockside and spending time with family and friends. We have some good parties on the dock as well! On Bass Lake we love fishing, swimming and getting away from it all.
2. Lake Joseph Club: When I venture away from my lounge chair, I like to take the boat over to Lake Joe Club for lunch. It's an amazing spot and everyone is so welcoming.
3. The Rock: I also like golfing at The Rock golf course at Red Leaves Hotel. The course showcases Muskoka's natural wilderness.
4. Gordon Bay Marine. In terms of checking out local shops, Gordon Bay Marine is a cottagers dream, they literally have everything. I get our sporting equipment there, paddle boards, stuff for the boat. You can get lost in all the cottage accessories. It's a fun place.
Rande's Favourite Cocktails + Recipes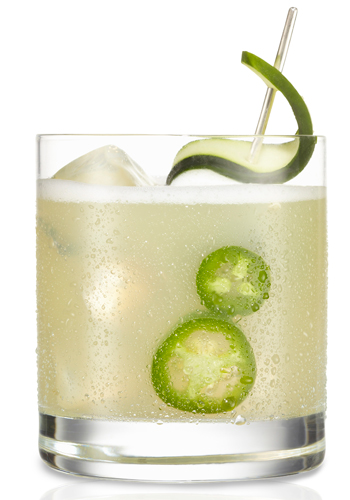 Spicy Cucumber Jalapeño Margarita
1 1/2 parts Casamigos Blanco Tequila
3/4 parts Fresh Lime Juice
1/3 part Orange Liqueur
1/3 part Simple Syrup
3 Cucumber Wheels
1 Jalapeño Slice
Muddle cucumber, jalapeño, lime juice and simple syrup. Combine all ingredients to ice mixing glass. Shake vigorously for 10 counts. Fine strain all contents into a rocks glass with or without a salted rim. Garnish with cucumber and jalapeño slice.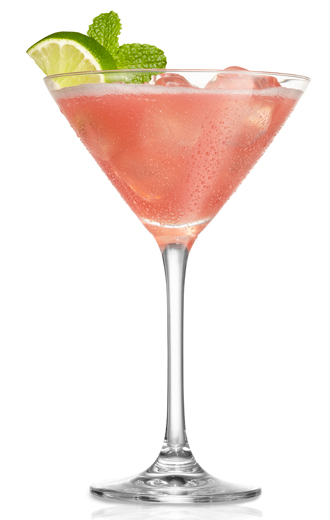 Watermelon Mint Margarita
1 1/2 parts Casamigos Blanco Tequila
3/4 parts Fresh Lime Juice
4 parts Muddled Watermelon
1/2 part Simple Syrup
6-7 Mint Leaves
Muddle mint and watermelon. Add remaining ingredients. Shake, fine strain over fresh ice. Garnish with mint sprig and lime.