When Sangita Patel is gracing Canadian television, she's dishing on all the latest in celebrity news, fashion, beauty and travel for ET Canada. Her style is always fierce on and off camera (from her shoes to her hair and skin), but what really draws people in has to be her warmth and openness. Which is exactly why we think she's the perfect fit as CoverGirl's latest ambassador for their Simply Ageless line. We had the chance to chat with Sangita about her beauty routine and how travel has impacted her life.
You're now an ambassador CoverGirl! What have been some of your favourite CoverGirl products over the years?
I love the Simply Ageless 3-in-1 Liquid Foundation because of its hydrating properties, which has become increasingly helpful the older I get. I also hold a special place in my heart for CoverGirl LashBlast Volume Mascara, such a classic!
Can you tell us about the Simply Ageless line and what you love about it and how it works for you and your skin?
CoverGirl has always celebrated women of all ages and empowers women to be proud to share their age with the world, no matter the number. This relaunch has been upgraded with the addition of hyaluronic acid and vitamin c to hydrate and brighten my skin.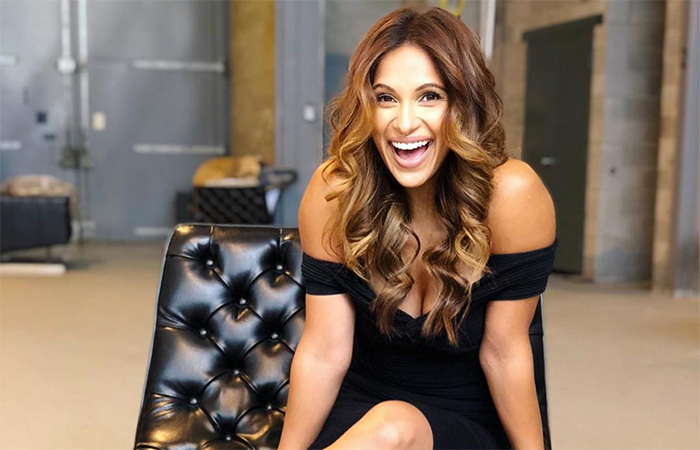 What are your travel beauty essentials that you never leave home without?
I don't leave home without my Simply Ageless Instant Fix Advanced Concealer – it's lightweight and covers any trouble areas in a flash. I also love the rounded sponge tip applicator to help me blend the product flawlessly when I'm on the go.

Travel can be so drying and dehydrating to your skin, which can make it look and feel older… how do you maintain your skin and fight signs of aging while travelling?
Staying hydrated is really important, especially with all the travel I do. Using products that contain hydrating ingredients like hyaluronic acid and brightening ingredients like vitamin C work with my skin also help me maintain my complexion. The relaunched Simply Ageless collection of face products now contains Hyaluronic Complex, so I always have one of those products with me to keep me looking and feeling my best when travelling.
What was your first travel memory? Where did you go? How old were you?
One of the first big trips was when I went to India with my family. I was eight years old. That was an adventure! An overwhelming experience with a burst of culture.

How does travel have an impact on your life?
I love travelling to see the world. Any chance I get to experience the world, I take it. Now with my kids, we travel at least once a year. They love it too.

What inspires you most when you travel?
The people! I love meeting new people from around the world and hearing their stories. And the beauty around the world. I remember being blown away when experiencing Croatia…so beautiful.

What spot in the world really surprised you?
So many different ones, but Europe, Croatia, St Lucia, India, Africa, and Thailand (right after the tsunami).
With your young family, how do you instill a love of travel and with your kids?
They started early at 6 months. Planes don't bother them, they wake up early and are always excited to travel. They take the same toy on all our trips and take a picture of it in front a touristy location. Like St. Peter's Basilica in Italy.
What are some of your favourite travel memories with your kids? Fave spot to travel with your family?
They loved Costa Rica, we went with another family. There were so many excursions, we needed a vacation from the vacation.
What is your ultimate dream destination and why?
Good question. I would love to go back to Tahiti, we went for our honeymoon. It was just incredible. Or Australia – never been!
What would you say to someone to get them out of their comfort zone when they're travelling?
Embrace it all. Travelling can make a person nervous, I travel a lot on my own and everything always works out, you do end up at your destination. Flight turbulence isn't fun, but I've been through some of the worst and I'm at ease now and the chances are, you will land
What is the craziest thing you've done while travelling that was out of your comfort zone?
I guess it would be zip lining in Costa Rica. What an adrenaline rush. Or walking safaris in Africa.

Three things you never travel without?
My passport, my cell, my visa!

Window seat or aisle?
Window seat. I have a bit of vertigo, so as we go up, I like to look out the window.
More from Travel & Style
David Rocco's Passion for Food and Travel
5 Tips for First Time Cruisers
Why Carry-on Your Luggage
Jillian Harris' Packing Essentials