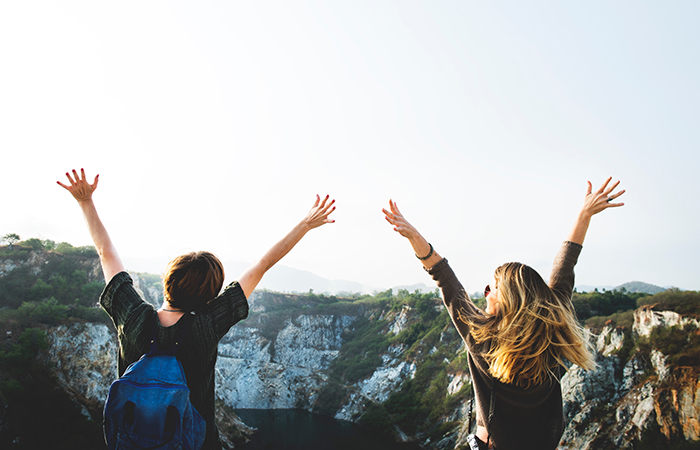 There are two things that we always consider when it comes to summer vacation planning and summer travel. One, how can we maximize those vacation days and get the most out of each trip. And two, how can we make it as easy and stress-free as possible. Because let's face it. When it's nice outside and you're planning a getaway, you don't want to spend hours researching, comparing prices and going from website to website trying to find a deal. And you always want to make sure that you get the most out of your precious summer vacation days. Here are 4 ways we make it easy on ourselves for summer travel.

Take the stress out of booking
The hunt for the best deals can take all the fun out of a summer vacation. Looking for flights and hotels on dozens of websites, comparing prices, and dealing with confirmation emails all adds up to… you guessed it, stress. We love when we find one website to help us book more travel. Booking on aeroplan.com is one of those sites we love and makes summer vacation planning incredibly easy. Not only can you book flights, but also cars and even hotels (with over 250,000 to choose from) on their booking platform. We like to use it like we would any main travel booking portal. You can use your Aeroplan Miles that you've accumulated, or you can pay by credit card (added bonus! When booking and paying with your credit card–you get 4X the miles on each purchase. So you can start saving miles for your next adventure at the same time).

Use those miles!
We all collect them, but do you actually use your miles? We're big fans of booking last minute trips with miles… it saves money and you've been collecting them, so why not use them! It also ends up feeling like a bit of a treat when you use your miles and save some cash, and you eliminate the added stress of increasing your budget for travel (summer months are notoriously higher in price when it comes to airfare, car rentals and hotels). Using your extra miles means that you can also take your vacation up a notch… looking for that bigger hotel suite? Why not use your miles! It's an easy way to feel upgraded without breaking the bank–and who doesn't want a bigger suite every now and then?!

Bank your lieu days
If you've been saving your lieu days or sick days, use them now! Tack those days on to your long weekends or vacation time. Even if you use an extra day for recovery (sometimes you need that to recoup after a vacation!), this is the best time of year to take them.

Do a package deal
If you want zero stress, and we mean zero, why not book a tour or package deal? Most everything is included in it, you just need to show up and be ready for an adventure. It's a hassle-free and stress-free way to escape and really relax (without wondering who is going to drive to your next location, and carry all that luggage!).

More From Travel & Style
7 Reasons to Visit Dubrovnik
Who and How Much to Tip at Hotels
The Best Travel Photography Tips
The Best Travel Photography Tips