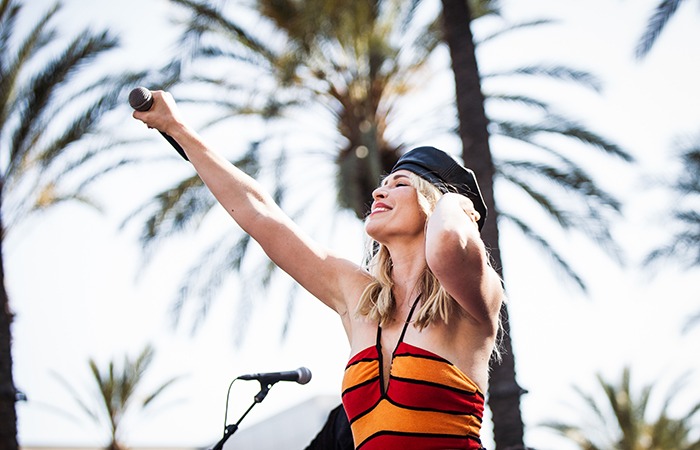 To meet Natasha Bedingfield in person is kind of like meeting up with an old high school friend you haven't seen in years. Instant smiles, open arms for a hug, and you start to hear one of her happy beats drumming up in your soul. It takes you back a few years, tripping down memory lane. Her warmth and openness flow like her lyrics and catchy songs. For me, I remember her songs being a part of road trips, vacations on the beach and day-dreaming about a sunny California escape (watching The Hills will do that to you). So, when I had a chance to see her perform in Anaheim and chat with her, I was eager to not only hear about what new music she's working on, but what inspires her about travel… what sets her at ease and what pushes her out of her comfort zone. And a few of her carry-on must-haves too!

Tell me about what you're working on right now…
I just finished a whole album. I found a producer. It was my dream to make an album with one producer, because a lot of times you work with one radio song and piece them all together. It was my dream to make a body of work, so I found someone I look up to and respect, Linda Perry, and the album is being mixed right now.

What was your inspiration for this album?
I just wanted to get people moving. I think about artists that I love to go and see. I'm not the kind of artist that people go and sit down when they listen to me. People are dancing. My songs are very positive, positive songs that have to based in reality and depth for them to not feel cheesy, so they really lift you up.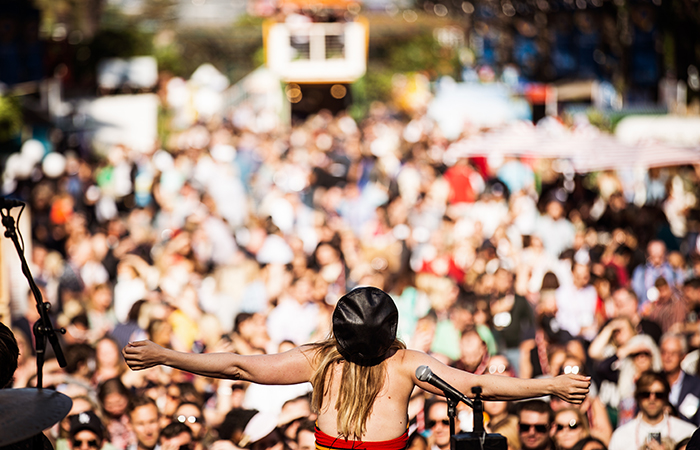 Who are you listening to right now that provide inspiration?
For some reason I just listen to Bon Iver (laughs). On repeat. It's my album that takes me into like a sort of zone. It's quite meditative. I always listen to it, on the plane, on the road…

Speaking of on the road, where would you go if you could go on an ultimate road trip?
I travel so much because I have toured a lot, and my husband comes with me and we always go to places and we're like "oooh, let's live here!", you know? One of my favourites is Switzerland. And I also love New Zealand, Hawaii. Great for driving.

Where is one place you haven't been, that you're dying to get to?
You know, I've never been to China and I feel like I'm missing out so much having not been there. It's such an ancient culture that's so rich. I'd love to just immerse myself in China or Korea. My aunty is from Korea and I just love it, love the culture, the food. But I haven't been yet.

Are you more of a city person or a beach person?
I'm really both. I'm a nature person when it comes to vacations. So I don't really like going to resorts, I like just being in nature. I feel like that, that's my church.

You call California home now… where do you love to escape to when you're here?
That is the best thing about California in general. You could go surfing in the morning and then you could ski in the evening. My husband and I actually have a sail boat so we love to sail a lot and then we love to go to the mountains too, like Big Bear.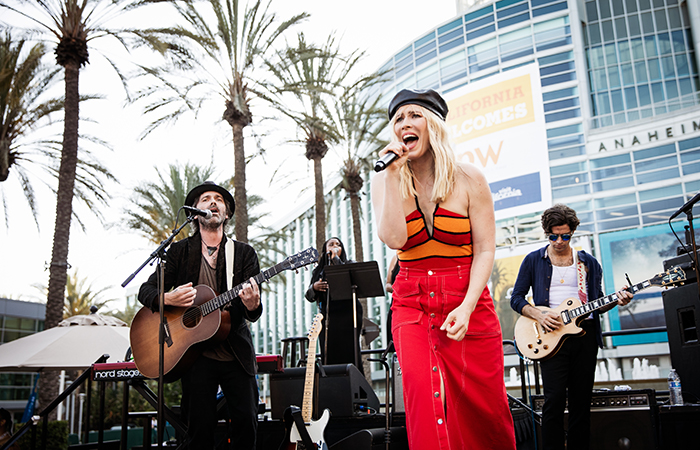 It makes sense why so many people come here and want to live here!
I think that too. I think British people love to come here because it has so much, and because we don't get much sun. English people are known complainers, it's like our luxury to complain, like I've earned the right to complain, but I think here the weather makes us complain less.

When you're home in England, what are some of the things you like to do?
London is such a freeing city because you can really do whatever you'd like. There are so many amazing galleries and museums and everything and such a great music culture.

In terms of Canada where have you been?
I've been to Toronto and Montreal and I've seen it in the best time, the autumn with the leaves. I love it. It was beautiful, it's the best time. And I noticed that everyone has great hair in Montreal! I don't know why. They're some of the most attractive people in the world and great dressers. And Toronto is right there with them. I think Americans gives Canadians a hard time, but I think Canadians are a bit more similar to English, so I LOVE Canadian humour.

Canadians also have great music too. I think the government is very supportive of the arts. I feel like Canadians just have the secret, they just know the secret to living happy. What is that secret? Please tell me!

The most romantic spot to go in the world with your husband?
Sailing for me. I mean, he likes it because he's the boss! He's the captain, but it's the only place he's the boss (laughs)! No, but we went to the British Virgin Islands together, just him and I, and we were sailing and jumping in the ocean to shower and it was just so special. So, I'd say the most romantic trip for me would be something like that again, sailing with him.

Other favourite American cities?
I love San Francisco, Boston. Boston is always a great time. Oh, and I love Martha's Vineyard. I'm going there for the Fourth of July and I have a lot of friends there and I love it. It's really enchanted, there's actually fairies there it feels like. Be careful, because I go there for two days and I can't leave, it's like they just don't let you leave.

Do you have certain things you always travel with?
I saw a store recently and it was a travel store and I were intrigued to see what they would have and it was full of all these cutesy bags and things, and I thought "I would never use any of that stuff!". You know, when you start to travel a lot and on the regular you really do get your kind of favourites, and things down. I would put my liquids in a hard case because liquids have a tendency to be thrown around on a  plane. I'm kind of like in that movie Up, where I just have my own little rituals I do on the plane. Like little moisturizers. I I love Dr. Hauschka, that is my miracle. I love the soothing masks and spritz. My husband and I kind of teases each other and attack each other with the spritz.

One of the most adventurous things you've ever done?
It's probably because I'm a performer but if there's a camera I can do really dangerous things I would never normally do! So I hate jumping off rocks and things, but I did a photo shoot on some tropical island somewhere, and I was suddenly like "yeah! I'll jump off of that!" when my brain is saying "noooo". Just jumping off rocks. I did it about 11 times, so just again and again. I've done that too with jet skiing. Suddenly I look like this amazing adventurer, but I'm not. But really where I'm most adventurous is the stage, that's my place. I wear very high heels and my band is always afraid that I'm going to fall off because I go right to the edge. But heels are worth it!

Will you be doing tour once your album comes out?
Yeah. I think it will be a world wide tour, so I'll definitely be coming back to Canada. I got to get some Tim Hortons somehow!
More from Travel & Style
Chef Travels: Celebrity chef David Rocco's Passion for Travel
5 Tips for First Time Cruisers
Why Carry-on Your Luggage
Jillian Harris' Packing Essentials