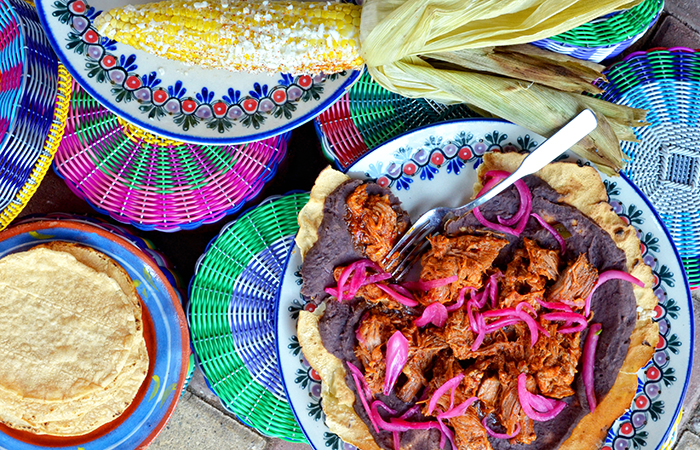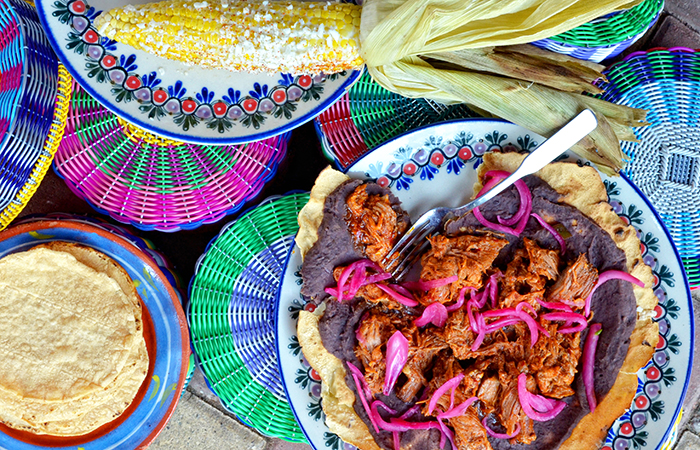 T&S: Texas is such a big state, with so many varied culinary scenes… what makes San Antonio unique in your eyes?
Chef Johnny Hernandez: San Antonio is a UNESCO city of Gastronomy and our Mexican heritage shines through in our local cuisine. You can also see obvious hits of our German heritage with our many BBQ restaurants.
T&S: How does the city of San Antonio inspire your cooking?
Chef Johnny Hernandez: I'm always wanting to stay on the fringe of what diners want to discover about Mexican food and I feel like our visitors are some of the most adventurous eaters and always willing to try new food items.
T&S: How would you describe the food scene in San Antonio?
Chef Johnny Hernandez: Explosive! We seem to have a healthy dose of emerging culinary talent and many customers are willing to venture out from the traditional. We have certainly gotten the national media's attention lately as a must-see destination.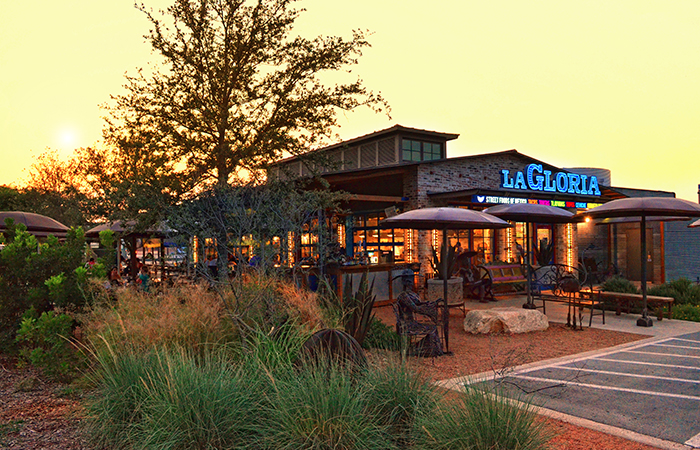 T&S: What was the inspiration behind La Gloria?
Chef Johnny Hernandez: Authentic interior Mexico is fascinating to me. I can never get enough of it. It has also been a journey to discover where my family originates and learning about their food & cultural traditions is exciting to me.
T&S: One thing I noticed when I visited San Antonio was it's very vegetarian-friendly (so pleasantly surprised!). Are there any misconceptions about food in San Antonio or Texas in general?
Chef Johnny Hernandez: I think there certainly are some misconceptions. It is no longer the wild west around here and we have far more culinary talent than one might expect! But make no mistake, we have the best Mexican food in the country.
T&S: What do you think is the most surprising thing about the food scene in San Antonio?
Chef Johnny Hernandez: What people find most surprising is that we are a UNESCO City of Gastronomy! We are working hard to peel back the many layers of our food heritage, one that dates back over 10,000 years, long before the Spanish arrived. We are reconnecting with our Native American roots and lots of work is being done to rescue these food and cultural traditions.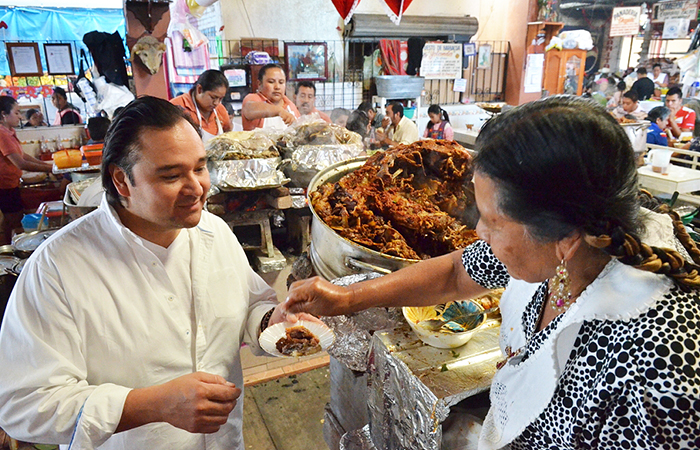 T&S: It's a tough time right now for everyone, especially restaurants… how have you been working your way through these times and staying connected to your community?
Chef Johnny Hernandez: My team and I are cooking over 7,000 meals a week for the senior members of our community. We also converted two of our restaurants into grocery stores and have special late-night shopping hours for the medical professionals and first responders.
T&S: How would you describe the people of San Antonio when it comes to tough times?
Chef Johnny Hernandez: I believe we are a resilient community, we are generous and we care about one another.
T&S: Where will you go once the pandemic is over and you can freely travel?
Chef Johnny Hernandez: Back to the motherland, Mexico for sure!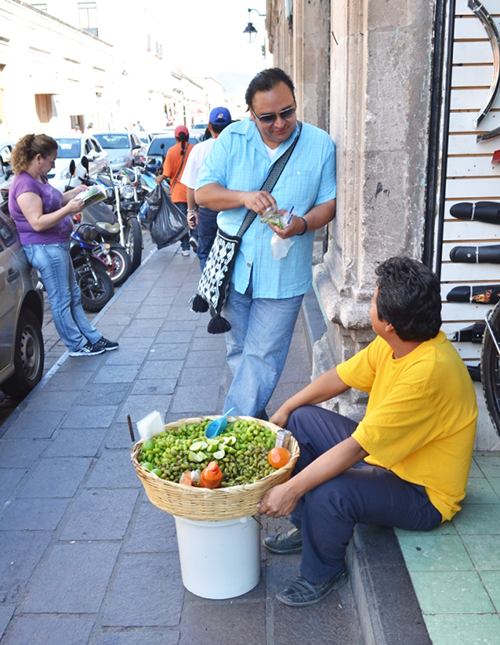 T&S: How do you determine where to eat when you're in a new spot? Any chef secrets you can share on finding hidden gems?
Chef Johnny Hernandez: In the case of international travel, it seems like I'm first looking at what foods I want to learn about before picking a destination. In the case of U.S. travel I try to visit James Beard nominated chefs or establishments.
T&S: What flavours are you drawn to? Have they changed throughout your cooking career?
Chef Johnny Hernandez: Right now I want to discover and learn more about pre-Hispanic Mayan culture. I hope to travel through the Yucatan extensively in the next couple years.
T&S: What key ingredients do you always have on hand at home?
Chef Johnny Hernandez: Tequila, champagne, good olive oil, butter, and what's growing in my garden. I love all my fruit trees!
T&S: Favourite childhood meal?
Chef Johnny Hernandez: Mexican Barbacoa on Sundays!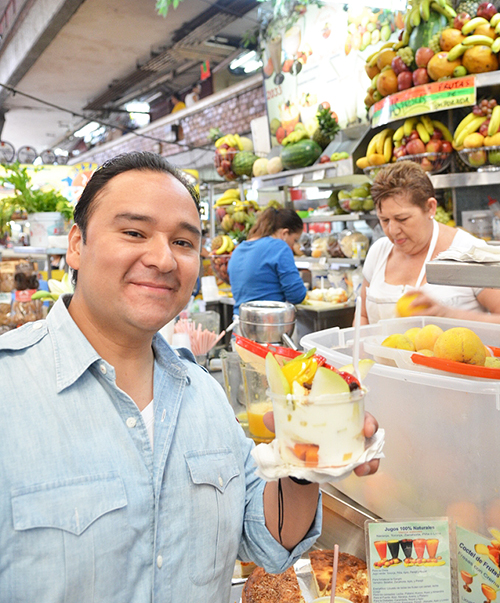 T&S: What was your first travel memory? Where did you go? How old were you?
Chef Johnny Hernandez: When I was about 8 years old, Dad would always take us for Cabrito when we visited his family in Nuevo Laredo. I was amazed to see the open flame pit of Cabritos!
T&S: As a chef, what inspires you most when you travel?
Chef Johnny Hernandez: I always focus on the area's food traditions and try to identify its seasons and particularly its established cultural events.
T&S:What spot in the world really surprised you food wise?
Chef Johnny Hernandez: London for sure. It's amazing when you venture out from the mainstream tourist spots.
T&S: How adventurous are you when it comes to trying new foods while travelling? What is the most unique thing you've tried?
Chef Johnny Hernandez: I was in Thailand a couple months ago. I ate everything at the many markets I visited and tasted lots of unique things! What I loved the most was eating the green papaya salad made to order in front of me; it was so delicious.
T&S: What would you say to someone to get them out of their comfort zone with food when they're travelling?
Chef Johnny Hernandez: It is definitely worth it to travel with a guide, especially internationally. They will never steer you wrong and they know the best local spots.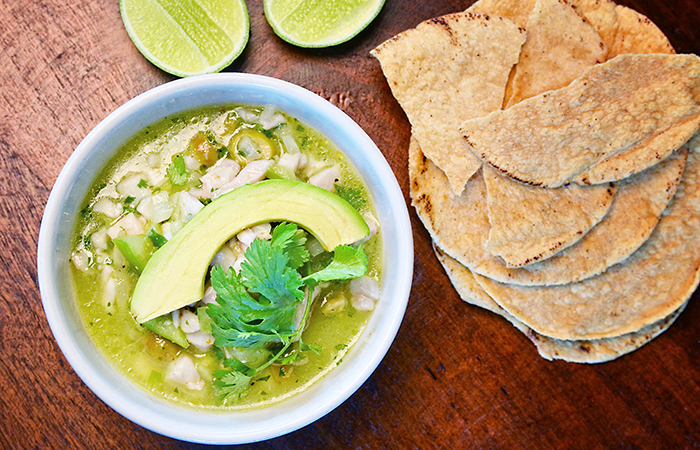 Chef Johnny Hernandez's Ceviche Verde
1 lb Pacific halibut or other firm-fleshed fish, fresh, chopped into 1/2-inch cubes
1 tsp Kosher salt, plus more, to taste
3 Tbsp Lime juice, fresh
2ea Avocados, peeled, pitted and diced
3/4 C Green olives, sliced
1/2 C Tomatillo, diced
1/4 C Onion, finely chopped
1/4 C Cilantro leaves
1 ea j Jalapeno, stemmed, seeded and minced (optional)
2 Tbsp Olive oil
Tostadas or tortilla chips, for serving
Method:
Place the fish in a medium bowl. Add 1 teaspoon salt. Toss to coat. Add lime juice and toss to coat. Marinate until the edges of the cubs begin to turn opaque, about 30 minutes. Add avocado, olives, tomatillo, onion, cilantro, and jalapeno, if using. Add olive oil and season with salt, to taste. Serve over tostadas or with tortilla chips for dipping.