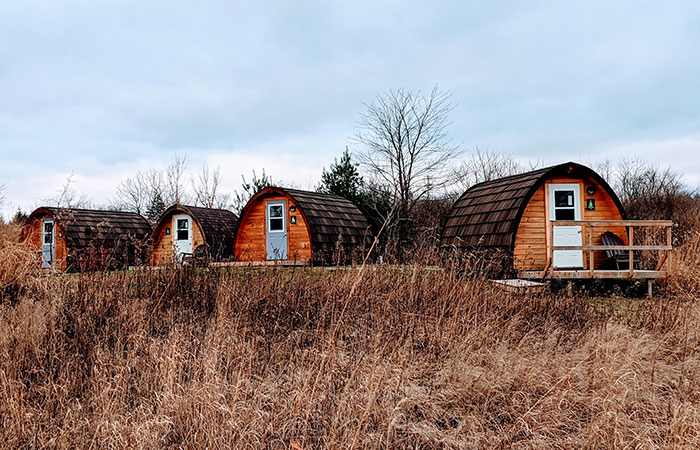 During this Covidian era, we aren't likely crossing the border into the United States for our next weekend escape. But we still can head south for an adventure on Canadian soil. 
Norfolk County is a part of Ontario I had never explored pre-COVID, and it brought with it some surprises. A kayak tour along a winding river through a rainforest that has been compared to a trip on the Amazon? A scenic little lakeside town with floating boathouses, killer sunsets and quaint antique and gift shops? A boat tour that takes you out to wetlands, and to swim off a hidden little beach? You can find all this in Norfolk County, which runs from Port Dover to Long Point on the north shore of Lake Erie, a mere couple of hours southwest of Toronto. 
Cruising the Waterways
With Captain Graham Ferguson of Long Point Island Hugger Tours at the helm, my family and I took a private tour leaving from the Old Cut Boat Livery near Long Point Provincial Park, which is a long spit of land designated a UNESCO World Biosphere Reserve in 1986. Although the night before we had picnicked and swam on its pristine 1.5 km strip of sandy beach, that day we toured its surrounding waterways. We cruised in and around the marsh, through tall grasses that gently agitate and clean the water. We stopped to swim at a hidden patch of beach, accessible only by boat.  And we spotted great blue heron and osprey overhead, in an area famous for its bird and waterfowl migration. Returning to the harbour, we cruised along a channel admiring the large private homes along the shore: it was a world entirely built around water.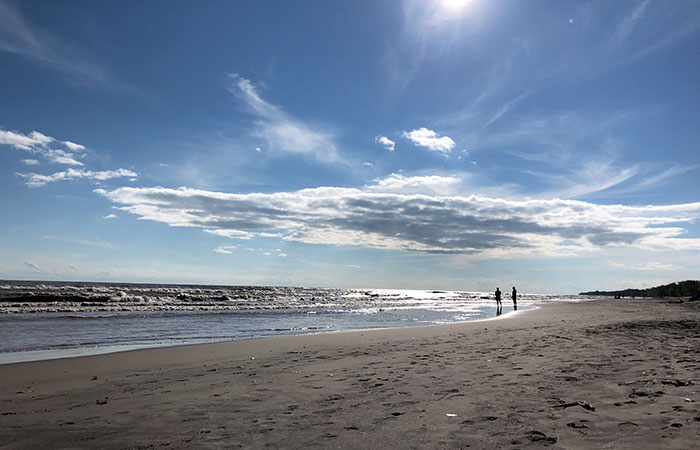 Kayaking Big Creek River and Hiking Nearby Backus Woods
When Grand Experiences' owner Jamie Kent first described a place where we could paddle along a windy river through tropical rainforest, I was determined to visit. Travelling to Brazil is, well, not exactly on our to do list during COVID. But Jamie promised that paddling along this windy river through dense Carolinian forest, with black willow trees draping across the water, and overhanging vines, would lend a bit of that tropical rainforest feel. And we weren't disappointed.
Our family kayaked twice on this river, once with Jamie of Grand Experiences and the other time with Brian Craig and Leanne Lemaich of Long Point Eco-Adventures' Big Creek Paddling Adventures — all excellent guides. Over the course of several hours each day, we paddled a section of this 60-km long river that eventually empties into Long Point Inner Bay. Starting near Port Rowan, we paddled past towering cottonwoods and sycamores, and black willows that appear to grow out of the water. We ducked under willow branches, paddled under bridges and listened to the calls of belted kingfishers and sandhill cranes above our heads. We also happened upon a carefully constructed beaver lodge by the shore. 
The beavers burrow into the banks because the water flows too fast in the spring and the water levels change too dramatically to be able to dam the creek and build a lodge, explains our guide Leanne. The beavers enter and exit underwater, and cache branches and sticks —their food — in the mud at the bottom of the creek so that in winter, they can swim out of the lodge under the ice, collect what they want from the cache and return to the burrow to eat, she says.
On the day we paddled with Jamie, we also went for a hike in nearby Backus Woods, a spectacular Carolinian older-growth forest rich, which is also one of the most biologically diverse regions in the country and a habitat to countless endangered species. It has the largest collection of tulip trees in North America and 290 species of ferns. Follow its interpretive signs along seven trails over 21 kilometres to learn more about the unique animals, plants and ecology of the forest.
Eating and drinking
Little did I know before visiting this area that Norfolk County is a hub for agritourism. While once 90% of Canada's tobacco was grown her, Norfolk County farmers are now major producers of a variety of plants – everything from asparagus to squash, zucchini, ginseng and strawberries. The County's fertile ground also yields hops for beer that you can sample at local craft breweries in the region, and grapes for a handful of wineries, including the award-winning Burning Kiln Winery, which is on the site of what was once a tobacco farm.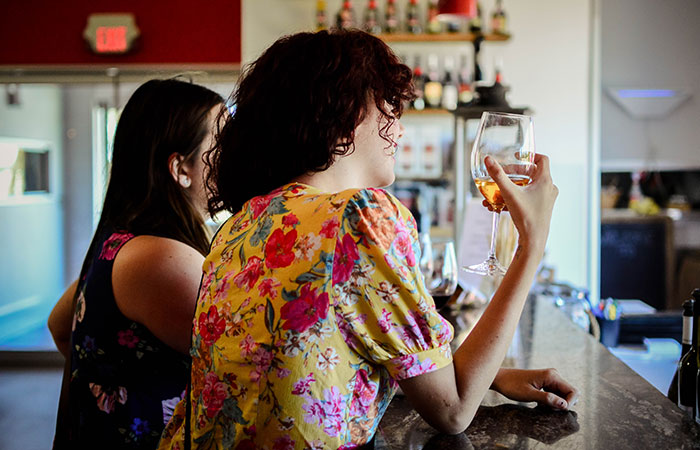 If you are a foodie looking for a great farm-to-table experience, stop by The Combine in Simcoe for what chef and owner Ryan Rivard refers to as good honest cooking.  Set in a century house with a large wrap-around porch and a 3,000 square foot garden out back, Rivard serves up local and fresh from his home. (He lives above the restaurant.) The wood-burning pizzas from their brick oven are outstanding, salads are delicious and prices are reasonable. Rivard also owns a new burger joint in Port Dover called Mustard + Relish, as well as Canned Heat restaurant next to Burning Kiln Winery.
Other interesting food options? Stop by the Marshland Patio at Long Point Eco-Adventures for delicious salads, perch tacos and an unforgettable vanilla bean cheesecake for dessert. Or for a fun food truck experience, try the fish and chips and dill pickle fries at The Chip Ship at the Old Cut Boat Livery in Long Point.
Exploring a quaint lakeside town
It's hard to believe that Port Rowan is just about a two-hour drive from Toronto and still remains pristine and relatively undiscovered from the hoards of tourists exploring Ontario's big cities. Stop by here for a cone at Twins Ice Cream Parlour, a lakeside meal at The Boat House Restaurant and some antiquing at Franni's Attic. Need a place to stay? The PRINN is a reasonably priced five-room boutique inn on the main strip in what was once a CIBC.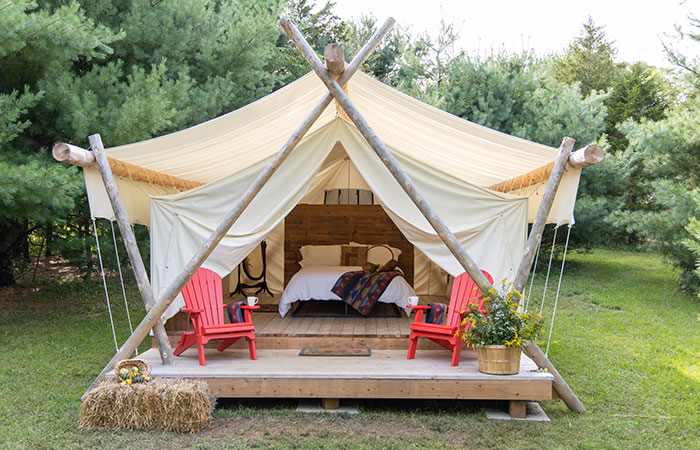 Glamping
Having never glamped before, I was excited to experience two very different glamping sites in Norfolk County.
Our first was at Long Point Eco-Adventures in St. Williams, where you can choose between safari tents (their wilderness suites) or wooden huts (their pods). Both tents and huts have hydro, comfy beds, a toilet and sink, beautiful hardwood floors, and private or shared access to fire pits and outdoor showers. As well as comfortable sleeping, this eco-resort also has great mountain biking and hiking trails nearby, and axe throwing on the property. Thirsty adventurers can enjoy a pint at their onsite brewery, Hometown Brew Co, or a glass of wine at the popular Burning Kiln Winery across the street.
Homegrown Hideaway was our second glamping spot with a very different vibe. Here the emphasis is more on hideaway and less on resort.  Because of COVID, owners Caroline and Jon Jager initially opened their business with just two of their five tents: the Wooded Oasis, set in a clearing in the woods, and Secluded Sanctuary, by the river. Although there is no hydro in the tents, there are well-maintained washroom facilities and showers in a building nearby. For added pampering, guests can choose between various breakfast baskets, delivered to their tent each morning. We chose the farm fresh eggs and vegetables for omelettes, which we cooked on the barbeque. It was definitely a great way to start our day. 
IF YOU GO
For more information, visit www.norfolktourism.ca and www.ontariossouthwest.com.