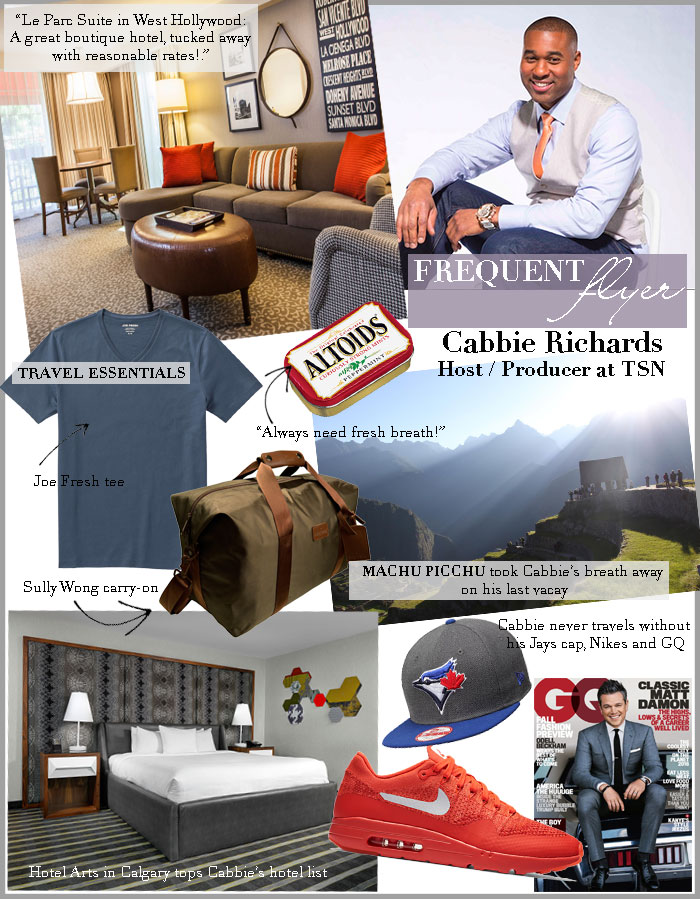 If you don't know who Cabbie Richards is, we're not sure where you've been. As a host and producer on TSN, Cabbie is jetting back and forth across North America on the quest for interviews with the world's biggest names in sports. Even if you're not a huge sports fan, Cabbie's funny interview antics have made him a TV and internet sensation (his relationship with Kobe Bryant is one for the romance books). And he's always impeccably dressed while on the road. While we don't feature men in our Frequent Flyer section often, Cabbie had to be an exception – read on for his travel essentials, tips and favourite spots!
We have to confess, we LOVE watching you on TSN! You're always making us laugh. Tell us about your job and what you love most about it. 
Interviewing athletes and entertainers in a non-traditional sense, and by "non-traditional" it means I'm aggressively annoying. Never asking typical questions and adding hijinks to as many scenarios as possible, whether it's appearing in a dunk tank next to Jose Bautista in an all-white onesie, having J.J. Watt stamp my forehead, being on the receiving end of Steph Curry pouring water on me or convincing Aaron Rodgers to audition to play the next James Bond (I was the "Bond Girl" in the audition). It's incredible to interact with elite athletes in a way they're not used to.
You seem to always be travelling with this gig. Where was your last trip?
Need to travel to get the interviews! The athletes don't all come through Toronto (NFL doesn't have a Toronto franchise, for example), so every week I'm on a flight somewhere to the U.S. Last trip was to New York for a Steve Nash charity soccer game called "Showdown in Downtown."
What brand is your carry-on bag?
An army green with leather-wrapped handles Sully Wong Micro Traveller.
Three things we can always find in your carry-on?
Phone charger, toiletries bag, mints.
Travel accessory/app you can't leave home without?
My backpack. Stocked with pens and mints. Always need fresh breath whenever you land, and on planes you always need a pen to fill out that customs form.
You're stuck at an airport for a layover … how do you relax and kill the time?
Twitter. Great resource to catch a pulse for what's happening in sports or the world at large. Glance "occasionally" at Instagram when the urge to creep arises.
Do you have a favourite hotel?
Le Parc Suite in West Hollywood (great boutique hotel, tucked away with reasonable rates!). In Canada, Hotel Arts in Calgary or Opus Hotel in Vancouver.
Hotel amenity you can't live without?
Wi-Fi!! Need it in my life at all times.
What was your best meal on a recent trip?
Best meal on a recent trip was at Johnny Sanchez in New Orleans. Baked Brussels sprouts covered in jalapeno vinaigrette with Cotija cheese.
Current travel reading material?
GQ, Esquire, Wired and Fast Company magazines. Also, whatever long reads I've saved on the Pocket app.
What do you listen to while travelling?
Podcasts: sports, science or pop culture. For example: Dan Lebatard Show, Bill Simmons, Hidden Brain, Tavis Smiley and Malcolm Gladwell.
Fave grooming product?
Au naturel, baby.
Are you a window or aisle kind of guy?
Window!
Give us the low-down on your airplane style.
Love travelling in the summer, so I can keep it basic. Black or grey v-neck t-shirt from Joe Fresh, a pair of Levis (beige or dark blue) and Nike Air Max 1s, topped off with a Blue Jays baseball cap.
Most memorable souvenir?
A pair of sneakers autographed by Kobe Bryant.
Where was your last vacation and who did you travel with?
Last vacation was to Peru to experience Machu Picchu with my lady. Both beautiful sights.
What was the best thing about your trip to Peru?
We walked through stone arches to look upon the historical site of Machu Picchu. Incredible.
Dream destination?
The moon.
Biggest lesson you've learned while travelling?
Be patient and be friendly. Also, bring cash!
More From Travel & Style:
Toronto's Top Spas
5 of the Best Healthy Cruises
On Plane Etiquette: What You Need to Know