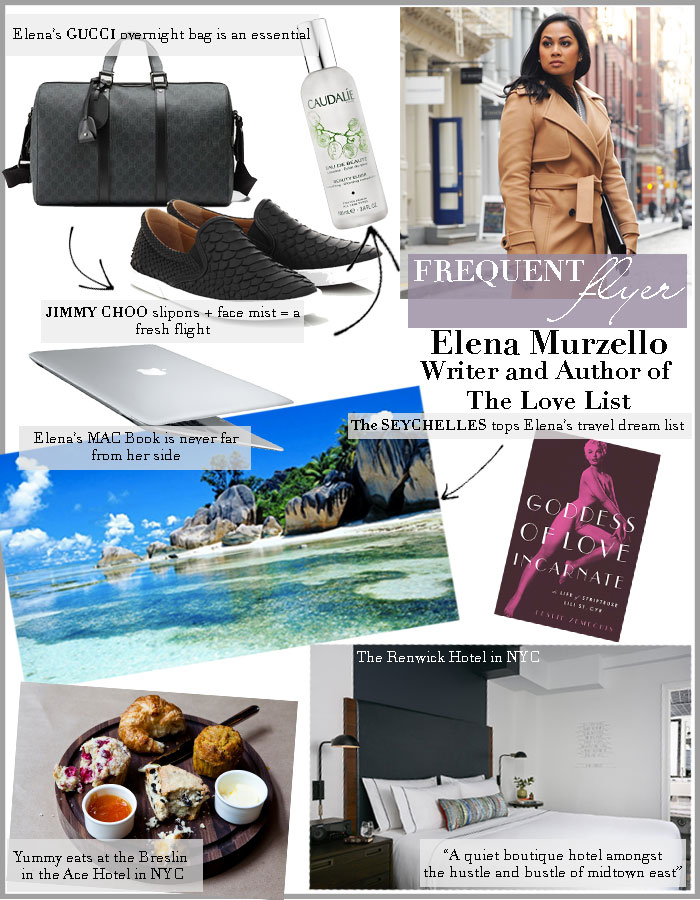 We've long known about Elena Murzello and her amazing book and site The Love List (ElenaMurzello.com), so when we finally had the chance to meet her in person just over a year ago she was even more lovely than we could have imagined. No stranger to jetting around the globe, Elena packs her bags stylishly whether she's spending a weekend in NYC or a week in Paris (just look at her Instagram feed and you'll be envious of her classic style like us), so picking her brain on her best travel tips was a must.
We're obsessed with The Love List! Tell us about your job and what you love about it…
While I still work full time as a nurse, writing the book has definitely utilized my business skills from my MBA and has opened some unique doors. I love learning about completely different industries and connecting the dots to my current situation.
What takes you on you on your travels? Work or personal?
I love to travel, so it's always a mix of the two. The last trip I took was in early December to New York.
What's your carry-on bag?
Black, coated cotton logo stamped Gucci Overnight bag with leather handles and a shoulder strap. It fits perfectly under the seat so I don't have to worry about the crowded overhead compartments.
Top three things always in your carry-on?
MacBook Air, cosmetic bag (lip balm, Kleenex, lotion, toothbrush with paste and mirror) and bottled water.
Getting down to the details … what's the one travel app or accessory you can't live without?
I recently lost it – but I love my travel pillow from The Cross Décor & Design. It's an actual down pillow that's small and comfy. I need to replace it asap.
You have a long layover … how do you kill the time?
Wandering the airport. Usually – there is something to be discovered. And if I am tired I usually just sleep at the gate. Grabbing a quick snack is always good too – I love trying the local fare if available.
Tough question of the day … what is your favourite hotel?
There are so many. My favorite hotel chain has to be The Shangri-la. I've stayed at the one in Vancouver, Toronto, Dubai, Manila and the resort in Boracy and they all have consistent customer service. In New York, I recently stayed at The Renwick, it's a nice quiet boutique hotel among the hustle and bustle of midtown east.
Hotel amenity you can't live without?
Free bottled water! I always get really dehydrated when travelling.
Foodie time … Best meal on your last trip?
A few trips ago in Feb back to New York, I had done a NYFW event called Tech Style and went to eat at the Breslin in the Ace Hotel.  I remember being extremely hungry and I had a great lamb burger. This December, I finally went to David Chang's Fuku and chicken burger was amazing.
What are you reading right now?
I have picked up Leslie Zemeckis' book entitled, Goddess of the Love Incarnate (a bio on Lili St. Cyr) that I need to finish. I keep staring at the amazing black and white photos!
Fave travel tunes?
I have been super lazy by not updating my playlist. I usually listen to full albums if they are offered online – if I'm not catching up on movies or sleeping.
How do you keep your skin soft while travelling?
Caudalie lip balm. I also love their beauty elixir to freshen up skin.
Window or aisle?
Window if it's a long flight (over four hours) so I can sleep. Otherwise I can take the aisle.
Tell us your ultimate airplane outfit …
Comfy yet sleek. Usually Lululemon capris, with my Converse Chuck Taylors or my Jimmy Choo slipons. I have this nice fitted zip up hoodie by Michi NY that is usually layered under my Moncler vest or Moncler jacket. The vest/jacket doubles as a comfy duvet for sleep.
Most memorable souvenir?
On a trip to Italy, I bought this glass Christmas tree with little glass ornaments on it. So pretty and delicate.
Where was your last vacation?
My last vacation was Paris in April. My friend met me in Paris and we rented an apartment in Bastille.
The best thing you did on your last vacation?
I took a croissant class at La Cuisine Paris, in Paris. I only have the utmost respect for boulangeries/patisseries now.
Dream destination?
The Seychelles.
More From Travel & Style:
Toronto's Top Spas
5 of the Best Healthy Cruises
On Plane Etiquette: What You Need to Know