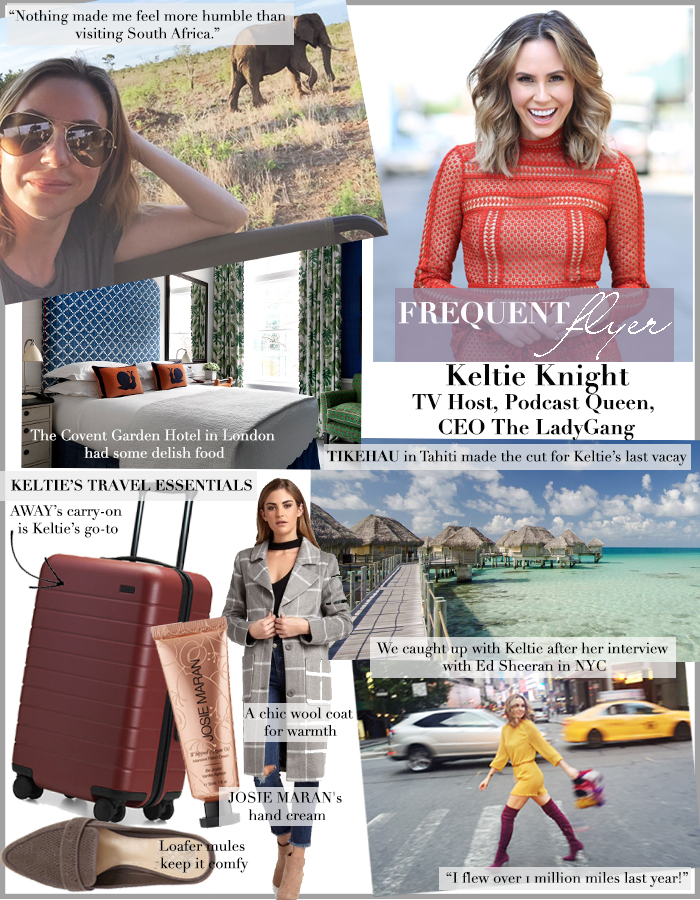 We love your carefree, fun persona on TV and on your podcast with The LadyGang. Tell us what the best part about your job is…
Flying around the world, sitting down with the biggest celebrities on the planet at the biggest events and getting to wear beautiful clothes and fake eyelashes. It's dreamy.
We have no doubt that you're always on the go. Where are you right now?
I'm actually writing this ON A PLANE, flying back from a one-on-one interview with Ed Sheeran in NYC. I flew over one million miles last year for business to cities as far away as Cannes, London and Paris!
We have to ask… what's your go-to carry-on and what's in it?
I am OBSESSED with my AWAY "the bigger carry-on" (mine is this chic grey colour). Because of its built-in charger I never have to fight other travellers for the last plug in the terminal. P.S., we're currently obsessed with AWAY's luggage too!
Three things that you never, ever travel without?
Disinfecting wipes. I am that crazy lady you see wiping down my seat! Josie Maran whipped argan oil hand cream because it smells fresh and is like a mini-spa moment on the road. And I always carry my own small cashmere blanket because you never know when you are going to have to sleep in an airport!
Your fave travel accessory or app?
I love my Kindle Fire. It's so lightweight and I'm a huge book lover and often read an entire book on a flight!
When you travel so much, you definitely run into delays and bumps in your travel plans. How do you kill time waiting for your flight/during a layover?
My podcast "The LadyGang" has a secret Facebook group and inside it our girls hold nothing back. I love to spend my waiting around time connecting with our gang, reading their stories about bad Tinder dates or waxing gone wrong or even asking the gals what I should check out in my destination city.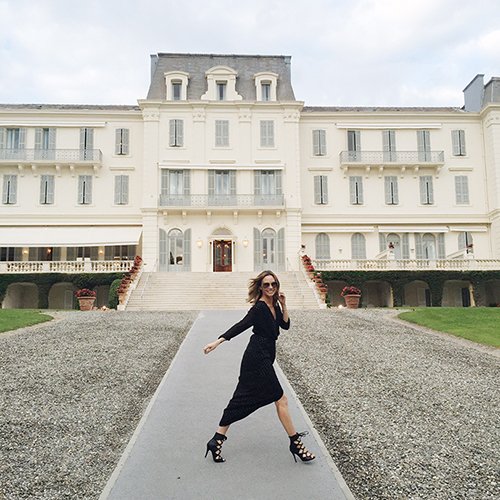 Favourite hotel?
Hotel amenity you can't live without?
Perfect blackout curtains.
Time for foodie questions! Best meal you've ever had?
In London I stayed at the Covent Garden Hotel, and they had HANDS DOWN the most delicious breakfast chia seed pudding with fruit. I still dream about that meal!
What are you currently reading?
I just finished Megyn Kelly's book "Settle For More" and I'm about to hop on the "Big Little Lies" bandwagon.
You're always interviewing so many musicians… we're so excited to know what's on your play list!
Matt Nathanson, Christina Perri, Ed Sheeran, Andrew McMahon and the Wilderness, Night Riots and, of course, tons of jazz.
How do you stay fresh while on a plane?
I have no shame. I love to pack a nutrient-packed sheet face mask and put it on mid-flight to the disbelief of my seat mate and flight crew!
Plane nitty-gritty question: Window or aisle?
Window always. If you don't Instagram a photo out the window above the clouds DID YOU EVEN FLY?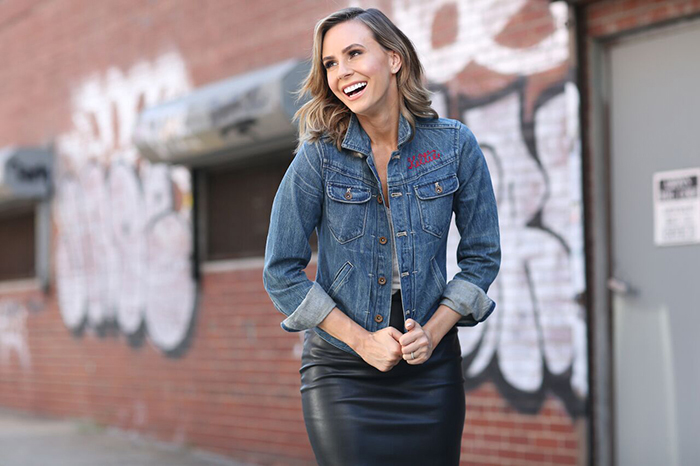 What are you wearing on the plane right now?
Right now I am rocking my MOTHER high-waisted cropped jeans (i.e. the MOST COMFY JEANS EVER), VINCE CAMUTO loafers in black, a white Chaser brand tee, and a grey wool coat I picked up in London. I'm usually heading right to work when I land, so I try to dress nicely. Sometimes I wear my sweatpants and that's usually when I end up sitting next to someone really important, of course!
Do you do souvenirs when you travel?
No matter what city I go to I always send me niece and nephew a postcard. I like to think auntie is instilling a sense of wanderlust in them, and I hope they will want to travel with me one day!
Where was your last vacation and who did you travel with?
I took a week off work and went to Tahiti with my husband, we stayed on a remote island called Tikehau.
What was the best thing about your vacation in Tikehau?
Jumping into waterfalls, snorkeling and honestly just catching up on SLEEP!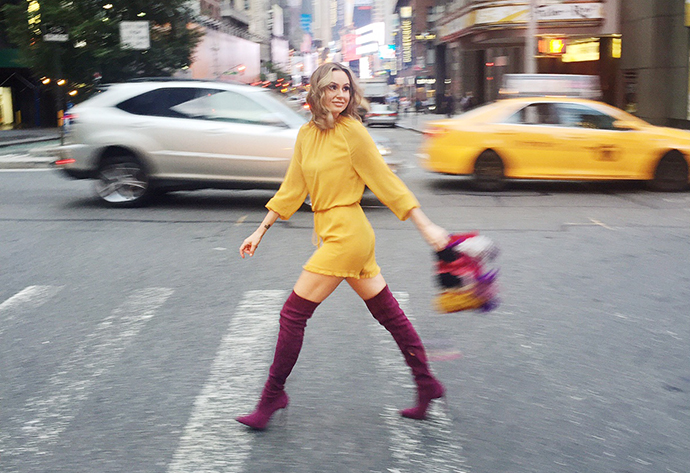 Dream destination?
Egypt and Japan!
What's the biggest lesson you've learned while traveling?
I've learned that the things that seem SO important are just little blips in the big picture of life. Nothing made me feel more humble than visiting South Africa. Being up close to all those wild animals made me realize that while getting thousands on likes on my Instagram post or on a best-dressed list feels good, in the big picture, it's pretty meaningless in the circle of life.
More From Travel & Style:
Toronto's Top Spas
5 of the Best Healthy Cruises
On Plane Etiquette: What You Need to Know