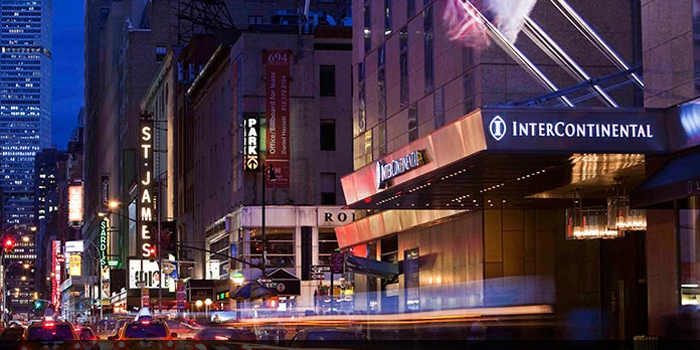 The Vibe: You're in the heart of all the action, literally. Steps away from Times Square, this is a bustling large hotel, filled to the brim with tourists, but doesn't skimp on service, sleek rooms with pretty spectacular views and having the ideal location for first time visits to NYC.
The Facts: The hotel reaches up 36 floors (with views of the city skyline and the Hudson River) and comes with 607 rooms, four suites and one restaurant. It's just blocks away from Broadway, Times Square, shopping districts and more. Pet lovers will be happy to know cats and dogs are allowed (but be advised of a fee of $250 US per night). Wi-Fi is throughout the hotel and rooms starting at $14.95.
The Experience: Often large hotels are ideally located, but can lack in service and room quality. That's not the case at the New York Times Square Intercontinental. Standard guest rooms come with plush, ultra comfy beds, thick linens and towels and extra spacious spa bathrooms (many with the much-coveted hotel rain shower). Throw in some great views and it's basically everything you need for a super comfortable and easy stay. Beyond that, the service team is plentiful and willing to arrange a show for you, book a dinner reservation and point you in the right direction. For a first time visit to New York City, the location couldn't be better. Hit up Times Square any time of day, walk over to the theatre district for a show at night, shop along Lexington Ave and walk up to Central Park in minutes. If you can handle a busy hotel, a stream of tourists (but, hey, you're one too, right?) and are a first timer to the city, this is a great option that also comes with great service and comfort.
Ca Va Brasserie is the lone restaurant at the hotel and although spacious, there's a lot of people to feed here. That being said, it's a great spot for a quick bite before a show from the modern brasserie style menu. The Lounge (with views of 44 is the spot in the hotel for a pre- or post-night out cocktail (a Manhattan may be in order) and is also a hip spot to people watch.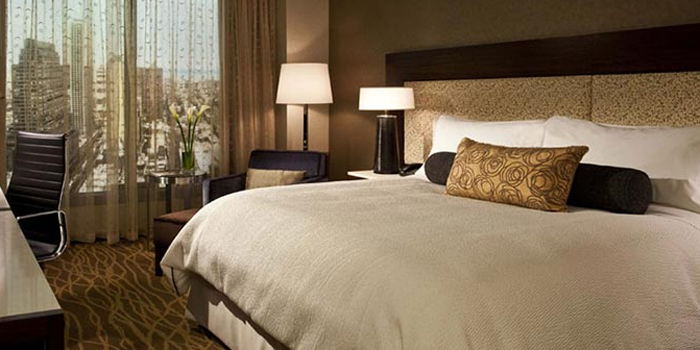 Room to Book: Classic rooms are ideal for a quick weekend jaunt at 350 sq. feet. Corner suites are perfect for a group getaway and equals better views of the city.
Table to Book: At the Lounge, get a window seat to take in the city lights.
Getting There: The three main airports that get you into New York City are JFK (JFK), LaGuardia (LGA), Newark (EWR). A ride in a cab can take anywhere from 30-90 minutes depending on the time and day and traffic. Expect to pay anywhere from $40-60 (plus 15-20% tip) for a cab from the airport depending on what airport you are coming from. An alternative cash-saving option is taking a shuttle bus, such as the GO Airlink NYC, which will take you get you dropped off right at your hotel.
Insider Tip: We're big fans of hotels that offer green initiatives. The New York Times Square Intercontinental is part of the Green Engage sustainability effort – meaning the hotel monitors its energy usage and has been built to help reduce it's carbon footprint by 25%.
Price: $$
Rates starting at $350 for a king room.
Where to Find:
The New York Times Square Intercontinental
300 West 44th Street
New York, NY 10036
877-660-550 for reservations | 212-803-4500 local
ihg.com/intercontinental