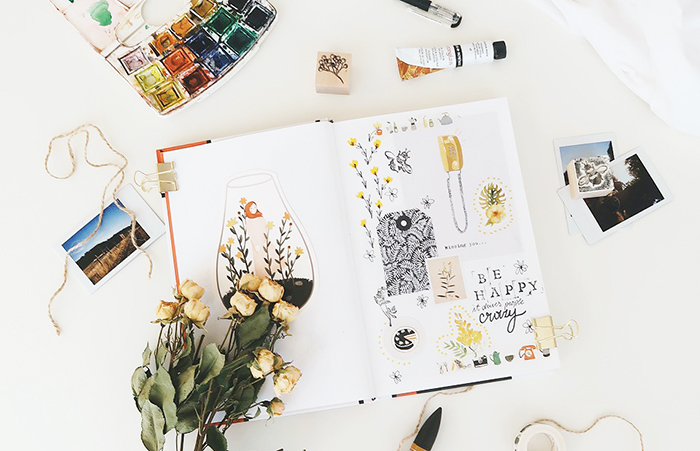 A vision board is a great project to take on during your free time. It can help you to visualize and manifest future goals. When creating a vision board catering said vision board to your travel goals and future journeys can be a great way to get closer to the destinations you want to go to. This is achieved by looking at them every day. Zeva Bellel is a career, personal, and leadership coach for women. She is currently based in Paris and has helped countless women bring their dormant goals and aspirations to light. "Images bypass logic to highlight deeper aspirations, she says. So creating a vision board allows you to capture goals and desires that circumvent your brain's rational filter system." Bringing your dreams and goals into the physical world is the only way to truly get yourself one step closer to making them a reality. 
Travel Vision Board Step 1: Supplies You'll Need
Bristol Board
Paint and Brushes
Pencil Crayons
Pens
Glue Stick
Magazine clippings or print outs of places you want to go to, and travel inspired images.
Travel Vision Board Step 2: Make The Space to Create
Once you have sorted out all your supplies, find a space in your home to set up. A table to start crafting is ideal. The magazine clippings can also be print outs of locations, hotels you want to go to, retreats, or viewpoints from all over the world. There is no right way to create. When making this vision board you do not have to be an artist. The vision board is being made for you. As long as it resonates with you and you can look to it to inspire you that is the only important thing.
Travel Vision Board Step 3: Create
This is a crucial step and without it, you won't be able to create a travel reference to look at that will keep you inspired. "Once you see what you want in your vision board, you can then ask yourself what steps are necessary to get you closer to those goals. Maybe that image represents a feeling, a memory, an ideal state," Bellel says. 'If you have an image of Paris, for example, maybe Paris represents romance, a childhood fantasy, cultural and culinary sophistication."
Bellel believes that to have your vision board be successful you need to sit in the feeling that a place gives you and recognize what aspects of the location inspire you. This will help you to integrate what you appreciate within the culture and lifestyle of the location in your everyday life. It is in the little things you do after you create the vision board that will lead you to travel. Bellel sees a successful vision board in what happens after you create it. Whether that be through planning your trip, reading about the places you would like to go to, watching films set in the aspirational countries, and cooking meals inspired by the locations. 
If you create your travel vision board, feel free to share on social media using #tsvisionboard and tag us @TravelStyle_Mag on Twitter and @travestylemag on Instagram. We would love to see what inspires you to travel!