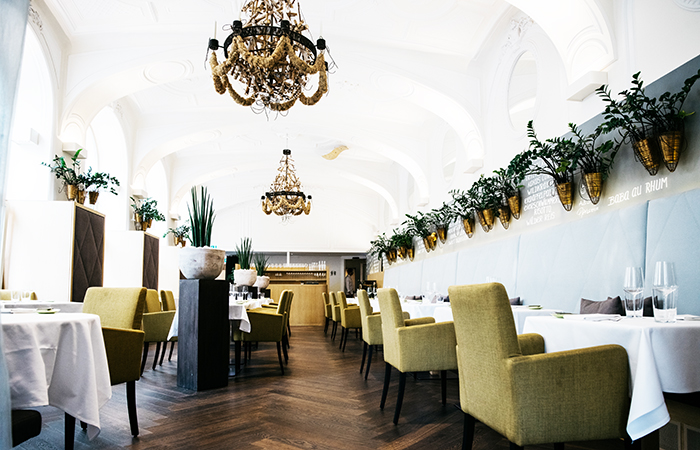 Vienna's one of those cities that just captures your imagination with its love for everything beautiful–from classical music and baroque buildings to gilded statues of composers, museums in palaces, waltzing at glam balls and the prettiest, most decadent desserts you could imagine. But one front that is getting more and more attention for its beauty is the budding vegetarian food scene (yes, vegetarian in a land of schnitzel and sausages!) being led by Michelin star restaurant Tian and chef Paul Ivic. It's not an exaggeration to say that his veggie creations are some of the most beautiful I've seen and also the best that I've eaten. So much so that every time I go back to Vienna I need to eat at his elegant restaurant Tian, or his more casual vegetarian bistro.
I chatted with Chef Ivic about how he became a vegetarian chef, that Michelin Star that is so elusive for vegetarian restaurants, food sustainability, and his love of Vienna.
I've asked you this before, but you have to tell me why you have a vegetarian restaurant when you're not fully vegetarian yourself!
I would say it's because I had a big life crisis. I was mentally and physically sick from the system that I was stuck in where I worked as a chef. I worked for hotels where the first matter of business was profit. I just thought about how I could get cheap products with the idea that the customer wanted cheap.
What happened to make you change your way of thinking about food?
I went to the doctor and he told me I had a heart problem. He was listing out all these pills to take. I had to think about what I needed to do to be healthy and feel better. I didn't want to medicate. And that led me to question what really is my job as a chef. What should I do with my future? Because I don't want to do this cheap way of food that I was stuck in.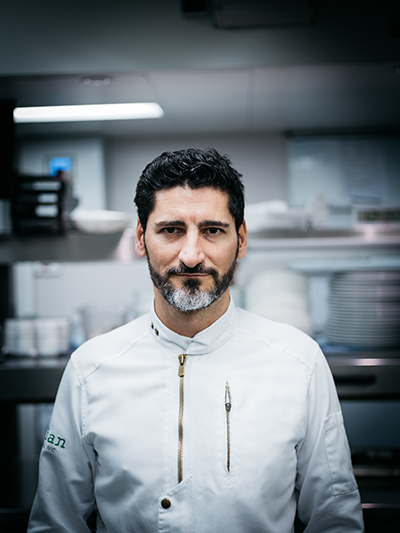 What was the moment when you realized you could change?
I went to the farmers' market and I bought some eggs. The woman who sold me those eggs told me they were laid by chickens who could run free, ate good food, and enjoyed life, the life that you think an animal should have. I took them home and made myself some scrambled eggs. At the very moment I tasted those scrambled eggs I had a flashback. All of a sudden I was a child again in my grandfather's garden in Croatia running around chasing chickens. It brought a huge smile on my face, and I knew what I had to do. I had to take my practices, my cooking back to a time when food was really food, when it meant something. This moment really changed something in me.What was the next step? How did you go from amazing scrambled eggs to the restaurant?
What was the next step? How did you go from amazing scrambled eggs to the restaurant?
I met with an older lady who became my mentor. She had a lot of food knowledge and told me for the next few months I had to take meat, fish and all other meat products out of my diet and just use vegetables with herbs. So I did it all of that, and it reminded me of what I wanted to do with food, of how wholesome and good food can be and how it can change the way your body feels.

Then I met the owner of this restaurant, Tian, here in Vienna. He told me he wanted a totally vegetarian restaurant and I was really excited because I needed this new challenge, and it fit in with my new lifestyle.
It must have been a little bit scary, though. A vegetarian restaurant in Vienna doesn't seem like a natural fit…
A lot of chefs told me not do it. They knew I wanted a challenge but they thought about trying to get a Michelin star and that it wouldn't work with a vegetarian restaurant. But I wanted to take a responsibility for food, and not just worry about getting a Michelin Star. I see food and being a chef as a duty. I think when you see food holistically it will change a lot. Our eating habits can change the economy, the environment, and our social life. I don't want to tell everybody, "hey, don't eat meat." But I will give you new opportunities to see you don't have to be frightened about vegetables if you eat here. That's what I wanted to do here at Tian.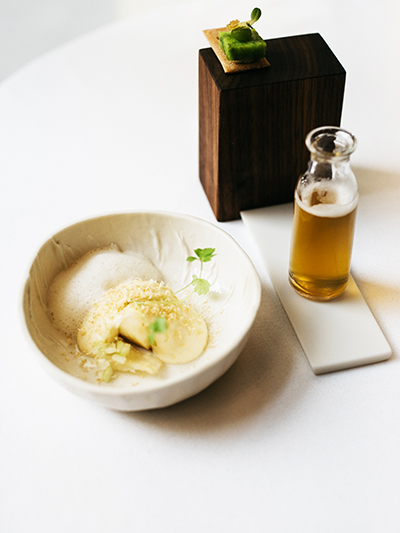 For you, vegetarianism is so linked to sustainability. Can you explain that a bit?
We talk about health foods a lot, but we have to think about where the health starts. We start where our food is growing. It's the soil and the soil has to be without herbicides and pesticides and for meat it has to be without hormones, because in my mind, this over-producing makes us both sick and without the food we actually need. This was one of the decisions why I wanted to work with only vegetables. When I started to work with just vegetables I had to work even more closely with my suppliers because you have to care about what is in season, where it's grown and so when you work closely with people you start to learn about the vegetables and their origins and how they're grown.
Local seems to be so much better than mass produced for you…
One third of all produced foods from mass industry farming is consumed by us and one third is thrown away. So we all talk about world hunger, but we really are just a******s with how we work with nature and consume and how much we waste.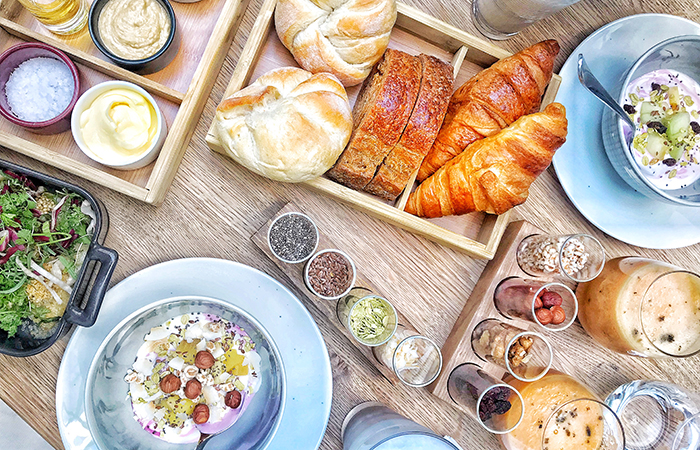 You have Tian, Tian Bistro in Vienna and also a Tian in Munich… do you plan on opening more restaurants?
I am very proud. The first three years was really tough. Seven days a week, no holidays, but now I have a very good team, some who have been with me for seven years. So I hope that we can keep growing organically.
What other places in the world inspire you with food?
There are so many good places and I'm so grateful that we have so many places where you can get good food and wonderful views and all that. I think the best is to stay open-minded and willing to discover when it comes to food and travel. You have to stay curious and life won't be boring.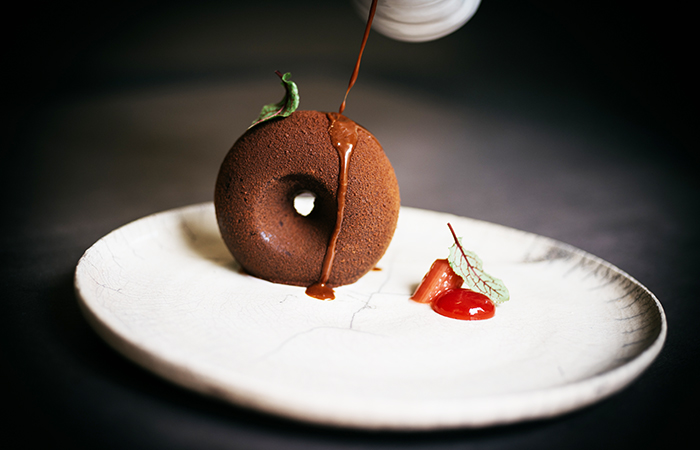 Is that what you tell a meat eater when they come here?
Yes! Actually, three days ago, five men came into the restaurant and looked at the menu. No fish? No meat? They left! They had reserved one month ago, but they are not open-minded and I think in that moment they weren't willing to try to be open-minded.

It seems like it's always a challenge to educate people…
Yeah, it's a big challenge, but if I don't have this challenge, I'm not able to develop myself.

Favourite vegetable?
It changes every month! Right now it's the leek. I didn't always love it, but it's so amazing and intricate with the flavour and my chef here created a wonderful dish with it and now I love it. But it changes all the time. Every month, it changes.

How do you come up with such creative ways to use vegetables?
You have to create a space where all the chefs can be children with the food, so they can be creative and be self-confident. We always try, we think, we rethink and it makes it a true pleasure.

When did you get the Michelin star?
We got it in 2014. It was a goal. I would be a liar to say I didn't seek it out. It was such a great day when we received that honour. Everything changed after that. Our customers changed, because they now would come to us and trust us. They trust me, and they are more curious about what we are doing. The years before that we had to justify it. "Why does it cost so much?" Because it takes time and creativity and care. "We want to eat healthy, but it sounds boring." You can eat healthy, but you can also have fun and it can look beautiful.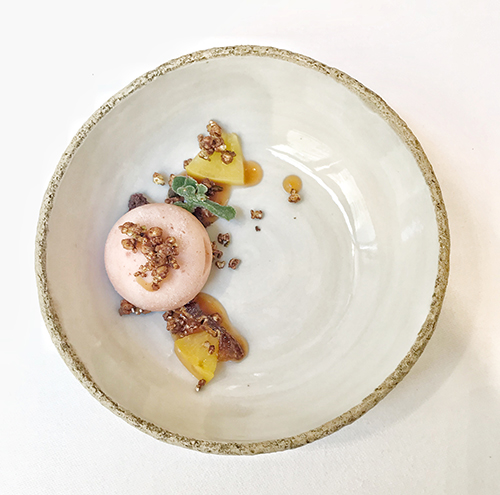 Sometimes vegetarian places can feel more casual, Tian is so elegant and elevated.
In my mind you have to bring all your senses to the dish. Your eyes, smell, taste, hearing. You should enjoy all the people around you who are serving you, in addition to the food. You should come here and relax and just focus on the food and how it tastes, feels, what it looks like, how beautiful it is. For us it's more exciting to make a plate look like art. But for me it's also a respect for the food to show it beautifully.

How long does it take you for one dish?
A new dish can take up to three weeks until we are satisfied. We have to be satisfied before the customer sees it. It takes a lot of hours!

Favourite thing about Vienna?
I love this city because it's a city but it feels like a village. It's very calm, it's not too busy. When I lived in Berlin it was always so stressful. I like a city that I have a lot of opportunities to go to a concert, to restaurants, to go shopping. In Vienna a 15-minute walk and you're pretty much anywhere you want to go. A 30-minute drive and you are in the nature. I love that. It wasn't the easiest city to do this restaurant, but I am very grateful my boss had a good vision and patience and the knowledge that it needs time.
More From Travel & Style
The Most Iconic Hotels In Canada
5 Reasons to Carry-On Your Luggage
5 Tips for First Time Cruisers
Who and How Much to Tip at Hotels