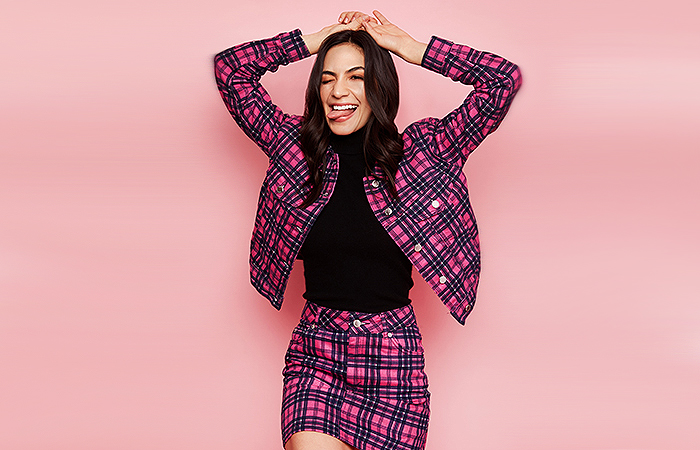 Natalee Linez knows a thing or two about jetting around the world (just check out her Instagram page). The actress and model has been landing gigs that have taken her to far flung destinations, eventually ending up in Vancouver for her most recent role, Nicole, on the drama series "SIREN". We caught up with the actress to chat about her latest role, and of course pick her brain on the best brunch spots, airplane pet peeves, and what she never, ever leaves home without.
Tell us a bit about your latest role on SIREN. What do you love most about it?
I feel so lucky to be able to play Nicole on this show. I love that she is one person in the beginning of season 2 and she turns out to be someone completely different. So I had a lot of fun playing both sides of her.
What was it like auditioning for that role?
I remember my audition was on Friday the 13th. So I was already like "uh oh, let's see how this goes…"…haha. I remember pronouncing something wrong in the audition and the casting director had corrected me and asked to do it again. We did it again and I said it the SAME way. I definitely walked out of the room thinking I didn't get it. I should know better though, it's totally fine if you mess up, they know we're only human!!
You must be on the road so much! How do you stay motivated to keep fit?
Our show films in Vancouver, so yes I'm definitely travelling a lot! I feel super accomplished if I work a full day AND get up early to work out. That feeling alone keeps me motivated to do it again!
What are some of your favorite workout routines while on the road?
When I am on the road I like to find yoga places and do their new membership deals. It's fun to hop around and see what practices the different places/teachers have to offer. Also, I'll usually wake up a while before my call time and make sure I stretch! This is a must for me and I usually tie in meditating during this time too!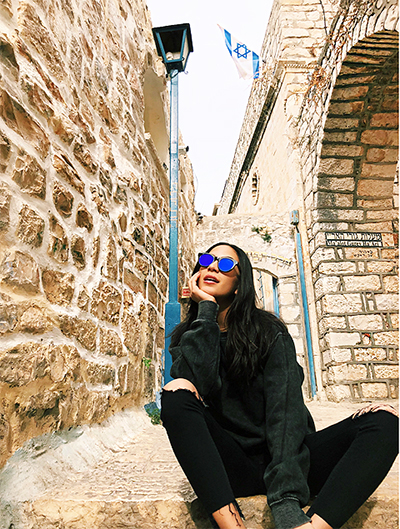 What is your skin care routine like when you are travelling?
Same as at home! Although I'll try to get travel size beauty products if I can. My beauty routine looks a little like this: First I cleanse with an organic cleanser that also has makeup remover in it, then I either spray a toner or if it's not in a spray bottle I pour it on a cotton pad and put it on my skin from there. Next is serum, I have two different ones for day and night. Finally moisturizer and under eye cream. Always try and use SPF on your face during the day!
How do you keep your skin hydrated and looking fresh on airplanes?
Rose water toner in a spray bottle! I get mine at Urban Outfitters.
What are your 3 beauty secret weapons?
Coconut Oil, Oribe texturizing spray for hair, and my Nars tinted moisturizer that I wear every day for face makeup!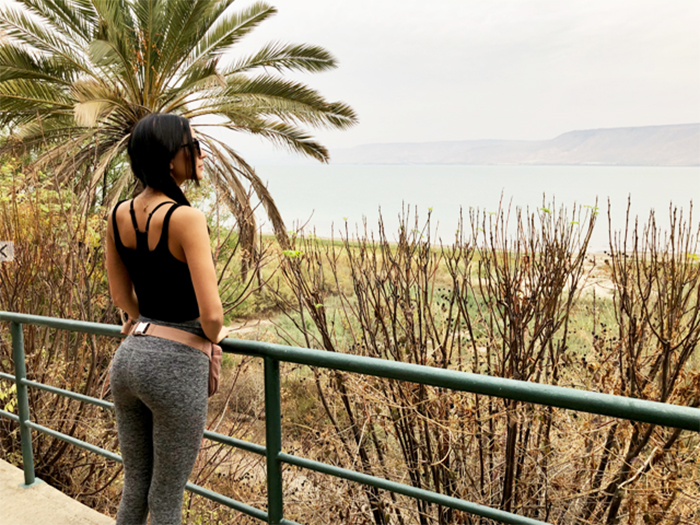 What are some of your favorite places in the world that your work has taken you?
I had never been to Canada and it is truly beautiful! Georgia was really fun too.
When it comes to travel, brunch is always a good idea! Do you have a favorite brunch spot?
There's an amazing spot in Newport Beach I love going to called Roses! Also helps that you're near the ocean!
Or a favorite food spot anywhere in the world?
There's also an amazing brunch/breakfast spot in Tel Aviv, Israel called Nola Bakery. After weeks of trying to find plain black coffee (without coffee grounds at the bottom) they had French press here! And it was amazing. If you say "Can I have a black coffee" at most places in Israel they will give you an americano which is totally not the same as our black coffee in LA!
What was your first travel memory? Where did you go? How old were you?
I was 8 and I went to Aruba! I remember sitting on a giant blow up banana with my family and going banana boating in the ocean. I love love LOVE tubing in oceans or lakes!
What inspires you most when you travel?
LA sometimes can become a bubble. It's so refreshing to go to other places whether it's just a road trip or a ten hour plane ride. See other people's culture, how they live and what beauty is to them. You learn so much when you travel.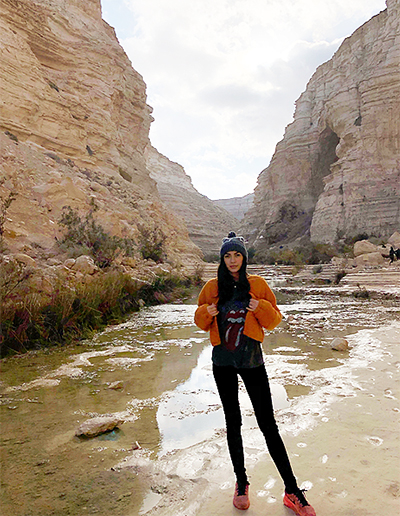 What destination has really surprised you?
Israel! It's really cool to be in Jerusalem during Shabbat. The streets are completely empty and all the stores are closed!
Are you adventurous when it comes to traveling? What is the most adventurous thing you've ever done while on a trip?
I would say half and half. I still don't think I'd jump out of a plane…which to some people that's the most basic adventure! I went cliff jumping in Jamaica! That was pretty epic and the water is sooooo blue.
What is your favorite Instagram photo from your travels? Can you tell us more about that experience?
Probably all my photos from Sde Boker in Israel. We woke up at 5am and hiked the Masada. Truly a beautiful sight to see!
What do you enjoy most about travel?
Never knowing what to expect next.
What is your ultimate dream destination and why?
Bora Bora! The Bungalows on that crystal blue water looks like peace on earth!
What's your biggest "on an airplane" pet peeve?
Definitely chewing. I'd have to step away it's that bad.
Three things you never travel without?
My planner, a cozy jacket (even if it's a warm destination) and to be honest, I never travel without my skin regimen. If I'm going anywhere over-night it's coming with me!
Window seat or aisle?
Window! Even if I have been somewhere multiple times, I love looking out the window before we land!
What is your travel mantra?
Try everything. Eat all the foods. Never say no to an adventure (unless it's jumping out of an airplane).
More From Travel & Style
Meet the Moteliers: The June Motel's April Brown and Sarah Sklash
5 Reasons to Carry-On Your Luggage
5 Tips for First Time Cruisers
Who and How Much to Tip at Hotels