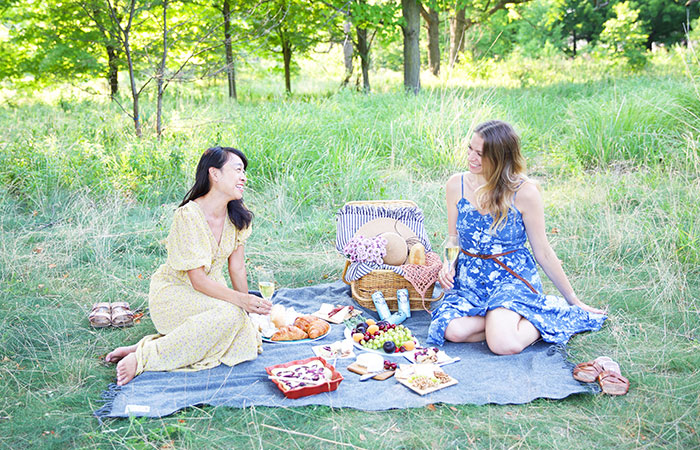 This summer it's all about keeping it simple–meaning, you probably won't be flying off to Paris or Rome, but rather taking a day trip to your local park. That doesn't mean you can't feel like you're in France or Italy though! Instead, bring the destination to you. A little help from some food, drinks and you can feel like you're on the river bank in Paris or on an olive tree hill in Tuscany. We're talking about planning a destination-themed park picnic.
Planning a themed picnic is a great way to bring a destination to your home. It can feel like a little trip without all the hassle of travel today. Plus it gives you a chance to enjoy the amazing summer weather and get outside (we've been cooped up for so long!). You can do this picnic style in your own backyard or a friend or family's backyard, or take it to a beautiful park or by the lake.
Here's how to pack and plan the perfect French or Italian inspired picnic, from the pastries to the cheese and a little bubbly. Plus a few added touches.
Plan a French Picnic: Get Inspired
If you're looking to get some inspiration Pinterest is amazing for that. Just searching "Picnic Paris" or "Picnic Italy" you'll get loads of ideas.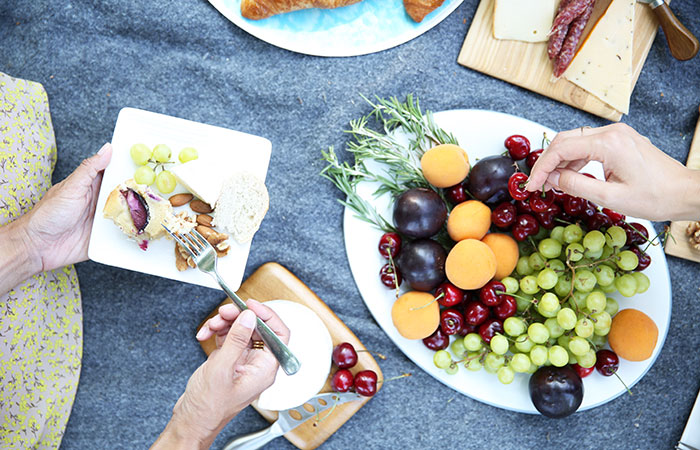 Destination Picnic: Start with the food
When you think about it, most of us travel because of the food. It's such a highlight on vacation! When doing a picnic inspired by your favourite destination, bring all those flavours and smells to your park picnic blanket!
Look for signature foods from that destination… like macarons from France or a French baguette. Splurge on a fancy French cheese and pick up some fruits that are common to the area. A cheese board is always a great spread for a picnic. Just remember to have a cooler or ice on hand to keep the cheese cool! If you're doing more of an Italian theme, add in some olives, some cured meats, sweet pastries or desserts like cannoli. There's a lot you can play with here, the key is to grab things from your local store that come from that destination.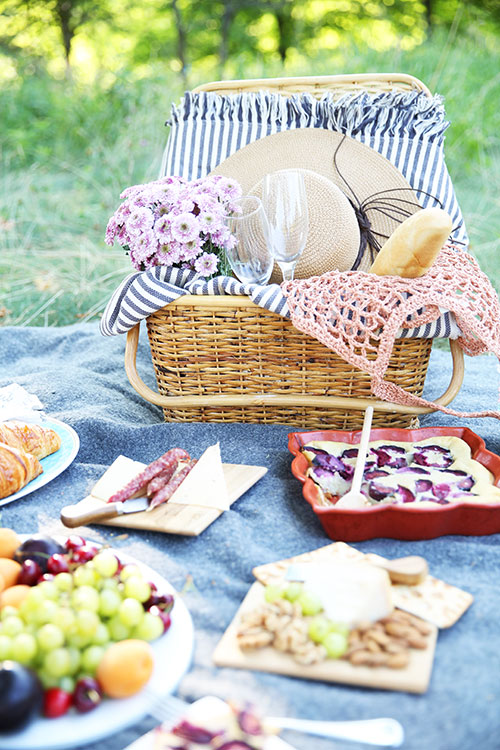 It's a good time to splurge… Since you're getting just a few things to share and nibble on, splurge and get the extra fancy items.
Make sure you pack finger foods… things that are easy to reach for and eat with small plates and toothpicks.
Don't forget to add in a cool drink… to help whisk you off to Europe! Whether that's some bubbly like Prosecco or Champagne, or even a beautiful wine from the region. There are really great options in bottle or even cans which can be easier to transport. You can even pre-mix some cocktails using spirits or liqueurs from France or Italy. This is probably best for your own backyard and not in an actual park. But you can also make non alcoholic drinks too.
Tip… If you're feeling nervous about whipping up a cheese board, or a drink, there are great online cooking classes available. AirBnb Experiences has classes on pretty much everything that you can make for food and drinks. And it can help get you in the mood for the destination.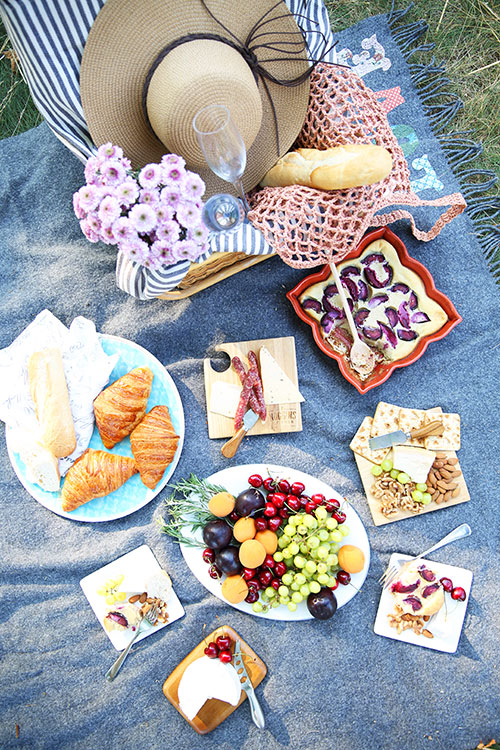 Other Park Picnic Planning Essentials
Little touches can up your park picnic game… Make sure you have a great little basket. Add some flowers that remind you of the destination, bring reusable wine or champagne glasses, and always have a blanket. See if you can find French or Italian themed paper or reusable plates.
Add in some music… You can make it feel even more like you're on the river bank in France, or on a Tuscan hill in Italy by adding in some music. Spotify has great playlists of classic French or Italian music… bring a small portable speaker to help amplify the music a bit