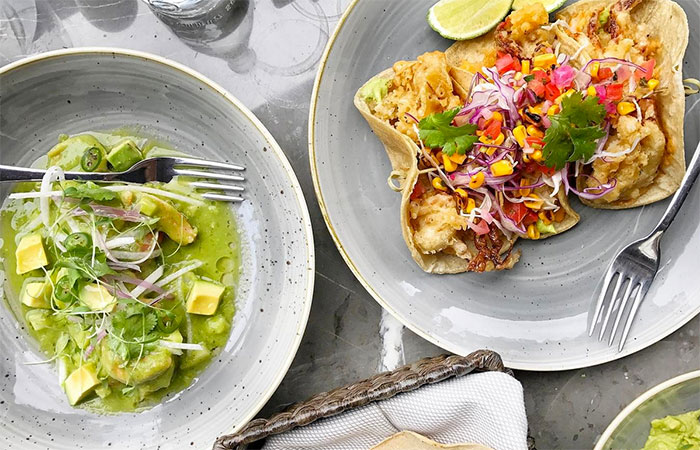 Food is a huge part of why people travel. People diet before and after just so they can let go and enjoy foods in different places. And I'm the same! I literally build my travel days around when and where I am going to eat. And let's face it, no one wants to be hangry while travelling!
Guadalajara is the new Mexico City
There's more to Mexico than just beaches! Guadalajara is Mexico's second largest city and rivals Mexico City when it comes to coolness and an incredible food scene (seriously, some restaurants look like they could be in New York). From Hueso (a restaurant designed all in white and bones) that serves up farm-to-table family-style dishes, to Lula Bistro where chef Darren Walsh has taken traditional Mexican food and given it a trendy molecular twist. You can also stay at the boutique Love It Hotel (chef Darren Walsh also creates magical dishes here), eat as many tacos as possible, and don't forget… you're just a two hour boozy train ride away from the town of Tequila (trust me, I did this train ride and it's so fun!).
The most expensive sushi in Tokyo
Aside from the fact that Tokyo is a feast for the eyes with it's bustling streets and bright lights, Tokyo holds the title of having the most Michelin-starred restaurants in the world — a whopping 220! You can truly immerse yourself in Japanese culture with some of the most expensive sushi in the world at the famous Sukiyabashi Jiro (where 15 pieces of sushi can run you over $200). But if breaking your bank account isn't up your alley, you can still soak up incredible culinary in this massive city on a cheaper budget. Street food noodles, to egg omelets on a stick, and matcha gelato, there's no shortage of items to put your food adventure to the test.
Go vegetarian… in Halifax, Nova Scotia
Toronto, Vancouver, Quebec City… they may be what you think of for foodie cities in Canada, and rightly so, they're all incredible. But with a slew of high end and vegetarian restaurants popping up in Halifax, this east coast city is riding a food wave that's beyond lobster and fish and chips. The best thing about the Halifax food scene is that it's not pretentious, affordable and most places are casual. The Wooden Monkey is a vegetarian delight with local ingredients that tempt even meat lovers to the table. En Vie is also a top spot for vegans with colourful dishes that are definitely Instagram-worthy (think Jackfruit poutine), to Field Guide, a spot for all kinds of foodies, with fresh seafood, local ingredients and a twist on that famous east coast favourite, donairs.
A world of flavours in Washington, D.C.
Something a bit closer to home, but the perfect spot to go for a weekend of non-stop eating is Washington, DC. Being such a political hub, you can find pretty much any kind of food here, from any part of the world and it's legitimately good. Hit up the Logan Circle area for a mix of eating and drinking. The tucked away restaurant Compass Rose has a small menu, but serves up those international flavours (each dish coming from a different region). Lapis Afghan Bistro is that shareable, Instagram-worthy spot for authentic, modern Afghan food. And brunch at Le Diplomate is a must (headed by a James Beard Award-winning chef), it's like dining in the heart of Paris. If you want something more rustic, head to Ben's Chili Bowl, literally where every celebrity (including Obama) makes a visit and takes a picture for the wall of famous faces.
Go beyond schnitzel in Vienna
One of the world's few vegetarian Michelin-star restaurants happens to be in the heart of Vienna. Yes, the land of schnitzel and sausages also has some of the best vegetarian food you can find at Tian Restaurant and Tian Bistro. If you want to tempt your tastebuds beyond veggies, book a tour Cook in Vienna with Bianca(is)t who will take you through the Naschmarkt, shops, and more and help you prepare a true Viennese feast in her home. And calling all coffee and sweets lovers! Vienna's famous coffee houses (like the historic Demel coffee house) give tons of ways to order up your coffee, classic, beautiful settings, the best sweets and Vienna's infamous cakes, and a chance to people watch for hours.
A Yorkshire pub… that just happens to be the best in the world
Want to know what has been voted the best restaurant in the world? A good old English pub in the heart of Yorkshire. If you're already visiting London and you want bragging rights of eating at the world's best restaurant add the Black Swan in the hamlet of Oldstead to your list. The pub gets its "best in the world" honors from Trip Advisor, who based the notable award on an algorithm of internet posts by everyday customers. Food is classic British with a Michelin-star twist — all the ingredients are locally sourced, mostly from the family farm. You're looking at a 3-month wait to even book a table, so plan in advance, and make sure to take in the beautiful countryside of Yorkshire while you're there.
More From Travel & Style
Harley Pasternak's 5 Tips for Healthy Travel
Frequent Flyer Jillian Harris's Packing Essentials
5 Tips for First Time Cruisers
The Top 5 Spas in Scottsdale, Arizona