If you haven't added a classic Negroni onto your holiday cocktails list yet, you should! This cocktail has all the warming, cozy and festive flavours and vibes that make it perfect for sipping next to a fireplace. In fact, it's kind of the perfect travel-inspired cocktail to have any time of year, too.
Count Camillo Negroni came up with the cocktail in 1919, at the Caffe Casoni in Florence, Italy. The Negroni is actually a variation on another classic cocktail, the Americano, but Camillo asked his bartender friend to make it strong–swapping out soda water for gin. The result is a perfectly balanced cocktail of equal parts gin, sweet vermouth and ruby red Campari.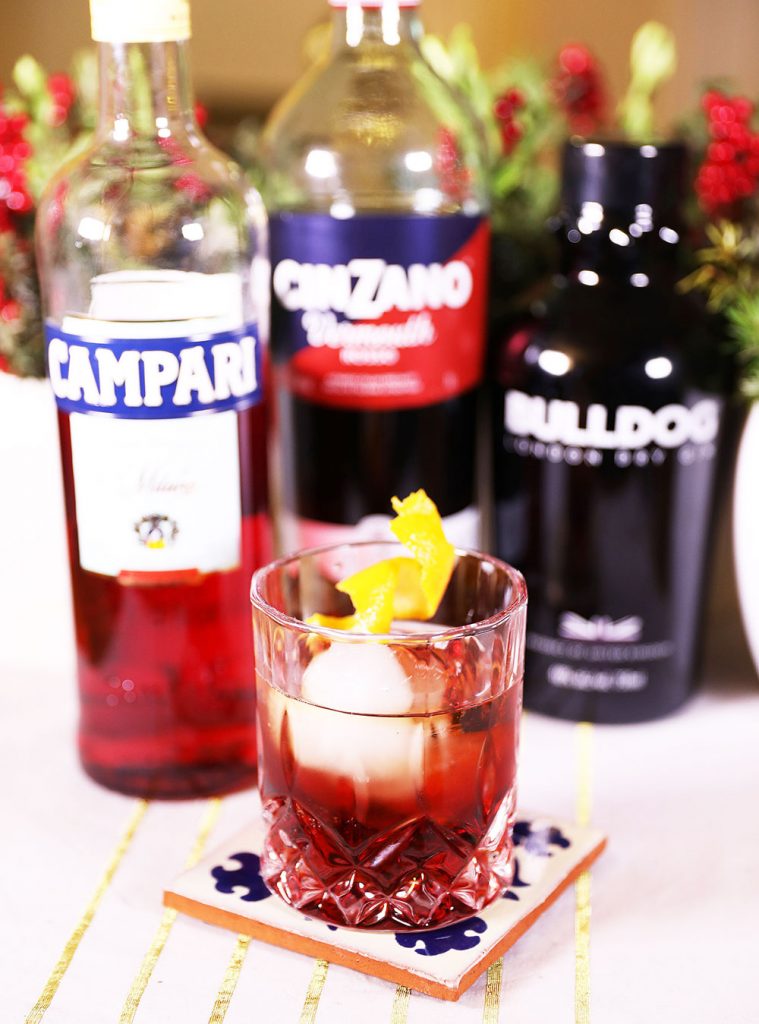 HOLIDAY COCKTAILS: A TRIP TO FLORENCE AND NYC
One of my all-time favourite versions of the Negroni is from Dante in New York City. They make it to perfection, and their classic bar setting makes it even better. If you get the chance to sip on a Negroni, or any cocktail for that matter, at Dante in NYC, do it! Make a reservation early, because they're usually booked up being one of the top-rated bars in the city. They also do many variations and twists on the recipe–so it's a great excuse to keep going back to try more. 
So this drink from my holiday cocktails list is like a double destination cocktail. Invented in Italy, but with strong roots in New York City and just a few sips takes me back to both places instantly–both of which I cannot wait to visit again in the near future!
HOLIDAY COCKTAILS: CLASSIC NEGRONI RECIPE
Gin – 1 ounce
Campari – 1 ounce
Sweet vermouth – 1 ounce
Orange peel for garnish
Directions
Add all ingredients to a mixing glass.
Add ice and stir until chilled.
Garnish with an orange peel.