If there's one thing international celebrity chef David Rocco knows, it's how to eat well (and we mean really well) while travelling. Rocco's passion for exploring the world is almost as abundant as his infectious passion for food–something he's been bringing to his fans through TV on his shows David Rocco's Dolce Vita, and his latest spin-off shows; Dolce India, Dolce Napoli and now Dolce Africa, not to mention his feast-worthy cookbooks.
We chat with Rocco about how travel has impacted his life as a chef, young father and an overall world explorer… but trust us, he will entice a major case of wanderlust and an appetite!
What was your first travel memory? Where did you go? How old were you?
My parents first took me to Italy when I was 4 or 5. I remember arriving in Naples early from Toronto, and we went to my cousin's beach house straight from the airport. My mom wanted me to go have a nap and I cried (maybe threw a tantrum… maybe depends who you ask) wanting to go with my cousins to the beach.. I think she was too tired to convince me otherwise and let me go. I remember going swimming looking for baby clams, and then returning with a pail full of them! My mom and aunt cooked spaghetti alle vongole and we ate with all the cousins and aunts and uncles on one long table. I was little, but I remember loving all the amazing food. I realized then I was right at home there, as long as the food kept coming!
How did travel have an impact on your life growing up?
It's huge. I remember my father always saying travel is the best education one can get, and it's true. That's something we believe strongly and impart it on our children as well. Travelling to Italy as a kid also kicked off my passion for experiencing new flavours as taught by the locals. It Italy, as in many other places, the kitchen is center of the action when you go over to someone's house. I learned so many things from just being around my mom, aunts, and other relatives when they were in their own kitchens making their family favourite meals.
As a chef, what inspires you most when you travel?
Definitely the local markets, especially the fish markets. They have a vibe that's just electric! they're a great place to spend a few hours and have a bite, you can see how the locals go about their daily routine, and there are plenty of people who are eager to give you food and attraction recommendations. Checking out markets is the easiest way to get the inside scoop on where to eat in the city or town you are in.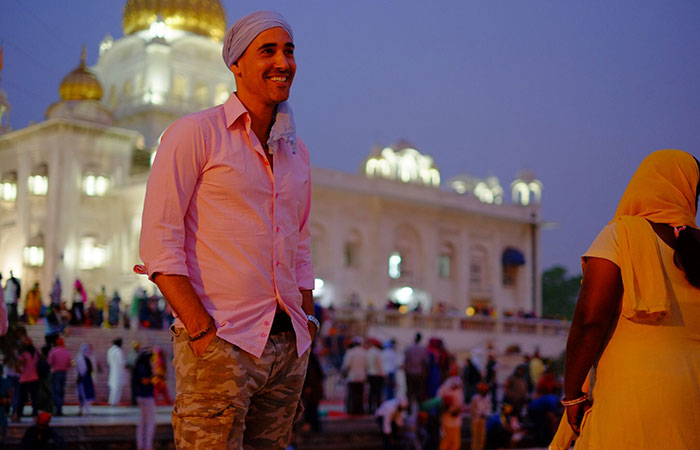 What spot in the world really surprised you food wise?
Kuala Lumpur, Malaysia has an amazing food scene. The Indian, Chinese and Malay influence on the cuisine just makes eating there so incredible and so varied. From street food to fine dining, the city had it all. It also had so many incredible rooftop bars for after dinner drinks!
What's one spot that surprised you not related to food?
Johannesburg. I absolutely loved it! I mean REALLY loved it. It's now one of my most favourite cities I've been too. I felt safe and the people were so amazing. I loved all the graffiti art all over the city, it felt like Brooklyn NY – a bit gritty, artsy and really fun. We also went to the township of Soweto just outside Jo'burg, and in both places defied expectation. It wasn't dangerous, it was full of rich history and beautiful spaces. We went patio bars and restaurant-hopping and had a great time!
The other surprise was Kashmir. I mean, the food was amazing but it was the beauty of the land and the people. Unlike all the media news I had heard, we felt safe, everyone was smiling and happy and it was just an amazingly beautiful place to visit.
With your young family, how do you instill a love of travel and with your kids?
We try and get them engaged with the entire experience. They travel with their own travel carry-on bags that they are 100% responsible for. We encourage them to do some homework and research where they will be visiting and they have to have a journal and a camera so they document the trip. Then we have them pick what they want to do, so they can be stakeholders in the experience. As parents we also try and throw them into as much interaction with the locals as possible, so their experience is as authentic as possible.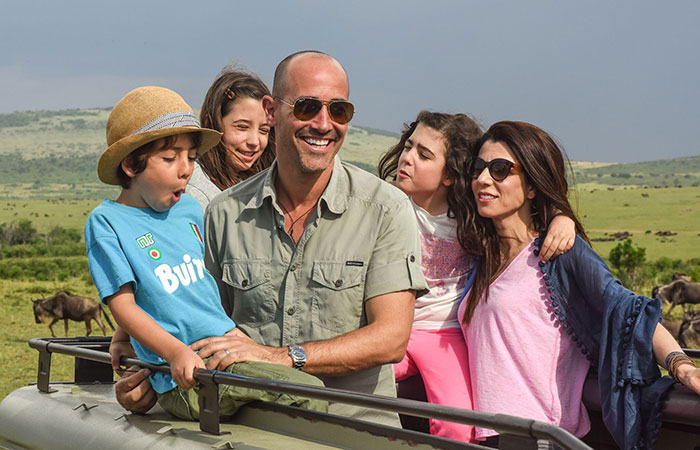 What are some of your favourite travel memories with your kids? What's your favourite spot to travel with your family?
We had the most amazing time in Kenya, we went on a family safari and it was absolutely magical! We saw all of the big animals that one hopes to see: giraffes, zebras, elephants, we even caught lions mating… which as parents was a somewhat awkward but also a teachable moment that we all look back on with a laugh. We were fortunate enough to be invited to spend the day with a Maasai tribe in their Manyatta (or village). There, we witnessed their routines from breakfast, daily chores, harvesting, to the ceremonial sacrifice of a goat the feast with all the tribe members… it was incredible and an experience my kids will never forget.
You recently spent some time in Africa… what did you learn while their when it comes to cooking and food?
We just finished shooting our new show in Ethiopia, Kenya, Tanzania, Zanzibar and South Africa and the constant throughout all those countries is the fact that people are happy to share their food with you. People are generally proud of their culture and really want to share it, and food is that great connecter that brings people from all backgrounds together.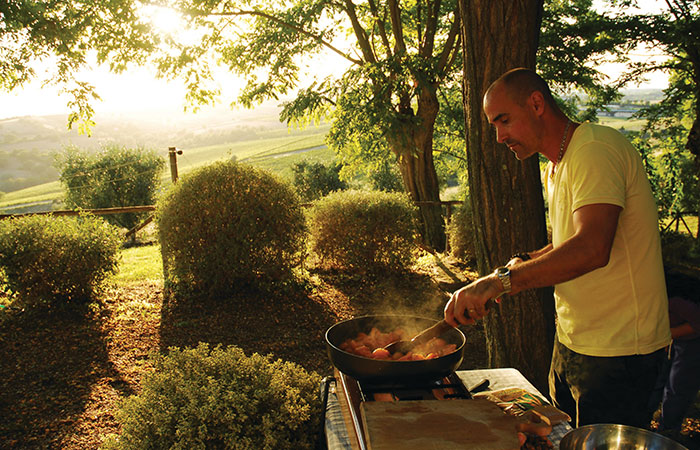 Where was the most incredible meal you've had?
I've had several great meals, especially with all the great places I've travelled to throughout Italy. But for me, the most memorable ones are always the ones where you are connecting and sharing a meal with others. Last year, we had celebrated Easter in Lalibela, Ethiopia, which is considered one of the holiest places in the world for Christians. We had an Easter Sunday breaking the fast meal with a local family and it was delicious. Simple, hearty and comforting. To be invited into someone's home and have that kind of authentic experience was pretty incredible and something I'll never forget.
Where was the most incredible drink you've had?
In Ravello, on the Amalfi Coast in Italy. My friend's homemade limoncello is legendary. After having a great meal, we often find ourselves sipping on this lemony goodness until the wee hours of the night… it's now our tradition with our friends there!
Is there anything you won't try food wise?
I have tried everything that's been offered to me, for better or worse… from celebrating "morning glory" with the Maasai Warriors in Kenya with gulps of fresh cow's blood, to sheep's eyeballs with the Bedouins in Jordan, to Balut or duck embryo in the Philippines. But the one thing that I had and won't have again is Durian… it smells and tastes like death!
What is your ultimate dream destination and why?
Japan, I love Japanese foods and I've wanted to go to… in fact I think it will be our next family trip, my kids have been asking to go for the last few years now.
How adventurous are you when it comes to trying new foods while travelling? What is the most unique thing you've tried?
I'll try anything once. The most unique was this street food in Manila, Philippines, called Balut. It's unhatched duck embryo. They have street vendors with these eggs piled high, so I thought "ok, hard boiled eggs"… then you crack the shell and staring at you is the duck embryo, beak, eyes, tiny feathers and all. You just suck it back in one gulp. Buon appetito!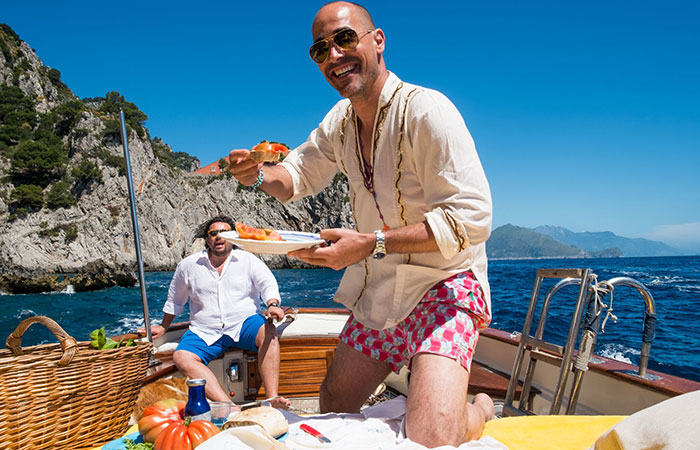 What would you say to someone to get them out of their comfort zone with food when they're travelling?
Go with the flow. You're on vacation, so don't over plan and opportunities will most likely present themselves. Check out local markets, they're the best place to get recommendations for places to eat and sights to see, and they give you a local's point of view of the vibe of the place you're visiting.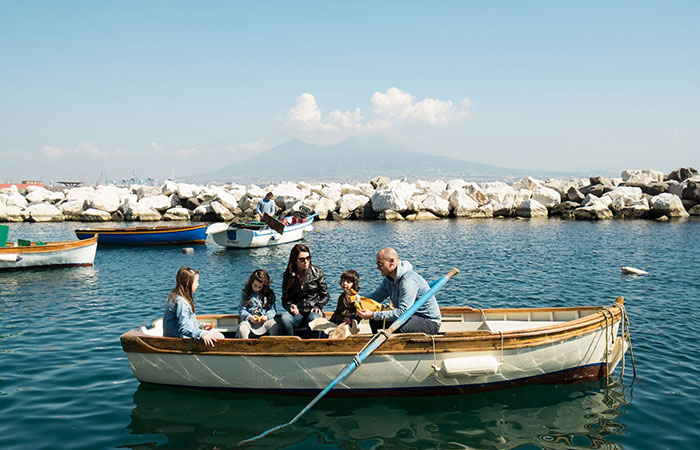 Favourite food spot in Canada?
PEI. We have been going to the Island almost every year since the kids have been small, we love it there. We stay at the Shaw's Inn Hotel, which is one of the oldest family run hotels in Canada, since 1860. We spend long days at the beach, and evenings at the Inn having great meals (the seafood out East is the best in Canada!). Then after dinner we have drinks on the wrap around porch, it's great getting to know other guests, and often we bump into repeat visitors just like us. A truly relaxing a lovely place for a holiday in Canada.
Favourite food spot in Italy?
I spent 13 weeks in Naples shooting my last Italian show, Dolce Napoli. It's my family's hometown, and I love it there. When you think of all the Italian cliche-phrases, O sole mio, Mama Mia, Ciao Bella, they all come from Naples. It's a big urban, safe city that's still authentically Italian even with all the tourists. And of course it's where the best espresso, pizza and buffalo mozzarella is from. From Naples you can also take day trips to the 3 island that are all within an hour by ferry, Capri, Ischia and Procida, and it's a quick drive down to the Amalfi coast.
Three things you never travel without?
I'm easy. Passport, cellphone and credit card. Everything else you can buy when you get there!
What would you say your travel mantra is?

Everything should be a new experience, otherwise why travel? Connect with the locals as much as possible and try new things.
More from Travel & Style
5 Tips for First Time Cruisers
Why Carry-on Your Luggage
Jillian Harris' Packing Essentials