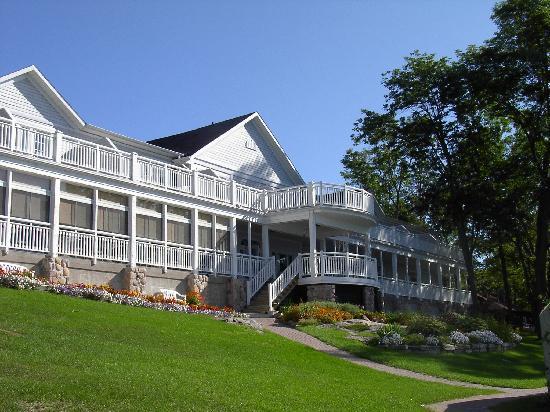 Every major city has those beautiful spots just outside the urban limits that are peaceful, picturesque and provide city dwellers with a perfect dose of country life and nature. One of the best spots for Torontoians for this has to be the Kawarthas … lakes dot the countryside and it's a place in Ontario where you can truly kick your feet up and relax. And there's no better place to do it in the Kawarthas than at Viamede Resort on Stoney Lake, especially since it has undergone some major revamps and renovations.
The Vibe: It's total cottage country here – you'll be amazed at the space available (you can take in the property's small farm with pigs, chickens and turkeys – and even practice some archery, hike the extensive trails, or play a round of Frisbee gold in the fields). Don't forget the water sports too – grab a kayak or canoe and explore the lake. The feeling is super casual – from the food to the rooms to the resort's dog greeting you in the lobby, so it's a great spot to really kick back, chill out and yes, you could even turn your phone off.
The Facts: Sitting on 165 acres of land along the edge of Stoney Lake, Viamede Resort was originally built in 1885, and comes with 30 guest rooms that have just been newly renovated (in the main building and adjacent buildings) as well as 18 free-standing deluxe cottages (that were built in the 1950s) along the water's edge that were just recently renovated as well.
The Experience: We arrive late on a Friday night, but just in time to check in at the front desk, drop our bags off in a newly renovated and furnished guestroom, then head to the on-site pub/restaurant The Boathouse Pub – Stoney Lake's oldest spot to grab pub food – for casual fare (think freshly fried, crispy fish and chips, juicy burgers and crispy fries), plus drinks (wines, beers and cocktails) from the bar. The pub regularly features live music, karaoke nights, game nights and more. The other main dining area is a bit more upscale – 1885 restaurant is where you'll dig into breakfast and also great dinner options (we had a massive buffet created by head chef Kevin McKenna, complete with a pig roast – yes the pigs from the on-site farm – and a giant selection of sweets and desserts that was beyond delicious). Make sure you get a seat on the terrace so you get prime lake views at sunset.
The guest room was a large open space, with new touches you could see right away (the bed frame was made by a local carpenter and a new soaker tub), plus a fireplace and a little balcony that would make for a great spot for pre-dinner drinks. Viamede has been making changes and renovations constantly over the past few years – something General Manager Ben Sämann says will continue happening – and you can really see his dedication to making Viamede better and better. But what really sells Viamede is the massive grounds it sits on. We spent a day roaming through the trails, hiking the small hills, visiting the on-site farm (where they raise pigs for the use of their own kitchen), poking into the small chapel they have, and vegging out by the pool overlooking the lake. In one word it was totally relaxing.
Room to Book: Ask for a cottage for a true country experience – you'll have a bit more space, can fit in more people. Plus you get the bonus of a great balcony – the ideal spot for sipping on some drinks post-dinner, watching the moon's reflection twinkle on the lake.
Price: $$
How to Get There: Viamede Resort is located just 40 minutes north of Peterborough, and approximately two hours from Toronto. GPS coordinates are 44.566155, -78.138474.
Where to Find:
Viamede Resort
595 Mount Julian Viamede Road
Woodview, Ontario
1-800-461-1946, viamede.com.