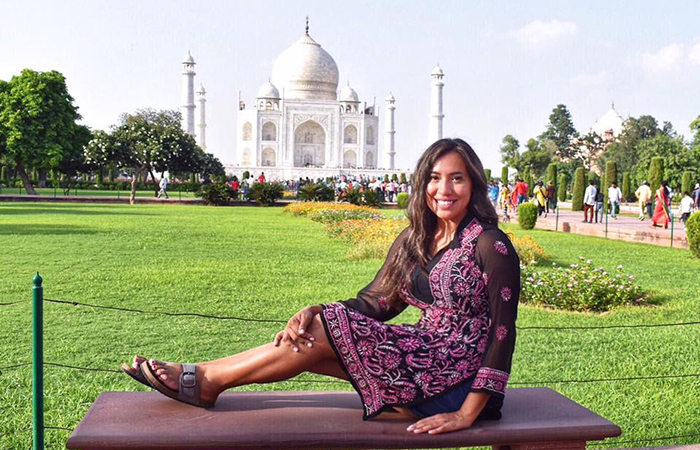 We sit down with Frequent Flyer and travel expert, Jeannette Ceja to talk all things travel… from how to manage during the pandemic, to her travel inspirations, how she got started in the business and, of course, her favourite travel spots.
Tell us a bit about how you landed in the travel industry and became a travel expert and a frequent flyer…
My journey to travel goes way back. I got my first passport at just six-months-old. My parents are originally from Mexico. They would take my siblings and me to Mexico at least once a year. As a young girl, I would religiously watch travel shows on television. I remember watching Samantha Brown and Anthony Bourdain saying, "I will host a travel show one day." I did not know at the time, but I would also interview them both in the future.
When I was 12-years-old, I grabbed a journal and purchased disposable cameras with my allowance money. I began to write my first travel journal. I discovered my passion for writing and travel at that moment. Later on, I pursued a degree in Journalism from Belmont University. I am so grateful that the late Thom Storey, was my student advisor. At the time, he was also the Travel Editor for the state-wide newspaper, The Tennessean.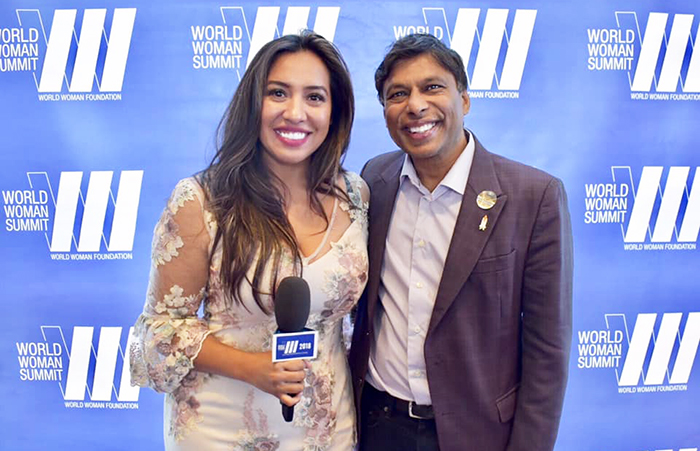 What's your day-to-day job like as a travel journalist and host?
Before Covid-19, my days revolved around daily meetings, media interviews, hosting my travel workshops, events, and traveling to speak at conferences around the world. Honestly, my work schedule would depend on whether I was at home or traveling. Three years ago, I completely went the entrepreneur route and officially rebranded as Jet Set with Jeannette. I invested time to keep taking hosting and public speaking classes every week. It was a very long time in the making. Besides travel writing, I host exclusive workshops, seminars, events, and retreats to better inform the public about travel. Recently, I have transitioned everything to online during this pandemic.
Who are some of your mentors/inspiration when it comes to travel?
What an excellent question! Where do I begin? First, I will start with my Mother. She's been an exceptional role model as a woman and as an entrepreneur. Growing up, I remember watching her work full-time, while taking classes for her Master's in Accounting, and still raising my siblings and me. Travel was very important for our family. Professionally, I have always admired the late Anthony Bourdain. It was a highlight in my life to have interviewed him many years ago at the Tribeca Film Festival.
Two other special mentors who sadly have recently passed away. Thom Storey, was my professor and student advisor at Belmont University. He was also the dean of the Journalism Program and the Travel Editor at The Tennessean. Thom believed in me before I did. Thom always encouraged me to apply for internships and the Chips Quinn Scholars program. Last but not least, one of my biggest cheerleaders and mentors was the late Reginald Rutherford. I met him on the set of the television show, Extra. He worked as a Production Manager and told me I should be on camera. I took a break from hosting to travel but he told me, "you belong in front of the camera." And he put me on my first red carpet in Los Angeles. And the rest as they say is history.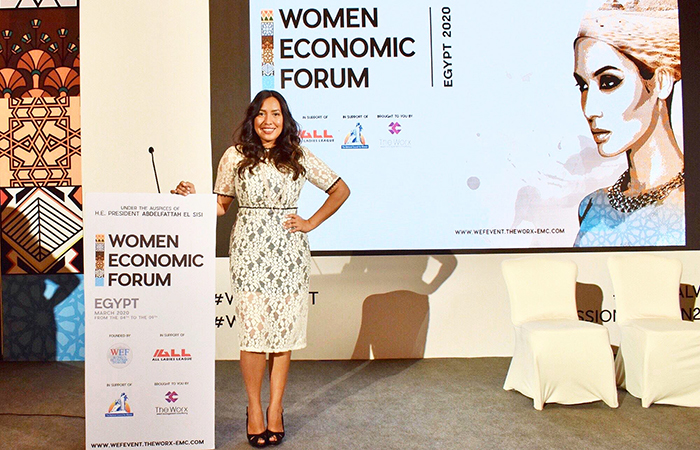 What do you think are some of the most underrated destinations?
Guatemala and Romania. Last year, I visited Guatemala for the first time and I was incredibly overwhelmed with everything. I could not believe that it took me 32 years to visit. I asked myself, "why didn't I visit sooner?" In 2020, I still feel that Guatemala is not getting enough of the global coverage that the country deserves. Equally, I feel the same about Romania. I have visited Romania twice and I was astounded by the amazing culture, history and landmarks.
We're at a moment when travel is not possible for most people, what are you doing to stay inspired to get out traveling again?
Yes, these are definitely in unprecedented and uncertain times. The first two weeks of the stay-at-home order in Los Angeles was incredibly difficult for me. I was in shock and denial. But I allowed myself to grieve, not just for myself but for the entire world. To stay inspired, I am constantly looking over old photos and videos of past trips. Additionally, I am getting back to my passion of writing. I have been wanting to write a book for the past three years. But I did not have the "time" to do it. I no longer have that excuse. Now, it's a great time to read books or travel magazines. Also, listen to podcasts that inspire and educate you about the world. Keep the inspiration about travel alive and make a bucket list of all your dream destinations!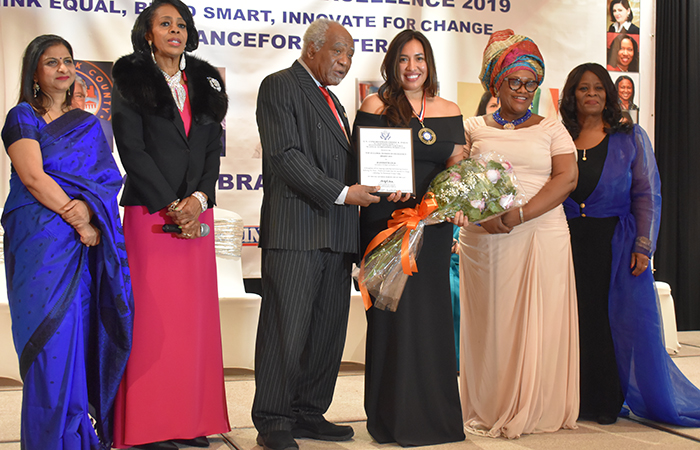 What would you say to people who may be concerned about traveling again?
I completely understand the concerns. I postponed many trips and I am staying-at-home to adjust to the current reality of this pandemic. However, I am hopeful there will be a solution to Covid-19 soon. Until then, I feel that people can still dream and plan for future travel. As this too shall pass, and once it does, I feel like people will want to travel more than ever.
What are some of your favourite places in the world that your work has taken you?
This year, I had a life-changing opportunity to speak at the Women Economic Forum in Egypt. I have dreamed of visiting Egypt since I was a young girl. I spent some time after the conference visiting all of the ancient landmarks and it was quite an emotional experience. Besides Egypt, I would say that I loved exploring India, France, Guatemala, Romania and Greece.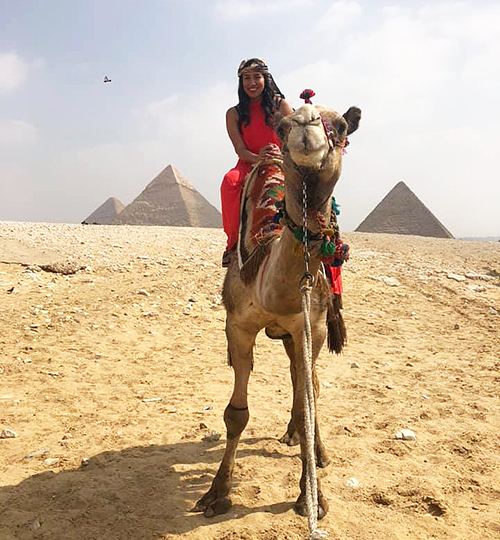 What is your favourite aspect about travelling? Food, culture, people?
All of the above! Also, I love the journey there and back. I always come back from a trip more open-minded, grateful and fulfilled.
When it comes to travel, brunch is always a good idea! Do you have a favorite brunch spot? Or a favorite food spot in the world?
Yes! I would say my favorite brunch spot is a small café located in Cannes, France. Two years ago, I stumbled upon Le Cirque while walking around Cannes. It has the best brunch in the world! I'm still dreaming about the pain au chocolat.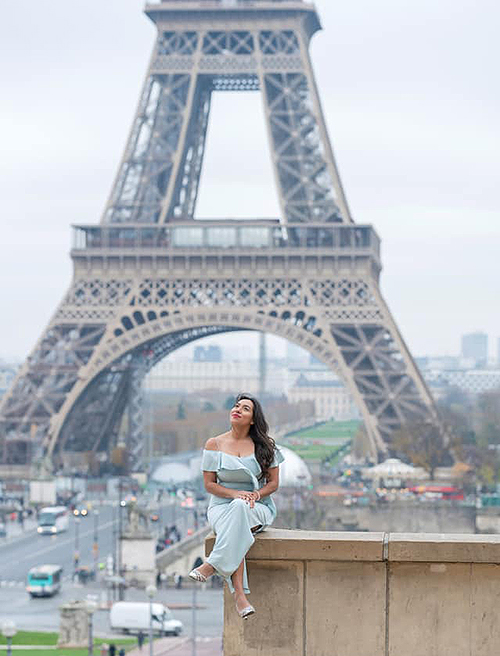 What was your first travel memory? Where did you go? How old were you?
I remember visiting Mexico City with my family a lot. My first memory was when I was five-years-old playing with my relatives at my grandparents' house.
Are you adventurous when it comes to travel? What is the most adventurous thing you've ever done while on a trip?
Yes, I would say so! In 2007, I hiked on the active volcano Mount Etna when I lived in Sicily, Italy. Such an exhilarating experience!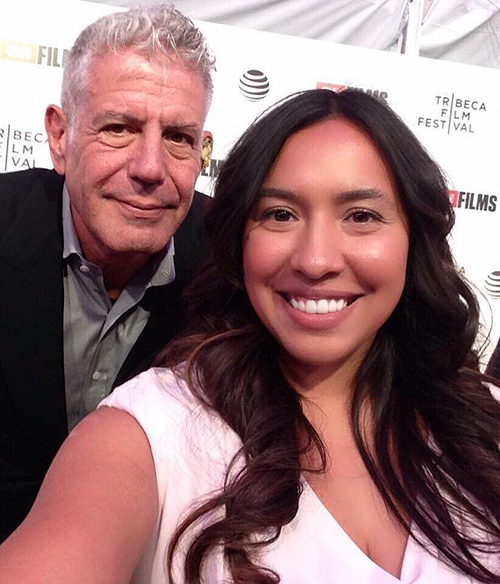 What inspires you most when you travel?
I am inspired by travel because it allows me an opportunity to meet and learn from people all over the world.
What spot in the world really surprised you?
Romania! I visited twice over the years. I loved visiting all the small villages in the country.
What is your favourite Instagram photo from your travels?
That would be a tie between Egypt and India. In Egypt, I had a profound emotional reaction when I visited the Pyramids of Giza. I had studied the ancient Egyptians since I was a young girl. I could not stop crying tears of joy. In India, I had a similar emotional reaction when I visited the Taj Mahal. Back in college, I wrote a 40-page report on India in my Intercultural Communications class. It was so inspiring! When I finally arrived in India, the tears just kept coming down.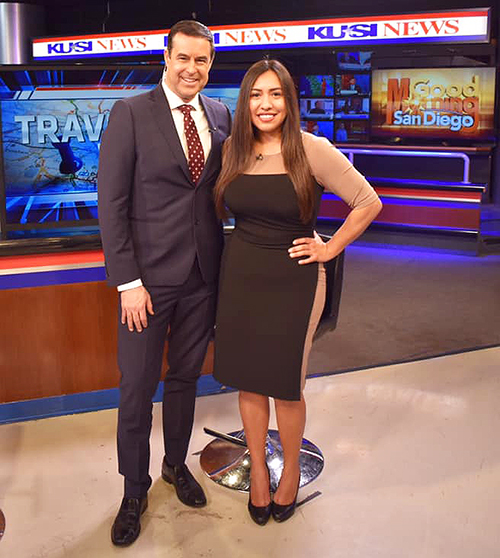 What is your ultimate dream destination and why?
I truly want to visit every country in the world! So far, I have visited 60 countries to date. My next ultimate destination would be Peru!
Three things you never travel without?
My headphones, digital camera and a journal.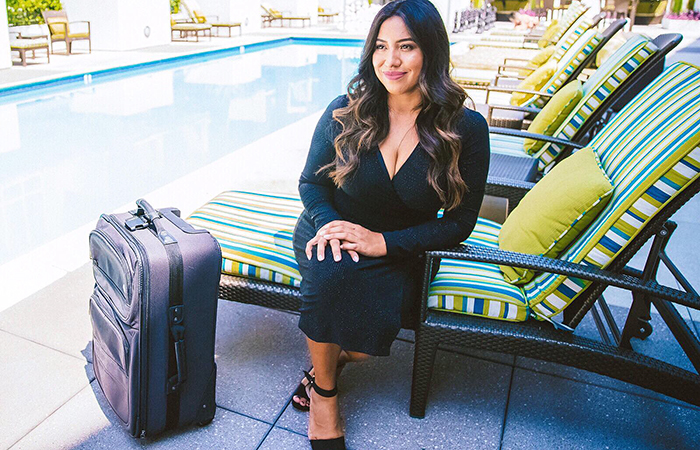 Window seat or aisle as a frequent flyer?
Window.
Street food or Michelin star?
Street food in Mexico City and Michelin star.
What is your travel mantra?
Travel is a mindset.